DOYLE AFTER DEATH.
By John Shirley
Witness Impulse, Harper Collins Publishers
October 22, 2013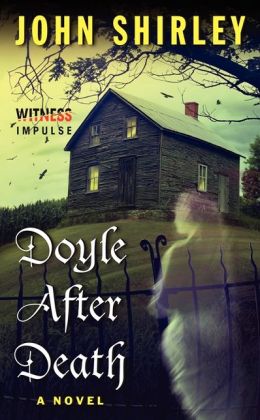 One of the cyberpunk founders John Shirley, an extensive interview with whom has graced these pages some time ago, has come up with another genre-defying concoction, in which– are you ready for this?– a second-rate private eye from Las Vegas dies and "wakes up" to find himself settling down in what appears to be a pleasant country resort town called Garden Rest, where he befriends, ah, you guessed correctly, Arthur Conan Doyle. The protagonist, a bit of a smart-mouth named Nick Fogg, discovers to his fascination and befuddlement that the afterlife is so much like the "real" life– there is sex, there is money, and everyone hankers for cigarettes– but is even more surprised, not to mention disturbed, to learn that the dead folks can be murdered, in a fashion, and the consequence for one's spiritual self is no less dire than the "original" death. When the terrible, ectoplasmic "remains" of a meek botanist are found, Doyle and Fogg team up to investigate, the erstwhile gumshoe volunteering for the role of a somewhat smart-alecky Dr. Watson.
Doyle After Death is a "typical" Shirley-fiction in the sense that its prose flows naturally and describes the improbables and imponderables with a good deal of sensuality and aplomb, but never forgetting added spices of switchblade wit and genuine weirdness, as in, for instance, his depiction of a psychic storm that, in this afterlife, assumes a terrifyingly climatological dimension. Nevertheless, the overall tone of the relatively short novel is exceptionally gentle. There seems to be a level of optimism– set against the abyssal view of a Lovecraftian universe– that, without attachment to corporeal bodies, we are more likely to come to embrace peace and understanding, reminiscent of Gnosticism and certain aspects of Buddhism.
In fact, perhaps to the disappointment of the readers looking for a Holmesian pastiche, Shirley focuses on Doyle's spiritualism rather than his status as a creator of the world's most famous consulting detective. The British author has previously appeared as a character in genre novels, for instance in William Hjortsberg's Nevermore (1994), but I think Shirley might be the first writer to take his dabbling in the afterlife seriously enough to actually bring to life some of his ideas (Of course, Doyle in the novel wryly and readily acknowledges that so much of his speculations and beliefs about the afterlife were bogus or just plain wrong). In other words, Shirley himself is pretty serious about the prospect of the afterlife, and puts a lot of efforts in designing and laying down basic principles behind the topography of Garden Rest, in a deft mixture of the fanciful (the birds that echo a character's thoughts back to him) and the eerie (a strangely convincing form of spiritual vampirism, colorfully messy).
Like the alien planet in Shirley's brain-shaking masterpiece Splendid Chaos (I am still waiting some insane movie producer/director to at least attempt a cinematic adaptation of this), and much of the similarly fantastic landscapes in his other fictions, the afterlife in Doyle After Death comes with an ecological system of its own, with some spiritually advanced beings getting Summons into an unfathomable "higher" state, while others devolving into spiritually "lower" states of forgetting their objectives or meanings of their existence (The blue, fleet balls of light known as "forgetters" amusingly remind me of the Japanese hitodama). Transcending one's obsession or addiction in the original life is a key to evolution, one of persistent themes in Shirley's works.
Doyle After Death cannot be really construed as a mystery or detective fiction, hard-boiled or otherwise, despite some obvious stuff flowing in from those genres (including a very funny, menacing and pathetic character straight out of an urban crime fiction named Bull Moore, whom I wish was given a bigger role). Neither is it a biting socio-political satire in the manner of, say, Robert Sheckley's Immortality, Inc. (1958), although there are elements of that in Shirley's novel as well. In a way, Doyle After Death is a novelistic variation of film blanc: the afterlife is essentially a benign place bereft of the limitations of the physical life, and the characters struggle to overcome the issues and problems that have constrained (and destroyed) them in their "real" lives and to reach a level of higher understanding. The main difference between this novel and the classic film blanc like Heaven Can Wait (1943) is the absence of a (guardian) angel, although the Greek philosopher Diogenes may fit the bill in a few instances.
Seen from this angle, Doyle After Death is an unexpectedly soothing novel, that, despite its terrifying demons and otherworldly shenanigans, ultimately attempts in its way to persuade us to accept death as a transition, an opportunity to growth toward greater wisdom and inner peace.