I watched Gosha Hideo's marvelous adaptation of Chikamatsu's The Oil Hell Murders (Onna-goroshi abura jigoku 女殺し油地獄), included in Hulu Plus's Criterion Collection. The movie was as engrossing and powerful as I remembered, but the presentation was just not up to the Criterion standard. The 1.37:1 aspect ratio may have been correct but the transfer was weak, soft and clammy. The red kimonos and fundoshi should jump out of the screen but they look all drab. Disappointing.
Fans of John Carpenter, among others, are probably aware that the 3,000 limited copies of Blu Ray of Christine issued from Twilight Time was sold out in the matter of days. Now it fetches something like $130 at Amazon. Well, I thought, go for a chicken when you can't get a pheasant, so I checked out HD-grade downloadable files of the movie at Vudu, iTunes and Amazon Prime. Well, it was disappointing, to say the least. I could have forgiven the compression artifacts and grungy color, but all these files showed the movie in an artificially cropped 1.78:1 ratio, whereas the TT Blu Ray presented the movie in 2.35:1 widescreen. Most gallingly and befuddlingly, they all showed the movie's end titles properly formatted at 2.35:1! Why? I just don't get it. I am glad I didn't plunk down money to actually purchase one of these HD files.
So two thumbs down for the streaming services this week.
On a more positive note, Warner Archives has started its own streaming service. It's apparently not ready for a big launch but is now available as a private channel for Roku.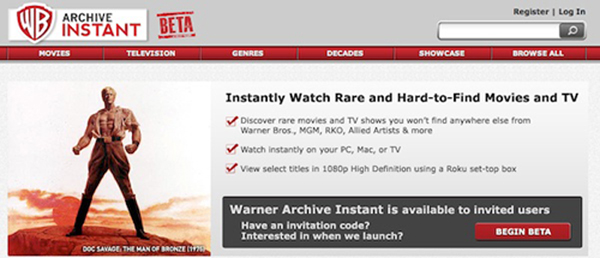 I haven't really delved deeply into it yet but from what I have seen so far I like it. It's a bit expensive but considering the money I am putting down for Warner Archive Collection DVDs it is likely to even out. Most interestingly, many of its catalogue titles are available in high definition: Black Scorpion, Death in Venice, Blow-Up, Horror of Dracula, Fearless Vampire Killers, Cat People, Gun Crazy, The Americanization of Emily and others. The sampling was rather quick so I probably missed some problems likely to be noticed (To be sure, none of the HD presentations were comparable in quality to high-end Blu Rays that come out of Criterion, Arrow or Warners themselves, or perhaps to classic titles available in Vudu or iTunes), but this seems to confirm that the outlets who care about good DVD presentations are those who do a good job with streaming.
Finally, I am happy to note that Synapse Films is also now streaming through Roku channel (and promises to do so via Apple TV as well: will that really happen?) and I am overjoyed to have access to their inimitably, seriously weird titles without having to hunt their OOP or hard-to-find DVDs down.