THE TERRORNAUTS. 1967. An Amicus Production. United Kingdom, 1 hour 14 minutes (Original release version), 59 minutes (Re-release version). Aspect ratio 1.66:1
Director: Montgomery Tully. Screenplay: John Brunner. Based on the novella "The Wailing Asteroid" by Murray Leinster. Cinematography: Geoffrey Faithfull. Music: Elizabeth Lutyens. Production Designer: Bill Constable. Editor: Peter Musgrave. Producers: Max J. Rosenberg, Milton Subotsky. CAST: Simon Oates (Dr. Joe Burke), Zena Marshall (Sandy Lund), Charles Hawtrey (Joshua Yellowees), Patricia Hayes (Mrs. Jones), Stanley Meadows (Ben Keller), Max Adrian (Dr. Shore), Richard Carpenter (Danny).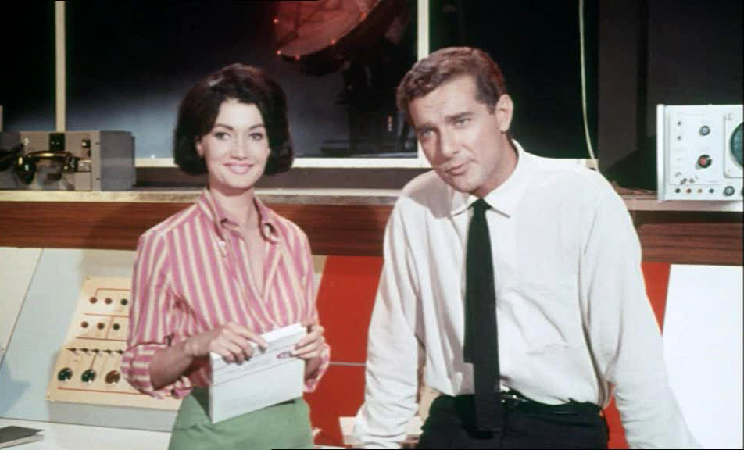 Between anthology horror films such as Dr. Terror's House of Horrors (1965), The Asylum (1972) and Tales from the Crypt (1972), for which it is best known today, Amicus Productions, like their much-better-known competitor Hammer Films, dabbled in different genres. One such detour is this technically limited but conceptually ambitious and ultimately praise-worthy science fiction yarn.
Adapted surprisingly faithfully from a relatively short but large-scaled SF novel from Murray Leinster, The Terrornauts is a deceptively intelligent variant on the old invaders-from-space tale. Dr. Burke (TV actor Simon Oates), a young scientist, is heading a British observatory engaged in a scaled-down version of the SETI project, that is, trying to capture signals from the intelligent alien life from outer space. It is divulged through flashback that as a child he had a strange encounter with an O-o-part ("Out of place artifact") dug up by his archeologist uncle, that led to a vivid dream of wandering around on the surface of an alien planet with two moons. When his observatory picks up what sounds like a distress signal from an asteroid, Burke is convinced that his childhood dream is somehow related to this weirdly familiar signal from the space. However, as Burke and his team are becoming aware of the signal, whatever that sent the signal on the asteroid becomes aware of them, and decides to send an interplanetary vehicle to fetch them.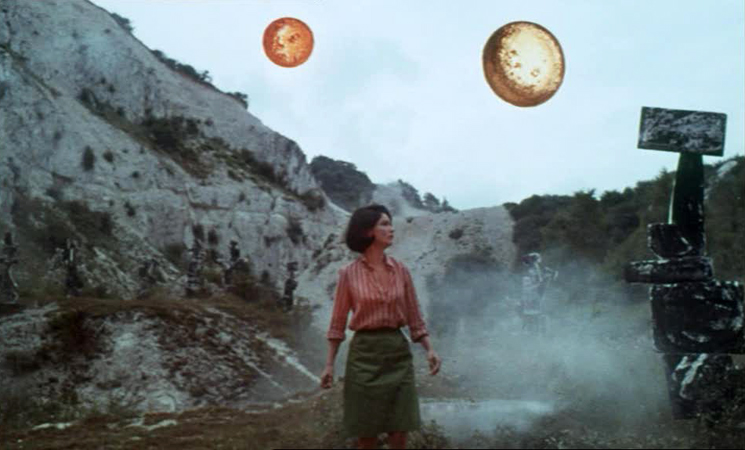 The Terrornauts, despite its pulpish title that promises some hideous, multi-ocular alien creepies in space suits, may require some patience for those not familiar with serious science fiction. They may be thrown off by the way the main protagonists must exercise their brain muscles to figure out the real purpose of their journey. This thoughtful approach, likely attributable to John Brunner's (who was himself a Hugo-award-winning SF author) screenplay, may in fact have been responsible for the trimming of an already short film for a re-release (More about this below).
The asteroid's alien-built space station, while rendered with cheap-looking miniatures in long shots, is impressively designed, with a non-human-form robot in charge who is refreshingly not cute but charming in its streamlined way. A sequence in which Burke, Sandy and co. are being tested, before being permitted to own weapons, features one of the most crazily designed space monsters I have seen, with a diagonal slash of a mouth with red bristles lined up inside, a set of misshapen crab claws, and a mascara-studded huge eye balefully staring out of the abdomen, as if its anatomy has been shuffled randomly before being put together: right out of a '60s middle-aged British bloke's dark, subconscious imaginings of an assertive, sexually active female? Nonetheless, the (welcome) message conveyed clearly to the audience in this sequence is that you must ask questions rather than shoot first, even when confronted by a wet-your-pants scary space beastie.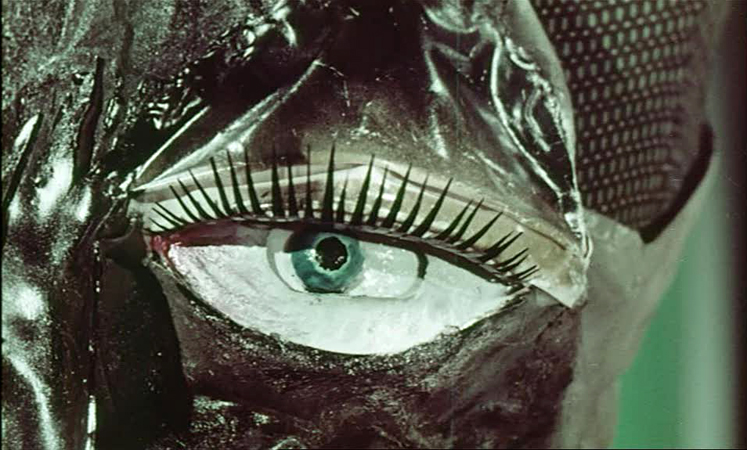 Exploration of the whys and wherefores of the asteroid's message nicely builds toward the climactic space battle against the returning invaders, which may be disappointing to the contemporary viewers used to the slick CGI. But then again, unlike, say, classic Star Trek TV series, it is not just all urgent talk while camera's tilting this way or that: things go seriously kabooey all over the place. Conceptually and in terms of narrative we have little problem following what is going on, as the "good" and "bad" aliens (whose visages are never shown) use completely different styles of technology and design (bad aliens flash lethal beams of destruction, whereas the good guys use reassuringly torpedo-like missiles, and so forth). Contributing enormously to the atmosphere is Elizabeth Lutyens's (The Skull, The Earth Dies Screaming) pounding orchestral score, punctuated by eerie electronic chirpings and beepings of the alien technology.
The cast is game: Simon Oates, looking like a cross between Patrick Macnee and Gene Barry, is a suitably stalwart but gentlemanly hero. Sandy is played by the dark-haired exotic beauty Zena Marshall, startlingly sexy and totally convincing as a half-Chinese female agent of Dr. No in the '63 Bond film. She does briefly play a damsel in distress but otherwise is a no-nonsense heroine, commandeering missile-launching consoles with gusto, side by side with the good astronomer. Charles Hawtrey and Patricia Hayes are comic relief characters, a befuddled solicitor and a landlady siphoned off the earth for a wild ride, thankfully not allowed to overstay their welcome.
The Terrornauts is one of the fondly remembered items from the late-night (black and white) TV viewings of the now-defunct AFKN (American Forces Korean Network) channel, which I was supposedly too young to catch but did anyway. Trying to figure out its rather sophisticated narrative points about the asteroid's message and the meaning of Dr. Burke's childhood dream, knowing virtually no English, was in fact a great fun. And that one-eyed space monster is, well, unforgettable, once you had run into it on TV at the impressionable age of ten or so.
DVD Presentation:
Network/Studio Canal Release. PAL. Region 2. Video: 480p Anamorphic Widescreen 1.66:1. Audio: English Mono. No Subtitles. Supplements: Theatrical Release, Theatrical Version Trailer. Release date: March 14, 2014.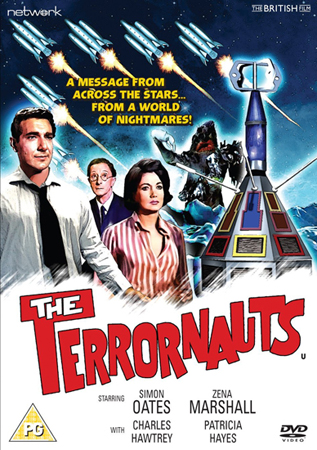 Network has been releasing classic British genre films and TV series for some time now. For some reason they opted to issue The Terrornauts only on DVD, not on Blu Ray. It appears that, compared to, say, Prisoner TV series, this particular vintage title did not possess enough financial clout to have its Eastman color photography restored.
But before we talk about the quality of the visuals at display, I need to bring your attention to the fact that the main title presented here is a drastically cut re-release version which clocks around 58 minutes. Missing is the entire "meandering in the space station" sequence: not only that unique-looking space monster but also the whole exploration of the alien technology by bewildered but curious earthlings have been cut out. Even though, as Network correctly states in the liner notes, "viewers will notice a drop in quality," I nonetheless recommend you to go directly to the "Special Features" section and click on the "Play Original Theatrical Version" button, and watch that version instead. The so-called re-release version has been put through a form of lobotomy and manages to throw away some of the reasons for this motion picture's very existence. As I reiterate, the monster, prominently featured in the menu screen, does not even show up in this version!
Having said this, I am obliged to note that the Theatrical Version is marred by a substantial amount of specks, scratches and debris, including green vertical lines that intrude into some scenes, especially in the early part of the film. The re-release version has been polished but its images are also rendered soft and pale, perhaps an outcome of excess digital cleanup. Colors of both versions are greenish and notably faded in earthbound, interior scenes. They fare a bit better in the space station-based sequences, but not significantly so. All in all, do not expect a sterling quality transfer.
The DVDs comes in a thin plastic case with no room for any additional written materials inside, although the DVD cover sheet reproduces on the reverse side an aggressively pulp-ish original poster ("The virgin sacrifice to the gods of a ghastly galaxy!" screams the headline. Well, this is technically not misinformation but…) and five b & w stills.