The trip to the Jeju island in August was a marvelous experience. The beauty and resplendence of the nature– waterfalls, fields of orange coral, rocks that look like Titan's cupcakes– are matched by the amazing delicacies– "black" pork, seafood including twitching abalone, even, er, horse meat. The museums, art galleries and historical sites are of course wonderful, although we had to miss out the Hello Kitty Museum, allegedly the largest single site in the world devoted to… um, Kitty is not exactly a cat, is it? Whatever.
So the August entries are missing. At this rate, I won't quite be able to fill out the quota for one hundred items by the end of 2014, but oh well, it's not like anybody is going to fine me for missing it. However, I would not underestimate my own obsession with horror cinema. And worry not, there are absolutely no shortage of the horror films to watch: in South Korea or in the U.S.

Item fourteen is Haunt (2013- USA: A QED International/Revolver Pictures Production, Director: Mac Carter), another IFC Midnight pickup, this time lensed in Salt Lake City, but pleasantly ahead of the curve in terms of scare tactics, command of visual language and production quality. A reasonably well-handled teen romance angle plus classic haunted house shenanigans maintain one's interest despite the essentially hoary nature of the setup. The female specter is also well-designed and effectively deployed. The evil-triumphs ending is, like that for Oculus, slightly disappointing (and while not exactly illogical, leaves a lot of narrative debris to be cleaned up after the movie's ending). I did a double take when I realized that the cool-looking actress who plays the protagonist's mother turned out to be Ione Skye. Lord, how time flies. ☆☆☆★
Next up is Deep in the Darkness (2014- USA: A Chiller Network Films/Synthetic Cinema International Production, Distributed by Universal Pictures. Director: Colin Theys). A New York City doctor (Sean Patrick Thomas) relocates to a rural location with his family. His practice thrives, his neighbors, including an old man (Dean Stockwell) with a deformed wife, are nice, and everything seems to be hunkey-dorey, that is, until the old man tells him about the "isolates" who live deep in the woods and demand live sacrifices from the townspeople once in a while. A traditionalist spook show, complete with a surprisingly old-fashioned score from Matthew Llewellyn, the kind that blares horns whenever something "shocking" is about to happen. The movie is certainly preferable to some of the more ridiculous found-footage horror pics of recent years, but the direction is just too TV-sized and by-the-numbers. The monsters are also derivative of the mound-dwelling mutants in The New Daughter (2009), although the denouement harkens back to the schlocky spirit of Roger Corman's New World drive-in features. Well cast, although the (good) idea of a black protagonist stuck in a white rural town with hideous secrets could have been developed further. ☆☆☆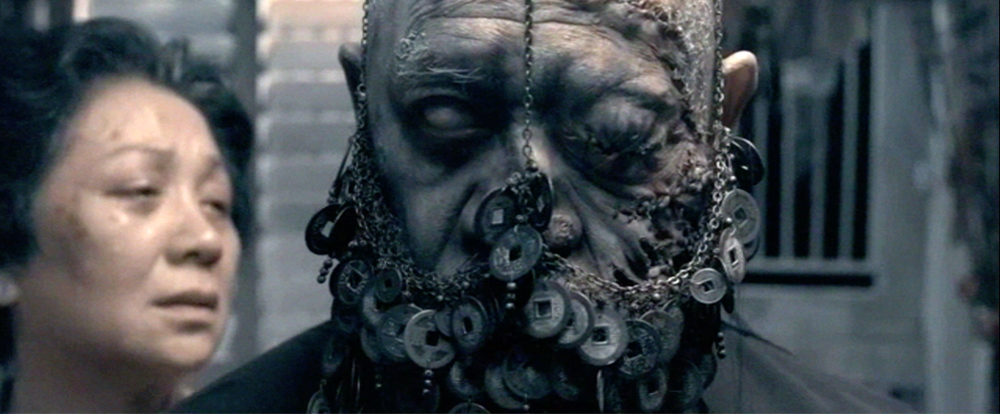 Rigor Mortis 殭屍 (2013- Hong Kong: A Kudos Film Incorporated Production, International Distribution by Fortissimo Films. Director: Juno Mak 麥浚龍)A suicidal actor (Chin Siu-Ho) moves into a bizarrely dilapidated apartment, populated by a zombie/vampire hunter chef (Anthony Chan), an insane beggar woman (Kara Wai), her little albino son (Morris Ho) and an old seamstress Aunt Mai (Nina Paw). When Aunt Mai's elderly husband Tung (Richard Ng) dies from a suspicious-looking fall, she consults an exorcist/black magician Gau (Chung Fat), which turns her husband into the fabled "hopping zombie-vampire (jiang-shi)." The Cantonpop star Juno Mak, striking as a revenge-obsessed street vendor in Wong Ching-po's harrowing Revenge, A Love Story (2010), brings a keen eye for visual language and a character-centered sensibility to his take on an old Hong Kong horror monster, more often than not milked for humor. Produced by Ju-on's Shimizu Takashi (whose influence is evident in the film's subsidiary monster, a pair of ghastly twin sister ghosts with cascading black hairs), the story drags in part but we always remain invested in the characters and their emotional tribulations. Nina Paw as Aunt Mai is particularly effective as a kindly old woman whose love for her husband (and fear of isolation) propels her to commit progressively awful acts of cruelty and heartlessness (Did Mak consult Bong Jun-ho's Mother?).
Advertised as a martial arts-action film, Rigor Mortis is anything but, told with a deliberate pace and coming with almost metaphysically surreal set pieces as well as an An Occurrence at Owl Creek Bridge-like coda that could leave some viewers befuddled, scratching their heads. The film will likely divide its viewers according to their expectations: it does not show much fidelity to hyper-kinetic Hong Kong horror of '70s and '80s it superficially makes references to, so be warned if that's what you are looking for. Instead, director Mak takes the native cinematic tropes and styles and sensibilities of J- and K-horror, puts them all in a blender and manages to concoct his own gateau délicieux out of the mix: crisp, not overcooked, affecting but not soggy. ☆☆☆★★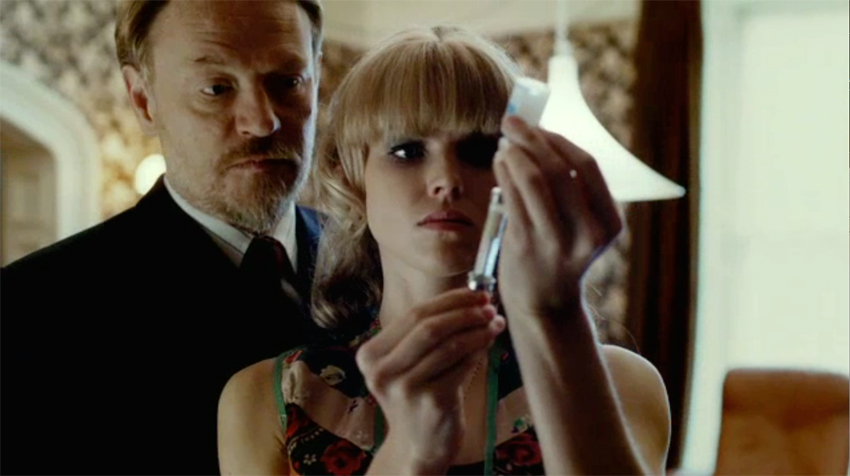 The Quiet Ones (2013- United Kingdom: A Hammer Films/Traveling Picture Show/Midfield Films Production, Distributed by Lionsgate Films. Director: John Pogue) is another competent but not overwhelming supernatural horror from the resuscitated Hammer Studio. The film is based on a strange, real-life episode from the Canadian annals of parapsychological investigation, in which a group of researchers decided to "invent" a ghost named Philip, only to have this fake spirit create havoc. Now that story would have made an intriguingly innovative film. Unfortunately,The Quiet Ones scraps that idea and cooks up a very '70s hokey-poke plot, complete with a demon-worshiping cult and a paranormal investigation team armed with an 8mm camera, among other gadgets.
The grad student research team is led by an arrogant, manipulative scientist (Jared Harris) in an isolated house, focused on the poltergeist and pyrokinetic activities taking place around pretty but troubled Jane (Olivia Cooke, well cast and very good). The film is sometimes reminiscent of an old episode of a BBC TV drama (not a bad thing in itself), and the found-footage stylistics rear its head in a square (1.33:1 ratio) screen that stands for Brian's (Sam Claflin) documentary footage, which contrasts with the rather avant-garde and New Century sound design. The Quiet Ones is pretty good, but suffers from a screenplay that seems to add more twists than really necessary (Cooke almost manages to sell the duality of her character between "Evey" and "Jane") and a couple of less-than-impressive CGI effects, made to look worse by having been inserted into the rigorously '70s-style visual universe. ☆☆☆★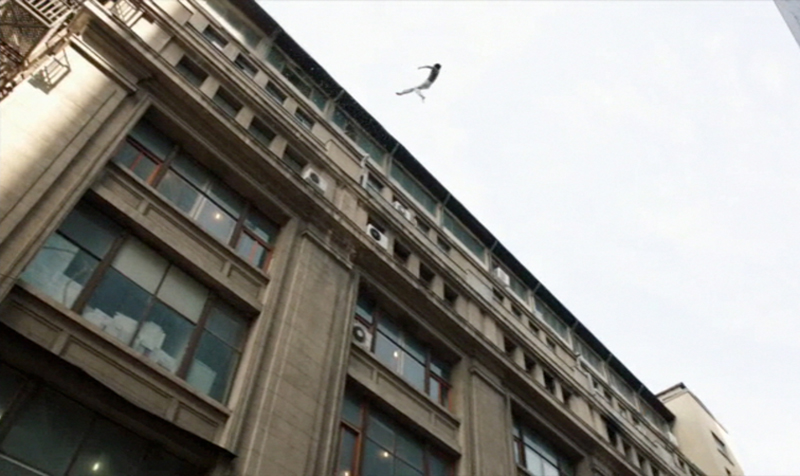 Wer (2013- USA-Romania: A Film District/Incentive Films Entertainment/Sierra Pictures/Prototype Production/Room 101/Bell & Peterman Films Production. Director: William Brent Bell), like one of those vampire films in which human characters never once use the word "vampire," is a werewolf movie that the word "werewolf" is uttered only once, at the very end of the film. Actually, it is set in France so it's technically a loup-garou. The film has an interesting introductory setup: an excessively hirsute Eastern European hunk (Brian Scott O'Connor) is arrested for murdering and partially eating an American tourist and his child, and agrees to retain the defense counsel of a devoted human rights lawyer (A. J. Cook). She in turn solicits help from her former boyfriend, an expert on wild animals (Simon Quatermane), who is expected to provide a testimony that the killing could not possibly have been done by human hands (and teeth).
Again unfortunately, this intriguingly rational-procedural approach to the werewolf story is abandoned midway as the hunk simply goes on a rampage and the idea of Perry-Mason-meets-Larry-Talbot genre hybrid is thrown out the window. What remains is a standard werewolf action, albeit excitingly done. The half-hearted effort by William Brent Bell's screenplay to suggest some kind of scientific explanation for the loup-garou falls flat and is largely forgotten by the film's climax. I am glad the werewolf sub-genre is proving to be as durable as the vampire one, although Wer is primarily distinguished by its conscious desire not to rely on special makeup effects in its transformation or rampage sequences. ☆☆☆
Filmed on location at Bogota, Colombia, one is tempted to read some kind of political allegory into The Damned (2013- USA, Colombia: An IM Global/Five 7 Media/Launchpad Production. Distributed by IFC Midnight. Director: Victor Garcia), which stars American actors but is strongly Latin-American flavored. The set-up is not particularly original, to say the least. It starts out like the classic Twilight Zone episode "Howling Man," written by Charles Beaumont, as a bickering group of family and friends are stranded in an abandoned Colombian hotel, whose proprietor is keeping a little girl locked in the basement. Of course, we immediately suspect the girl's true identity but then the film moves to the Fallen (1998) territory, without the latter's wry wit and the reflective attitude toward men's evil nature, with a dash of Michael Reeve's The She Beast (1966) mixed in. The film could either have been more phlegmatic and philosophical or, conversely, wilder and woolier. As it stands, it is neither hot nor cold, despite some effective set pieces. ☆☆☆
Okay, now we are at number twenty. A few more scare flicks to go. Next installment may finally include brand-new Korean horror films The Tunnel and The Navigator.