Resuming where I have left off last time with the Cento notti di orrore project, watching one hundred "new" horror films in the year 2014, to eventually select the 13 best-of list: We are now moving onto the lucky number seven. Up to here are the films I have watched up to, hmm, early June or so. Saint Anthony of Parking Spaces, I was really busy in the spring quarter.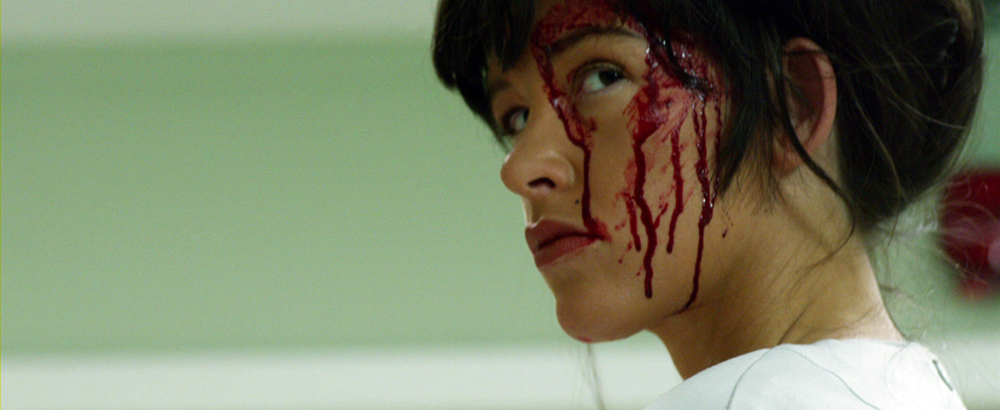 In late April I watched, let's see… oh, here we have a self-conscious, almost tongue-in-cheek throwback to candy-colored, deliberately politically incorrect '70s exploitation film as well as anything-goes '80s slasher film "aesthetics." Nurse (2013- USA: A Lions Gate Entertainment Production. Director: Douglas Aarniokoski)– presented theatrically in 3-D, no less– seems to have rubbed a lot of people in the wrong way, but it does score points for hutzpah. Director Aarniokoski gleefully doles out the knowingly schlocky exploitation content– mini-skirted nurses dispensing lethal injections from neon-colored hypodermic needles, lesbian bed scenes with a G-string underwear thrown about, a panting-mutt goofball performance from Judd Nelson (who's actually game and does a better job at this sort of thing than, say, Christopher Atkins) as a lecherous doctor eventually carved up by Abby, the film's serial murderess cum sexy nurse, and so forth. I appreciate what Aarniokoski is getting at, and some of his visual gags (such as the darn cool main title design) are inspired, but I also felt that he tries a little too hard to sell his wares. More problematically, Abby's character feels like a sketch rather than a full-blown construct. Paz de la Huerta's performance seems to be also splitting the viewers pro and con: I don't think she has done a bad job, but her character is not nearly as compelling (or funny, for that matter) as she probably appeared on the screenplay page. Perhaps addition of a genuine sense of humor, rather than strained un-PC paroxysms that are "supposed to be funny," might have helped her render Abby's character more memorable. ☆☆☆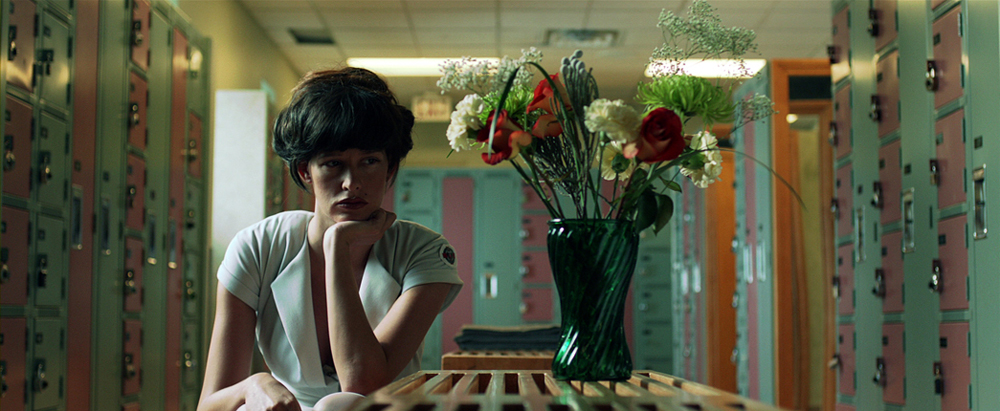 Banshee Chapter (2013- Germany, USA: A Sunchaser Entertainment/Before The Door Pictures/Favorite Films Production, Distributed by XLRator Media. Director: Blair Erickson) is another micro-budget found-footage film. This time, an attractive, British-accented journalist Anne (Katia Winter) is recording her investigation of the disappearance of her college friend James (Michael McMillian), who has left a camcoder footage in which he ingests a US-government-created mind-altering drug called DMT-19, and apparently transforms into… a zombie? An alien-human hybrid? She hitches up with a counterculture writer Blackburn (Ted Levine, Silence of the Lambs) who had originally supplied James with a batch of the drug. Things go rapidly batshit-weird from there, as Blackburn's girlfriend Callie (Jenny Gabrielle) is transformed in the same way James was. Anne eventually figures out that the drug changes one's brain chemistry to be receptive to the signals sent by extra-dimensional monsters, a la Resonators in Lovecraft's From Beyond. And they are determined to wear our bodies like boxing gloves to cause untold mayhem…
Banshee Chapter is akin to Shimizu Takashi's Ju-on, in the sense that the movie is not particularly attractive, constructed in a threadbare manner on one or two effective ideas, but, it must be admitted, is darn scary. The budget is pathetically low to the point that the found-footage conceit is abandoned midway (most of what Anne goes through is filmed in a cinema verité style by "God's perspective and not by her camera), but nonetheless the whole thing remains effective. The slack-jawed makeup of the "possessed" should be for intents and purposes a laugh riot but is actually seriously disturbing when sparely glimpsed in the context of the film. The best way to describe it is a minimalist version of Lucio Fulci's The Beyond, although in substance much closer to Lovecraft than the Fulci extravaganza. ☆☆☆★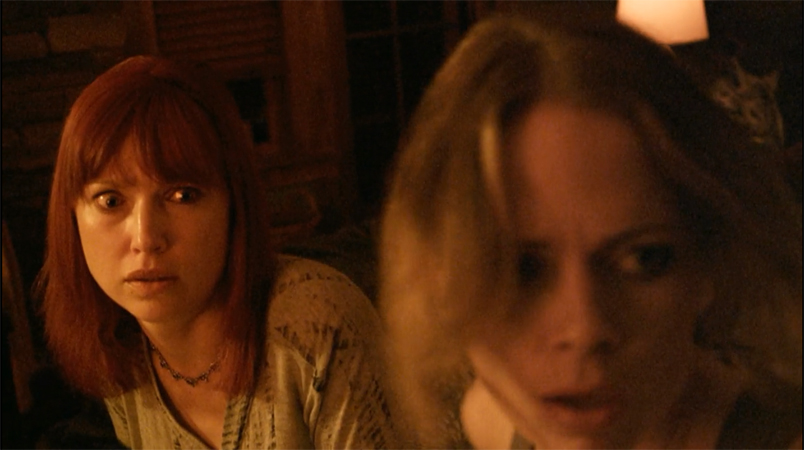 One of the most controversial horror films released to the general public in 2014, The Sacrament (2013- USA: A Worldview-Arcade Pictures Production, Distributed by Magnolia Pictures. Director: Ti West) is a difficult movie to judge fairly. Patrick (Kentucker Audley), a fashion photographer, agrees to an assignment of conducting an interview with a commune leader known only as Father (Gene Jones), under whose benevolent spell his long-lost and drug-addict sister Caroline (Amy Seimetz) seems to have fallen. At first, the community seems to be perfectly in order: but when one mother tries to secretly smuggle her child out of the compound with the documentary team, Patrick and his crew begin to suspect not everything is what it seems at Eden Parish. West's directorial acumen is in display throughout this tightly constructed mockumentary. He carefully builds up anxiety and suspense levels, never resorting to loud bangs or jump-on-your-back visuals to keep you interested.
The Sacrament might well be tremendously disturbing and absorbing to those who have never heard of the Jonestown Massacre (non-American viewers, for one). However, I and many others who have, through various news reports, documentary programs and (admittedly more melodramatic) feature films such as Rene Cardona Jr.'s Guyana: Crime of the Century [1979], will not be able to shake off a debilitating sense of deja vu and, worse, pointlessness. In the end, the whole enterprise, expertly put together as it is, feels rather hollow, like a deed turned in too late, as Japanese merchants used to say. If West was trying to prove the point that "a real-life tragedy created by blind faiths is much scarier than fictional supernatural shenanigans" with The Sacrament, I must say he succeeded, except that, I should note, that's a rather self-defeating attitude for a maker of horror film to assume. ☆☆☆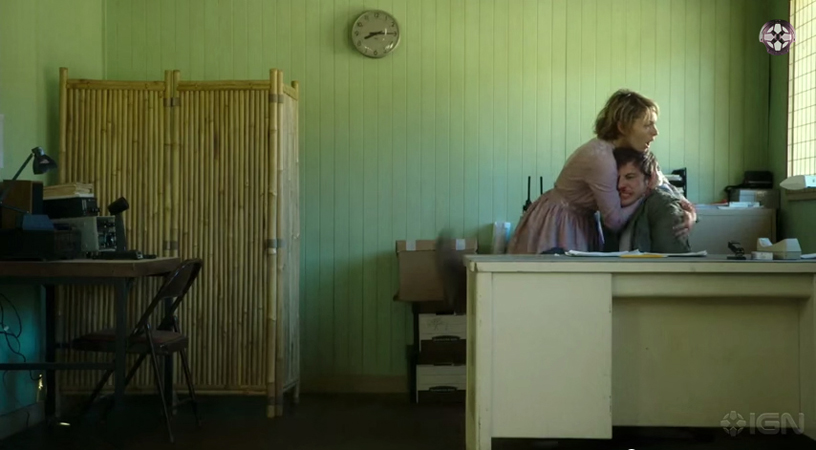 Allegedly well-received at Sundance Film Festival and widely praised by critics is Great Britain's In Fear (2013- United Kingdom: An Anton Capital Entertainment/Lovefilm/Big Talk Production, Distributed by Studio Canal/4Films/Anchor Bay Films. Director: Jeremy Lovering). Typical of the recent trends in the British horror, it explores anthropocentric horrors based on the active will to harm others, addressing the anxieties of social disintegration facing the country (Brits no longer need a nasty zombie epidemic or such fictional device to imagine their population bashing each other's head out: sheer hatred of your neighbors is potent enough, thank you). The minimalist setup follows a young couple (Ian De Caestecker and Alice Englert) driving to a resort hotel in the countryside. Once they arrive at the vicinity, however, not only are they having trouble locating the so-called hotel (the gas is running out, the terrain is muddy, and the sun is setting), but are running into evidence of somebody (or somebodies) tracking them down.
A heavy-breathing psychodrama disguised as a random-disaster-falls-on-innocent-vacationers "rural" horror, In Fear starts out like a variant of Matheson/Spielberg's Duel but turns into something else entirely. Intense and well-mounted, there is still little innovative in either conception or execution of the film: you can see the denouement from a mile away. Among the movies with a similar setup (an uneasy couple traveling in an automobile), I would yet prefer Winter Chill with Emily Blunt, which had the advantage of more sympathetic characters and less indulgence in "tasteful ambivalence." I admit that its Harold Pinter-esque acting set pieces are of high quality, but the movie isn't really thrilling nor scary, just depressing. Banshee Chapter can paint circles around this film in terms of the booga-booga factor. ☆☆☆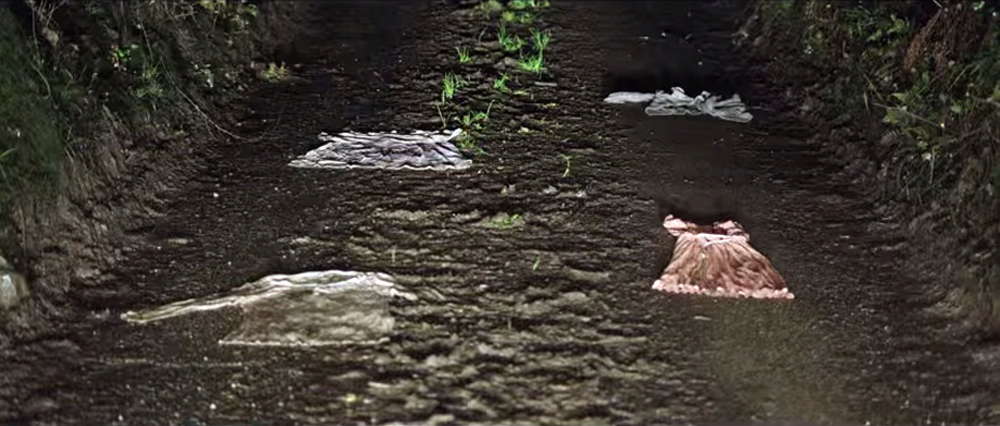 Surprise, surprise: one of the hoariest clichés of Gothic horror, a haunted furniture, in fact a haunted mirror at that, receives an exceedingly clever treatment in the hands of Mike Flanagan (director of raw but intriguing Absentia [2011]) in Oculus (2014- USA: A Intrepid Pictures/Blumhouse Pictures/WWE Studios, Distributed by Relativity Media). Kaylie (Dr. Who's Amy Pond, Karen Gillan), who works at an antique auction house, tells his younger brother Tim (Brenton Thwaites) that she wants to prove that their father, who shot their mother and killed himself, was in fact goaded by an evil presence residing in an archaic mirror. Sneaking the artifact out of the auction house, she has set up a Rube Goldberg device that threatens to shatter the mirror unless it reveals its true colors to the siblings, and presumably to their camcoders. Of course, the mirror strikes back, by manipulating the sibling's perception of time and space, which it does devilishly well.
Oculus is an ingenious horror film that pits human protagonists and the supernatural evil within the framework of something like a board game. Director-writer Flanagan then uses the film's flashback structure to slowly undermine the viewer's own certainties about the narrative content and character motivation. By the second half, the film turns almost experimental, as the flashbacks to Kaylie and Tim's childhood selves become conflated with their adult "realities" to such an extent that the latter are unconsciously replicating their childhood "mistakes." The film's morale conveyed through another downbeat ending seems to be "Leave enough alone those things not meant to be stirred up," but I found this denouement disappointingly conventional. I think Oculus would have been an enduring masterpiece had it introduced just one more tweak. Visually the film is somewhat dull-looking, although the reflected-mirror eyeballs of the apparitions conjured by the mirror-demon are a nice, eerie idea, especially combined with their vaguely smirking, rather than tormented, countenances. ☆☆☆★★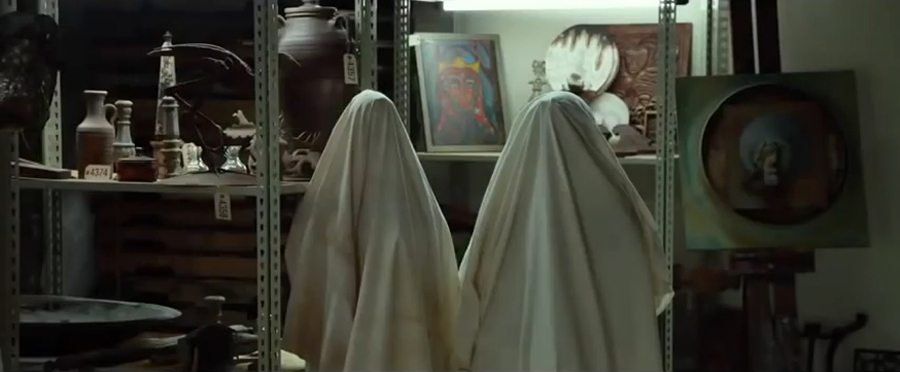 Almost Human (2013- USA: A Channel 83/Ambrosio-Delmenico Co-Production, Distributed by IFC Midnight. Director: Joe Begos) is a Rhode Island regional production: it's very energetic but cannot quite overcome fatally unoriginal premise and execution. A hunky lumberjack (I am guessing?) played by Josh Ethier is abducted by aliens and comes back two years later, and guess what, he has even less personality than before. Who would have thought? His wimpy friend (Graham Skipper) and beautiful wife (Vanessa Leigh) don't know how to respond. Soon, the lumberjack is orally impregnating a bunch of guys and gals stashed in warehouse. And yes, he has ungodly designs on his pretty wife.
The movie samples Fire in the Sky, Invasion of the Body Snatchers, The Hidden and even X-tro, among many other (better) genre films. Director Joe Begos has zero notion of subtlety but, given the threadbare production quality, has the right attitude to just forge ahead and put in as many bash-'em-ups as he could find excuses to. ☆☆★★★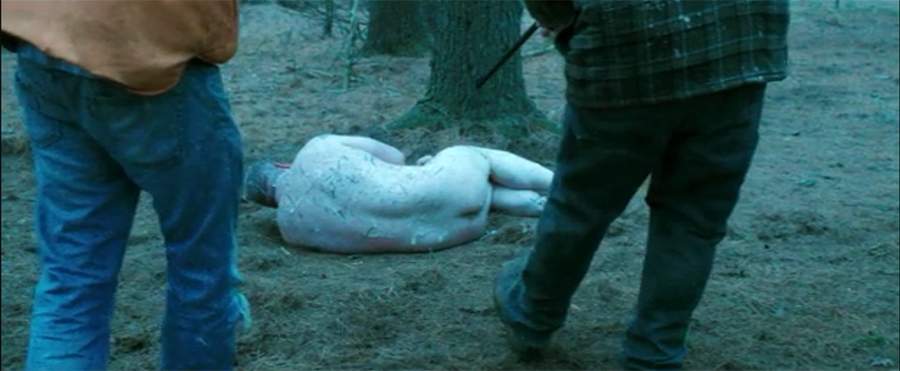 Next installment will be written in Seoul, Korea. Already watched and waiting in the cue are Evidence, Haunt, Chiller TV's Deep in the Darkness and Juno Mak's exciting feature debut Rigor Mortis.