THE LAUGHING POLICEMAN. A Twentieth-Century Fox Film Production. U.S. 1 hour 52 minutes, 1973. Directed and Produced by Stuart Rosenberg. Written by Thomas Rickman, based on the novel by Per Wahlöö and Maj Sjöwall. Cinematography: David M. Walsh. Music: Charles Fox. Cast: Walter Matthau (Sargent Jake Martin), Bruce Dern (Inspector Leo Larsen), Louis Gossett Jr. (Inspector Larrimore), Anthony Zerbe (Lieutenant Steiner), Albert Paulsen (Henry Camerero), Cathy Lee Crosby (Kay Butler), Joanna Cassidy (Monica), Val Avery (Inspector Pappas), Mario Gallo (Boddy Mow), Clifton James (Jim Maloney), Frances Lee McCain (Prostitute), David Moody (Pimp).
Long-time mystery fans might recall that Stieg Larsson's Millennium trilogy was not the only Swedish genre fiction to have hit it big with North American readership. Maj Sjöwall and Per Wahlöö, a common-law wife and husband team, were prolific mystery writers who wrote ten police procedurals starring Superintendent Martin Beck from 1965 to 1975. Their fourth novel, The Laughing Policeman, actually won Edgar Award given by the Mystery Writers of America, and served as a basis for this sole American cinematic adaptation (as of yet) of the pair's literary output. The novel is a taut, phlegmatic mystery in the classic sense, with a genuine plot twist at the end. The film version written by Thomas Rickman (Coal Miner's Daughter) and directed by Stuart Rosenberg, however, is a loosely structured, very '70s-style concoction that, despite the eyebrow-raising level of violence, occasionally threatens to sputter to a halt.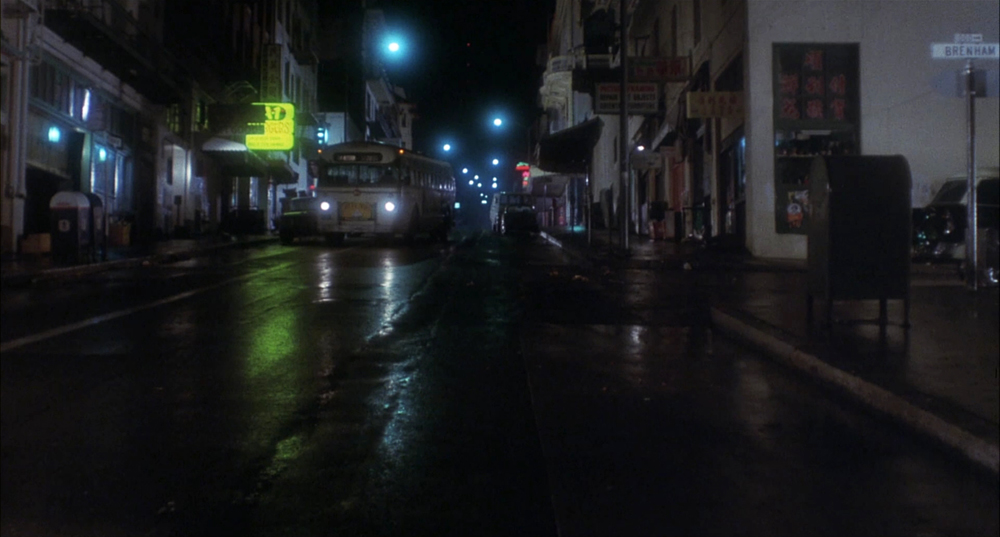 There is no real urgency to Martin's (called "Jake" Martin in the movie) investigation of the mass murder of a public transit bus passengers, who gradually suspects that the heinous crime was designed to cover up the intended murder of one of the passengers, his partner who was looking into a long-unsolved murder case of a prostitute. Rosenberg, who displayed uncommon sensitivity in directing an eclectic cast in The Voyage of the Damned (1976), seems to be neither interested in psychological insights nor in genre thrills. Like many urban crime films of the similar vintage, the movie is primarily held together by life-like interactions of the cops, petty criminals and various professionals involved in the public service sector, essayed by veteran and up-and-coming actors, although none of the roles are particularly distinguished enough to leave indelible impressions in the minds of the viewers.
Walter Matthau cuts a fine figure as a hard-boiled, gum-chewing senior cop, but as a character his Martin is something of a sourpuss (roughly manhandling his dead partner's woman, played by Cathy Lee Crosby, and sullenly withstanding harangues from his neurotic superior Anthony Zerbe). His borderline-racist New York cop in Taking of Pelham One, Two, Three (1974), for instance, was a much better developed character. Bruce Dern is also underused: he is shown to engage in "routine" activities like forcing a stool pigeon into a urinal in a police bathroom but much of this feels tacked on to give his character a veneer of naturalism. Leaving a strong impression in a brief role is the outrageously beautiful Joanna Cassidy as a nurse hit upon by Dern's detective: Louis Gossett Jr. has a nice turn before his breakout role in TV's Roots, although, again, his character merely sits in the sideline in regards to the main plot.
The film was obviously made by those with a progressive outlook, what with the strong position given to Gossett's black detective, yet its portrayal of San Francisco's gay subculture seems rather perfunctory (added just because the setting is San Francisco?) as well as ambivalent. On the one hand, Matthau's Sargent Martin has no trouble shooting down Leo's suggestion that the blackmail based on a character's homosexuality might have been the reason for the culprit's desperate act of mass murder: he quips, "'Fruiters' now flaunt their [sexuality], rather than keeping it in the closet." At the same time, the culprit's "sexually perverse" orientation is sort of floated in the background, as if that is a motivation enough for his original murder of a prostitute, which is never really explicated to the audience's satisfaction.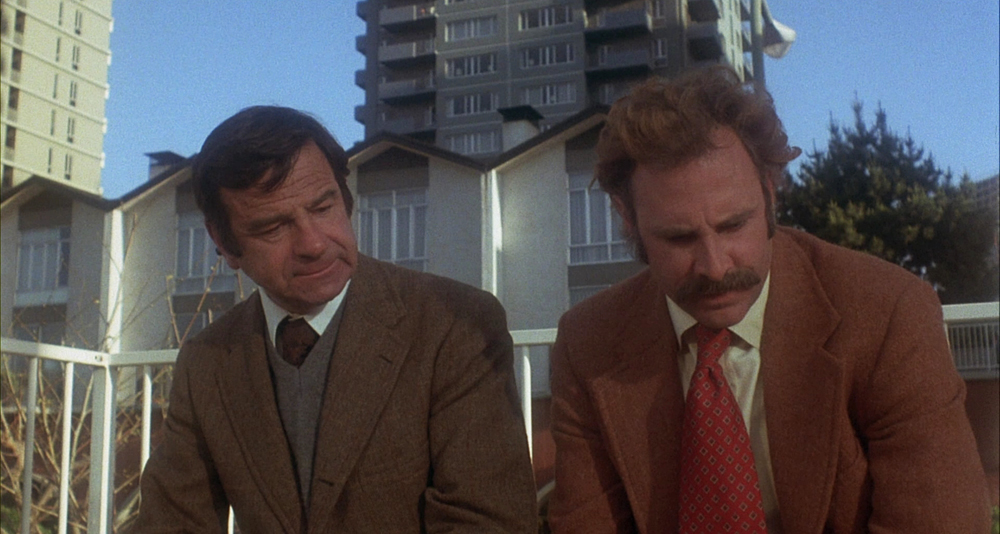 David M. Walsh's location shooting captures the beautiful city in a pleasant, naturalistic light, punctuated by gritty scenes of violence, autopsy and confrontations in public settings. To give credit where it is due, the film does include several, excitingly edited chase sequences that makes good use out of narrow, steep roads climbing up and down dem hills of San Francisco. With these many talented actors in the stew, we never entirely lose interest in the movie, but it does not quite become compelling or special either.
Blue Ray Presentation:
MASSENMORD IN SAN FRANCISCO [Massacre in San Francisco]. Region Free. Blu Ray, Carol Media-Twentieth-Century Fox Home Entertainment. Anamorphic Widescreen 1.85:1. English/German Dolby Digital Mono. No Subtitles. Supplement: Theatrical Trailer, German language biographies of Walter Matthau, Bruce Dern and Louis Gossett Jr. Release Date: September 21, 2012.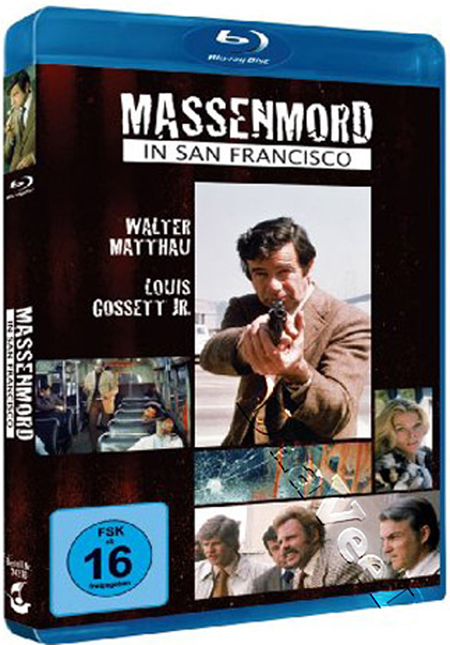 The Laughing Policeman receives a Region Free Blu Ray release from Germany's Carol Media, that have also released minor but interesting US titles such as The Android (with Klaus Kinski), The Naked Face and Mambo Kings in Blu Ray. The visual quality is okay to good, not top-notch, with the elements in a reasonable but not pristine shape. Color timing appears to be correct: complexion tends to run a bit on the ruddy side but otherwise the filmic texture is fine, except when the scenes featuring actresses are pictured in soft-focus. The Dolby Digital mono is serviceable, with a typical '70s American film ambience. I sampled German audio track out of curiosity: other than the fact that voice actors dubbing Matthau and Dern sound completely unlike them, the dubbing crew seem to be working extremely hard to approximate the flow of colloquial English. English subtitles are sorely missed.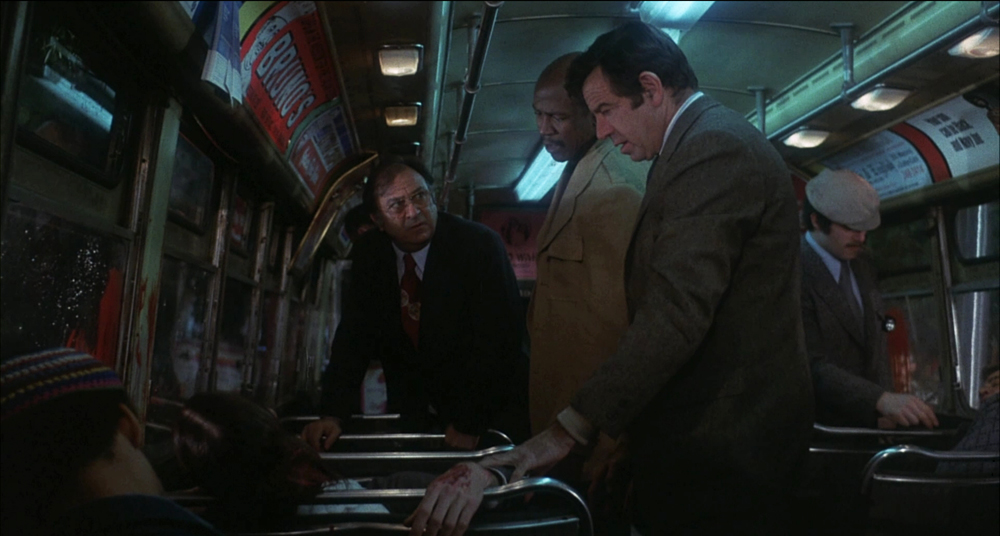 Even though the Blu Ray cover (and all retailer specs) lists the running time as 1 hour and 45 minutes, the actual film in the Blu Ray clicks at 1 hour 52 minutes, identical to the IMDB listing. Including this sloppy mistake, the Blu Ray package is far from attractive, with Bruce Dern's name not even showing up in the marquee for some reason. However, for fans of the film, the added resolution and improved visuals and audio of a Blu Ray should be sufficiently attractive.
*Blu Ray copy courtesy of DaaVeeDee.com