28th July 2010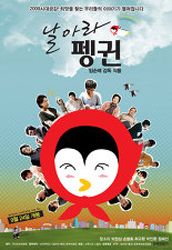 Fly, Penguin was my favorite film from 2009 and it was recently released on dvd. My copy arrived yesterday along with The Man Next Door, Runaways From Home, Actresses and Boat, all from 2009 (bringing my total number of dvds of Korean movies to 526). I had been waiting for Fly Penguin for a long time and I had recommended it to many people. I was a little concerned when the promotional material I received advertising the dvd release did not list subtitles of any kind on it. Usually though, when a disk has no subs, that fact is mentioned. In this case, there was just an empty space where the subtitles information should be. As it turns out, this was just a typo or an oversight.  I am happy to say that this dvd has subtitles in Korean and English so, hopefully, it will be enjoyed by a wide audience.
Fly, Penguin is directed by Im Soon-rye and is more similar in feeling to her earlier works The Weight of Her and Three Friends than her popular movie Forever the Moment in that it highlights social problems in a lightly humerous, non-preachy manner. This film is an omnibus where  the characters of each storyline are related to each other through either family ties or their jobs.
The first story looks at a mother, dubbed a 'helicopter mother' because she is constantly hovering over her son. She wants her son to excel at school, as all mothers do, but she goes too far and gives the boy no time to enjoy his childhood. She is especially determined that he will master English even though he has no interest or special ability in the subject. She takes him to those 'English Villages' where students are forced to pretend they are entering a foreign country and speak only English, enrolls him in a 'Taeglish' academy–on top of his art instititute, but pulling him from ballet classes, arranges an English tutor for him and English telephone practice. She fails to notice that her son is withdrawing into himself and that her constant nagging and cajoling is leading him down a dangerous path unless someone is able to intervine on the boy's behalf…
The second story takes place at the mother's place of work which has just hired two new employees. Although everyone is excited to meet them at first, their individual mannerisms make it difficult for them to fit in and they soon, in their own ways become the subject of office gossip. 
One of the new employees has limitations on what he can eat and drink. This makes life very difficult for him as the boss of the company is constantly pushing his workers to accompany him to lunch, dinner and after dinner drinks. The boss is the subject of the third story. His wife and two children have been living overseas. This is not an uncommon practice in Korea among people who can afford it. The children attend high school in the foreign country, often living with the mother there, while the father stays in Korea and makes money–These fathers are often called 'Geese Fathers' as they must migrate back and forth to see their children. The father in this segment is where the title of the film comes from.  One of the office workers makes a pun about Geese Fathers saying that dads who can make the trip often should be called Eagle Fathers while those who can't afford to travel should be called Penguin Fathers. In the case of the father in this part of the movie, his wife and children plan to spend summer vacation in Korea, but when they arrive after four years of living overseas, he realizes they are not the same people he used to know.
In the final story, we meet the boss' parents. They seem to live comfortably in a good sized house but, after retiring, the old man shows no interest in going out. He constantly complains that his wife shows no signs of slowing down. She takes dancing lessons at the community center, attends concerts and has even learned to drive in her old age. This infuriates him as he expects her to wait on him hand and foot, but it is not until she brings up the word 'divorce' that he begins to realize how much he has to lose.
Im cares about all her characters and makes each one of them real. Even those whom we are clearly not meant to like, such as the boss' wife, are handled with a gentle sensitivity and, whether we agree with them or not, have good motives to their actions. Again, if you like quiet, character-driven dramas, I am sure you will love this movie. I can confidently recommend this movie.
Posted in 2000s, Review | 1 Comment »