14th November 2009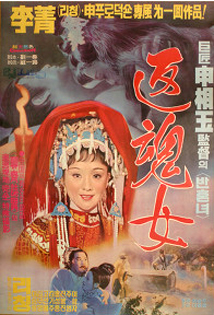 Originally posted July 26, 2007–I had the opportunity to watch the 1973 classic A Woman With Half A Soul the other night.  It was a surprisingly good film directed by legendary Shin Sang-ok who was able to imbue the atmosphere and feeling of the Universal monster movies of the 1930s such as Dracula, Frankenstein and The Mummy.
Looking at the above ad, one would never realize that this is a horror film. In fact, the ad seems to dedicate a lot of space to the lead actress rather than revealing much of anything about the movie. That is because the lead actress was none other than the great Hong Kong actress Li Ching. Throughout the seventies, Hong Kong films were very popular. Shaw Brothers' releases enjoyed a high degree of success. Li Ching was a staple of those 'kungfu' films but in the early 70's she did made a handful of Korean films. One was the melodramatic A School Mistress. Another was this competent horror film.
The story is about the handsome young noble Han Do-ryeong who comes across a house in the forest. Living in the house is the beautiful Yeon-hwa and her elderly guardian. Clearly attracted to each other, Han makes his way each night to their house and the young couple fall in love. What Han doesn't know is that everyone in the village fears the name of Yeon-hwa.  One night, his servants follow him to his lovers house, however they are shocked to see Han conversing with no one at all. There is not even a house..Han is sitting on the forest floor talking to himself. The merely strange becomes the terrifying when Yeon-hwa's guardian makes her presence known and the servants are lucky to escape wih their lives. Everyone else who sees the true face of the guardian dies of fright.
Yeon-hwa seems like a very sympathetic ghost. After all, she is merely looking for someone to love, right?  Well…I was thinking that too until she and her guardian attack the customers at a bar–scaring some of the revelers to death when they reveal their gruesome features. As Han is forced to confront the true nature of his lover, the ghosts become more desperate. What do they want? And how does Han fit in with their plans?  I don't want to spoil the ending so these are questions you will have to find out for yourself if a dvd of this film is ever released.  It seems an increasing number of older films are slowly finding their way to dvd—so maybe you won't have to wait long.
This is a very easy film to watch. It is very well paced and the acting is quite good, and Han's servants steal quite a few scenes.  This is one that I highly recommend.
Posted in 1970s, Review | 2 Comments »