11th July 2011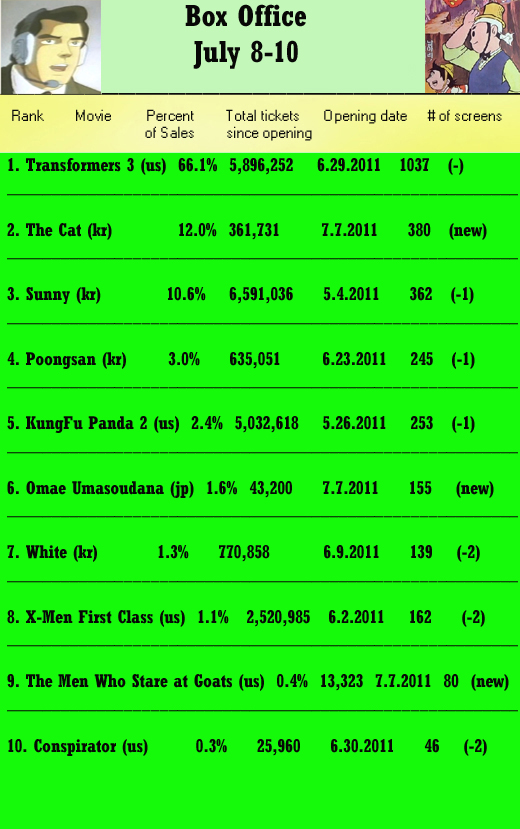 Well, I am back from New Zealand and had a very good time visiting Auckland,  Wellington and points in between.  I also had the chance to view a couple of Korean films on the plane– Detective K and Little Black Dress.  I also learned that at the end of July, the New Zealand International Film Festival will be held. 3 Korean films will be screened: The Man From Nowhere, I Saw the Devil and Yellow Sea. I was a little disappointed with the selection– not because they are bad films, but because they did not choose movies outside of the action genre. 
While I was gone, Transformers 3 opened on well over a thousand screens and took over the box office. Sunny proved itself to be incredibly durable and remained at number two last week and slipped to number 3 with the opening of the Korean horror film The Cat.  Despite not getting very good reviews, I am looking forward to seeing  Cat.  Our feline friends were such a big part of Korean horror films in the 60s and 70s but we rarely see them anymore. I will admit though that the trailer for this film makes it look more like the Juon cat/ghostboy than the earlier depictions of a cat/ghost story.
Opening this coming week is the final installment of the Harry Potter films which I have no doubt will take over the top tier of the box office. That and the 'also-rans' opening with it are listed below.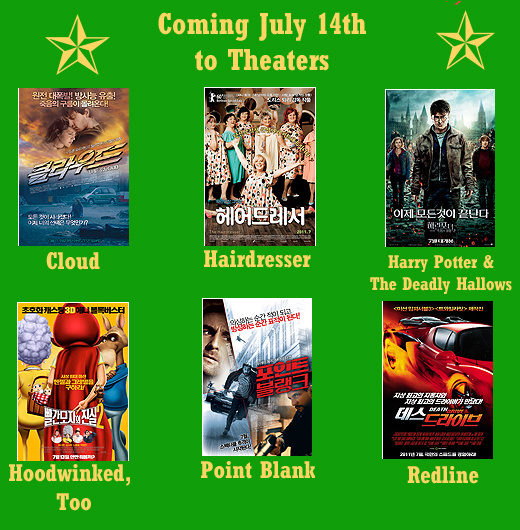 Posted in Box Office | 1 Comment »