14th November 2009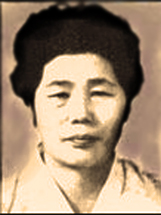 Originally posted February 5, 2008–The woman who would become Korea's first female director was born on February 24, 1923 in Hayang, North Gyeongsang Province.  She was the third of ten children and was a self-proclaimed tomboy. She proved her athletic prowess by taking home the third prize in a national track and field competition. The field she excelled at was Shotput.  In 1943, she entered what is now Ehwa Women's University in the Department of Home Economics, however she dropped out before graduating and began working as a reporter in Daegu where she would write a film column.
After Korea regained independence, she relocated to Seoul where she studied film editing and camera work.  She worked as a scripter on the set of Director Shin Kyeong-gyun's 1947 film A New Oath. When the Korean War broke out, Park took a job behind the camera filming events for press releases by the Ministry of the National Defense.  In Busan in 1953, she met and married playwright Lee Bo-ra.  The following year, she started filming her husband's scenario and her resulting film was released in theaters on December 10, 1955.
The movie's name was The Widow.  The title refers to the main character Shin who lives alone with her daughter Ju. She is able to survive with the help of her deceased husband's friend Lee Seong-jin. However, as time passes, Seong-jin falls in love with Shin. This does not go unnoticed by Seong-jin's wife who seeks to ease her lonliness through an affair with a much younger man named Taek. She is not the only one in love with Taek–the young man saves Ju from drowning and to two develop feelings which ends his affair with Lee's wife. However, Shin also falls in love with Taek, cutting off relations with Seong-jin and sending her daughter away so she can live alone with Taek. Her plans come crashing down around her though when Taek's girlfriend Jin appears out of nowhere. Taek believed her to have been killed in the war but reunited he quickly rushes back to her arms leaving Shin to take some desperate measures.
After this, Park would write for the magazine Cinema Fan and worked for Dong-a Films, but she never directed another movie. In 1992, she and her husband moved to Los Angeles where they live today.  In 1997, The 1st Seoul Women's Film Festival officially declared her the First Woman Korean Director.
Posted in Directors | Comments Off