8th December 2009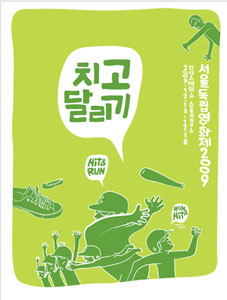 Classes are finished and final exams are nearly over!  So what to do?  Well, if you have the chance to be in Seoul at the end of this week, you may want to check out the 35th Seoul Independent Film Festival–or SIFF for short.  There is an amazing collection of movies being screened.  The majority of these are Korean made feature length films, shorts and documentaries.  Opening the festival will be One Night Stand, an omnibus film by directors Jang Hoon (Rough Cut), Min Yong-geun (award-winning short film director), and Lee Yu-rim. 
There will also be a selection of invited independent films from the Philippines subtitled in Korean and the entire filmography of director Zhang Lu from his 2001 short film Eleven to his 2008 film Iri and a 2009 documentary of Lu's life and works called Of Hospitality by director Woo Hye-kyeong.
One word of caution. If you cannot understand Korean, than check the screening guide carefully.  While many of the films contain English subtitles, there are some notable exceptions like the opening feature and the Philippine movies.  Screenings will be held at Spongehouse and Indiespace from December 10-18.
Posted in News | Comments Off