5th November 2009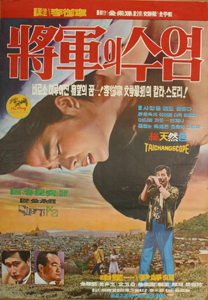 Originally posted August 27, 2007–Are you looking for a well-paced mystery that mixes brilliantly colored scenes with stark black-and-white noir photography, a Sam Spade-esque detective and a jaunty, but somehow depressing, cartoon?  Look no further–The General's Mustache is for you!
I was excited to see this classic directed by Lee Seok-goo was airing over EBS last Sunday.  The cinematography alone is enough reason to watch it but the fact that you are getting an interesting story as well guaranteed this film's success when it was released. In fact the movie earned several awards including two Best Director awards, two Best Cinematography Awards, prizes for music and screenplay and it was given the title of Best Film  at the 7th Grand Bell Awards.  It also went on to screen at the 4th Chicago Film Festival.
The story, based on a novel by Kim Uh-ryeong, revolves around photojournalist/artist Kim Cheol-ho (Shin Seong-il).  At the start of the movie, Kim Cheol-ho is found dead and his death is determined to be suspicious enough to warrent an investigation.  The case is handled by a detective played by Kim Seung-ho who begins to retrace not only the last few hours of Cheol-ho's life, but the victim's life in general, to find out what made him tick and where he might have made enemies. 
The investigation enables the police to flesh out the life on Kim and provides an interesting array of suspects and motives.  We learn that Kim Cheol-ho never felt as if he fit in with society.  This is handled masterfully through the animated sequence pictured above.  Kim Cheol-ho had an idea for a screenplay that he unsuccessfully pitched to a producer.  The story took place in a city that was honoring a larger-than-life war hero. This general comes riding down the street leading a large unit of soldiers. Besides his size and the enormous number of medals decorating his chest, the most remarkable thing about the general is his beard and mustache. A small, balding reporter dashes forward for an interview and shyly asks the general if he can grow a mustache like his to which the general responds, "Do as you wish."  It is not long before every man in the city is sporting a mustache. Those who cannot grow a full beard wear a false set.  Everyone that is except one man.  This sad young man, clearly meant to be Cheol-ho, has no wish to conform and this results in him being fired from his job. 
This short animation is very telling about the character of Cheol-ho but it is also extremely well done.  The images are drawn in a way very similar to Disney animation of that period and do not look much like the Korean animated films of that time.
Director Lee and cinematographer Jang Seok-joon knew how to use various techniques to their best advantage.  In one scene, the detectives are theorizing about a possible event in which they discuss the possiblity of Cheol-ho's strict and unforgiving father having been attacked by his son. The events in their discussion are shown to the viewer in stark black and white photography with a well-designed, atmospheric set. However, their talk also demonstrates that the detectives do not know much about Kim yet as Shin Seong-il plays him with very different body language and facial expressions in that scene-looking more like a hardened killer than a tortured artist.
One of the best parts in the movie reminded me of the recent comedy, Unstoppable Marriage.  The character played by Kim Soo-mi in that film mangles both the English and Korean languages as she tries to show off her fluency.  The same situation occurs in The General's Mustache when Kim is assigned to photograph an interview with a professor and his wife who spent five years in the US.  The couple liberally and comically mix English into their dialog and pretend not to remember some of the Korean expressions.  Kim Cheol-ho is not the kind of man to let that kind of pretention go unheeded and angers the pair with his rightous indignation.
So who did kill Kim Cheol-ho?  Was it his nosy landlady whom the police question first? Or perhaps it was the slinky seductress he asked to model nude for his art.  Could it have been his ex-girlfriend tired of his bouts of depression and dellusions of artistic grandeur, a family member out for revenge for some unknown crime or one of the many people he offended in the last few months of his life? 
The answer, while not shocking after watching the movie, is a logical conclusion to the life that slowly and carefully unfolds before the viewer.  Definitely worth a look.
Posted in 1960s, Review | 1 Comment »