19th January 2012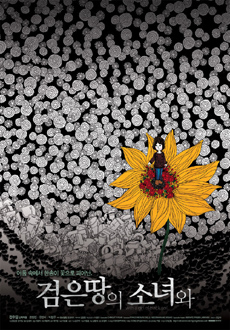 Jeon Soo-il is a director who deserves a lot more attention. I have really enjoyed the four out of five of the films he made that I have seen. My Right to Ravage Myself, Himalaya Where the Wind Dwells, The Time Between Wolf and Dog and With a Girl from Black Soil are all excellent movies. The one I did not care for was A Bird That Stops in the Air. I found it painfully self-aware and trying too hard to be ART! And I have not seen his debut film which screened at Cannes in 1997, The Wind Echoing in My Being nor his two latest films, Pink and I Came From Busan, but I will definitely be tracking them down.  I love his use of vast, bleak landscapes and his now-matured and subtle use of artistic symbols (overdone in that one movie I disliked). In With a Girl from Black Soil, the film is set in a coal mining town in the northern mountains of Korea dominated by uncaring machinery, run-down buildings and a mountain of discarded shale. Hardly the ideal playground for 8-year old Yeong-lim and her brother Dong-gu. But 'ideal' is not a concept anyone in this depressed little community would be familar with. Most are trapped in this difficult and dangerous job with no hope of advancement and probably no future.
Yeong-lim's father, Hae-gon, does his best for his two children. But his hours are long and the conditions in the mine are taking a toll on his health. In fact, he is diagnosed with the early stages of black lung disease. Angry at the lack of safety precautions at the mine where the workers are not given face masks, Hae-gon voices his disapproval and brings a lawsuit against the company resulting in his being fired for his efforts. While his initial attempts to find alternate employment seem to meet with some limited success at first, everything eventually falls apart for him. To make matters worse, the area of the town he lives in has been slated for 'urban renewal' (most likely because of the new casino opened nearby for tourists) and it will be torn down at the end of the month. So his future looks as bleak as the dark rubble surrounding him.
As the sole caregiver to his two children, Hae-gon is very concerned…not so much for Yeong-lim who is bright, obediant and very responsible, but for her slightly older brother, Dong-gu. His son is developmentally stunted. At the beginning of the film we see Hae-gon talking to a social worker and learning that his eleven-year old son has the mind and vocabulary of a three-year old. Yeong-lim spends much of her time looking out for him but both she and her father know they have to teach him to take care of himself. It seems like a hopeless task however, and Dong-gu is often wandering off and unwittingly placing himself in dangerous situations.
Yeong-lim seems to be the only one among her small family with any hope at a future, but she is still quite young and cannot do much more than offer silent encouragement to her struggling father and uncomprehending brother. And as her father's frustration turns to depression and he, as a consequence, turns to drink, Yeong-lim is forced to more and more extreme ways to ensure their survival. Eventually, she has to make some decisions that no person should ever have to make…
Yeong-lim is the main character in this movie and she is played by Yoo Yeon-mi, who you might know as the little girl in the 2010 hit film, The Man From Nowhere. There is also a couple of cameo appearances from celebrated actress Kang Su-yeon playing a character whom may very well be the adult Yeong-lim. 
It is an interesting film whose ending will definitely make you think.