16th October 2009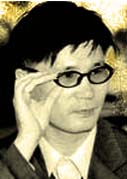 Originally posted November 7, 2007— Lee Jeong-guk was born in Boseong, South Jeolla Province  on August 20, 1957.  He attended Joongang University majoring in the Department of Film and Performing Arts. While in college, Lee made four short films. The best of these were Baekil Mong (1984) and A Day in the Life of Two Men (1986).  These screened at short film festivals and earned Lee a great deal of positive feedback and critical acclaim. He had high hopes when he was finally was in a position to make and release his first feature length film, the independently produced The Song of Ressurection (1990).
Unfortunately, this film which focused on a man caught up in the events of the Gwangju Massacre failed to attract audiences nor did it gain the approval of critics. Quite frankly, it was ahead of its time..so much so that no one wanted to film it for fear getting arrested. The facts about the Gwangju Massacre may have been well known to Lee who grew up in the area, but what happened in that incident was not generally known by the rest of Korea and most citizens at that time preferred to accept the government's take on the event. Now, in the more open and democratic climate,this film would probably benefit from being re-evaluated by current critics and viewers.
After that failure, Lee waited three years to release his next film, The Story of Two Women.  This film was a great success. It depicted the lives of women from the end of the Korean War through the seventies–a time of extreme poverty and rapid changes that were not always easily assimilated. This powerful film won Lee numerous awards including Best New Director and Best Screenwriter in 1994. 
His next film was Channel 69 in 1996.  In this film, Lee chose to battle have his characters battle censorship as they struggle to create a porn website. Because of the nature of the film, it did not receive wide acceptance, but his next move The Letter (1997) became one of the most popular melodramas of its time. From its cute meet at the beginning to its heart-rending end, The Letter follows a formula set forth by many melodramas before it, but it does it quite well. It helped that the lead actors were Choi Jin-shil and Park Shin-yang.
This film was followed by yet another melodrama, The Promenade in 2000. However, while audiences were kind to the predictable nature of The Letter, they were far less kind in their evaluations of The Promenade and the film is considered a failure. (But I love the poster!)
After a three-year break, Lee returned with one a film I hate above all others, Blue. This horrible, 'blockbuster'-style, action/melodrama left me extremely disappointed with direction his career seemed to be taking. Its a movie that doesn't seem to know which way it wants to go…Lee speaks about the film in an interview he did with Film2.0 at the time of his release translated below.
Most recently, Lee co-directed The Resurrection of the Butterfly (2007) that received a limited release in an arthouse theater in Seoul. Currently, Lee is a film professor at Sejong University.  Even more recently Lee
++++++++++++++++++ +++++++++++++++     ++++++++++++++++++++++
This interview, conducted by Jang Byeong-won was conducted on February 5, 2003
Doesn't it seem a bit extreme to go from making melodramas like <Promenade> and <The Letter> to making a high-seas action blockbuster?
I suppose, on the surface, it might look like a 'high-seas action' movie but the central theme that I really wanted to express was the strength of friendship that can be found between men.  I personally feel that this movie is not a big change from what I have done previously.  Although the scale is a little larger, it is basically the story of <The Letter> moved out of the forest and onto the ocean.  Did you read the information about our shooting schedule running over and how much we spent, especially on special effects and computer graphics? That was the real change. Dramatically, there is hardly any difference.  And it was a great opportunity for me to learn about filming action sequences, and using the graphics and special effects that we needed for this film.
<Blue> was in production for a very long time.
This is the first time that it has taken me so long to make a movie. <Promenade> took exactly 21 days to shoot and it was released within 3 months of starting.  <Blue>, on the other hand, took about 3 years to finish.  That was partly because it was such a large scale movie combined with the fact that we had to adjust our shooting schedule daily according to the navy's schedule.  Also, even though we had received permission from the Ministry Of Defense to shoot on the navy base in advance, we had to go through the whole process of requesting permission a second time when the head of the ministry changed.  We needed time to work with the actors, select the opening computer graphics and post-production required even more time to complete a lot of the computer graphics found throughout the movie.
The computer graphics, special effects and underwater photography all combined to make the scale of this film bigger. But it seems you had to be especially careful in doing all these things at sea.
I left all the problems of graphics, effects and underwater photography to the specialists. I devoted myself to depicting the drama in <Blue> in a manner I would be satisfied with.  Above all things, this movie is a drama. Maybe some directors who make art films can ignore drama because he possesses a sense of style, but I make commercial films. The main concern of any commercial film is the drama within. I wanted that to go without a hitch and that was my only focus.  I was satisfied with talking to the specialists before each shoot so I could tell them the image I wanted to create in each scene.
The underwater scenes looked great.
Back when they made <The Phantom Submarine> they used a 'dry-for-wet' technique. They used some kind of smog to create the feeling of being at a great depth.  Then 3D graphics were added.  The shots of the nuclear submarine were actually shot on a set and the rest was completed with computer graphics.  Several years have passed since that technique was developed and a lot of progress has been made on it since then.
It feels as if there is no clear antagonist in <Blue>.  Most of the disagreements are caused from difficulties in love, friendship, and authority.
When I first saw the scenario, I thought that it was a little stale and I considered throwing it out.  I thought out some more problems to draw out the drama and added some elements of danger.  Without those elements, the story had seemed disjointed.  The basic story is just two men in love with one woman, but the friendship grows stronger because of disaster.  I once made a movie called <A Tale Of Two Women>, this movie could be called 'A Tale Of Two Men.'
With all the plotlines running through <Blue>, it seems like we are seeing several different movies.
I wanted to make a movie like <The Letter> where the genre is clearly defined, but it didn't work out that way.  It became a mixture of genres.  These days, many Korean movies seem to have an identity crisis.  Melodramas are stuffed full of comedy and comedies are filled with action.  <Blue> is basically a melodrama which incidently contains comedy, action and suspense.  The story is mixed, not because I intentionally blended genres, but because it was difficult to separate those elements out.  In the long run, having various dramas helped in filming this movie.
What kind of movie do you think you'll make next?
For the past two years, I have been working on a thriller. Korean film critics have indicated that there is a stagnation of certain genres and have said that if someone wants a challenge, they should take on a thriller.