16th October 2009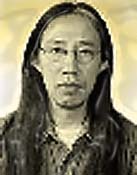 Originally posted November 30, 2007–Director Bae-Hae-seong was born as Bae Beom-seong on Christmas Day 1954.  He attended an industrial high school and later was able to enrol in the Hankuk University of Foreign Studies. However, after just two years, he dropped out.  In the early part of the 1970s, Bae was travelling between Seoul and Busan involved with various works in the music industry, although he was not a musician himself. He became involved with a group of photo enthusiasts and was soon holding several posts in their club, including president for several consecutive years.  He interest in photography grew and he eventually founded an advertising company so he could work as a photographer creating ads. During that time, he also freelanced as a columnist writing articles about films and music. 
Bae directed three films, the first of which was I Want To Cry in 1989.  It was the story of three friends who are arrested and sent to prison. One of them is released early after she gives birth to a child whom she later abandons while another of the friends plots revenge against the old man who had her put in jail. The movie was based around a popular song of the same title released in 1988 and the film starred that song's singer Lee Nam-yi.
His second film was a children's superhero film called Space Warrior, FireMan. The plot and the style of the film were clearly influenced by the popular Ulemae series and starred comedian Lee Kyeong-gyu.  In the film, a princess and her general are on the run from an a hostile force that has invaded their planet. The take refuge on Earth in an elementary school where they are aided by the children one of whom can change into the mysterious superhero known as Fireman. This film was released in 1991.
He then took a seven-year hiatus from movie-making before returning in 1998 with the film Blues about a trio of friends who are willing to do anything for money. One of them is ready to leave the group to live an honest life with his new girlfriend, but the others convince him to do one last job with them. They plan to intercept a large shipment of drugs which they can later sell. Of course, things go horribly wrong…
Although it has been almost ten years since his last film, we may yet be hearing from Director Bae in the future. An internet search revealed that Bae seems to be back in the advertising/photography field including designing a cd cover for a band.
Update:  Director Bae returned to filmmaking in 2009—11 years after his last film— with the indie movie Father.  I have recently ordered his new movie and hope to review it shortly.