16th October 2009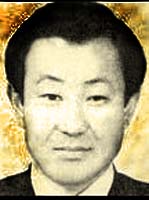 Originally posted January 24, 2008— Director Lee Seong-gu is a man whose films I look forward to watching.  While not nearly as famous or as easily recognized today as his contemporaries Im Kwon-taek or Shin Sang-ok, Lee nevertheless was an extremely talented director who was often able to impart something special into his films.  I have already reviewed two of his works on this site, The General's Mustache and Plateau, so I thought I should take the time to introduce the man.
Lee Seong-gu was born Lee Beom-ryong in 1928 in the city of Hamheung in what is now North Korea.  After he graduated from high school, Lee headed south and attended Donggook University majoring in Literature.  He was the nephew of director/producer Lee Byeong-il and used that connection to get a job as assistant director for Donga Productions in 1947–at only 19 years old.
Seong-gu did not work steadily at the job because of his studies at the university and then the war, but he did eventually debut as a director in his own right in 1960 with the film A Young Look starring Uhm Aeng-ran. This was followed the innovative Murder Without Passion where a chauffer and the wife of his employer try to make her husband's suicide look like murder so they can collect the insurance policy.
All in all, Lee directed about 50 films and appeared as the lead actor in one, Baek Ho-bin's A Ghost Story (1964).  Lee most famous movie is The General's Mustache. His interest in literature lead to adapt many popular works of the times to film such as The Sun And The Moon (1967), When Buckwheat Flowers Blossom (1967) and Seven People in a Cellar (1969). 
In 1968 after completing The General's Mustache, Lee attempted to immigrate to the United States.  This information surprised me considering his treatment of the characters who had just returned from the US in that film. The characterization was very unflattering as he made them appear to be simaltaneously arrogant and foolish. However, Lee himself failed his attempt to leave Korea at that time and he resumed making movies.
In 1978, Lee made his last film, The Road. In 1980 he and his wife, actress Lee Eun-shim (who played the title role in the acclaimed 1960 film The Housemaid), packed up and moved to the USA.  As of 2004, Lee was still living there.