12th May 2010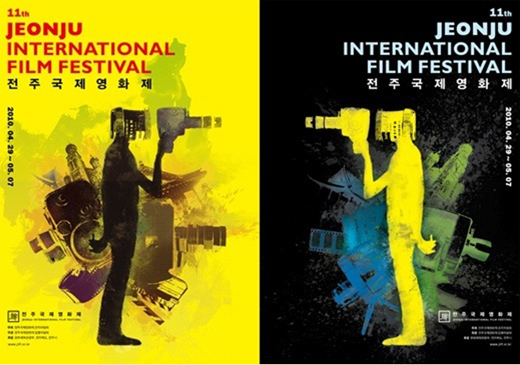 Below are the figures from the JIFF Press Center and comments from the juries regarding the films they selected to be honored with the top awards.
1. Festival Summary
 

2010

2009

Duration

29 April – 7 May 2010

(9 days total)

30 April – 8 May 2010

(9 days total)

Budget

3.1 Billion KRW

3.59 Billion KRW

Number of Screens

14

15

Number of Films Screened

208 films from 48 countries

200 films from 40 countries

Seat Occupancy Rate

83.4%

77.6%

Number of Seats (Sold)

?Except Outdoor Screenings and Industry Screenings

80,269 (66,913)

91,222 (70,762)

Number of Press (Foreign Media)

793 (108)

828 (121)

Number of Volunteers

303

335

Number of Guests

1,873

(Domestic 1,753 / Foreign 120)

2,070

(Domestic 1,930 / Foreign 131)
2. Award Winners
1) The 11th JIFF AWARDS (A total of 10 awards given along with trophies)
Award

Winner

Section

Prize

Woosuk Award

<Susa>

Rusudan Pirveli

International Competition

10,000 USD of Cash Prize

and 5,000 USD of

Production Support Fund

JB bank Award (Special Jury Prize)

<Red Dragonflies>

Liao Jiekai

International Competition

7 million KRW

JJ-ST?R Award

<Passerby #3>

Shin Su-won

Korean Feature Film Competition

10 million KRW

Eastar Jet Award

<Frozen Land>

Kim Tae-yong

Korean Short Film Competition

5 million KRW

Best Director Award

<Hard-Boiled Jesus>

 Jung Young-heon

Korean Short Film Competition

3 million KRW

Special Jury Award

<A Brand New Journey>

Kim Hee-jin

Korean Short Film Competition

2 million KRW

NETPAC Award

<Clash>

Pepe Diokno

Asian Feature

 

Audience Critic's Award

<The Boy from Ipanema>

Kim Kih-hoon

Korean Feature Film Competition

2 million KRW

JIFF Audience Award

<Before the Full Moon>

Seo She-chin

International /Korean Feature Film Competition

Sponsored by SONY

Movie Collage Award

<The Boy from Ipanema>

Kim Kih-hoon

Korean Feature Film Competition

2-week-long

theatre release and

marketing support

sponsored by CJ CGV
International Competition: Woosuk Award / JB bank Award (Special Jury Prize)
(Jury: Philip Cheah, Nacer Khemir, Bae Chang-ho, Lav Diaz, Michael Witt)
 The International Competition was extremely rich, and the jury had great difficulty making a final choice between 4 or 5 of the films. We noted a strong neo-realist, quasi-documentary sensibility running through many of the films, and we ultimately selected 2 films for the prizes in which the power and value of fiction shone through.
 The Woosuk Award for Best Film goes to a subtle evocation of the current political predicament facing the Georgian people expressed through the eyes of a young boy: Susa. We felt the director Rusudan Pirveli successfully coaxed a superb performance from her young main actor, and that this was supported by excellent performances throughout, a powerful sense of place, and a beautifully crafted narrative.
 The JBbank Award (Special Jury Prize) goes to a film that we valued above all for its mysterious evocation of Singapore's disappearing history – both social and personal – and its gentle depiction of innocence and passing youth: Red Dragonflies. We felt that there were moments in this small, relatively low-budget, non-formulaic film by first time director Liao Jiekai that displayed great sensitivity and promise for the future.
Korean Feature Films Competition: JJ-ST?R Award
(Jury: Kong Rithdee, Cho Young-kag, Eric Sasono)
The films in the Korean Competition show the great diversity of Korean independent cinema. The juries were pleased to be able to see the broad spectrum that ranges from narrative films to experimental documentary and crowd-pleasing stories. We saw tough political issues as well as intimate personal drama, while history and the process of filmmaking itself are also the running themes. It was a challenge for us to judge these diverse streams of thought and aesthetics and after a long discussion we're pleased to derive at our decision. Passerby #3 has a big heart that keeps throbbing, subtly yet clearly. The film is about the struggle of a filmmaker, but also of a mother, and the unique quality of the film is how we sense that the two roles are sometimes so close to each other. Without resorting to cliché, the director gives us a comedy-drama-musical hybrid that is sad, touching and very true.
Korean Short Films Competition: Eastar Jet Award / Best Director Award / Special Jury Award
(Jury: Riccardo Gelli, Vimukthi Jayasundara, Kim Young-nam)
Through the films in the Korean Short Films Competition, we were able to watch not only the current social problems in the Korean society such as family, love, youth, poverty and the reality of working class, but also the innerscape of people trapped in the problematic situation.
The juries come to select <Frozen Land> of KIM Tae-yong, which successfully portrays the reality nobody wants to see, as the winner of EASTAR JET Award. And the juries select the director of <Hard-Boiled Jesus>, JUNG Young-heon, who proves his directing ability with an excellent photography, as the winner of Best Director Award. Last, we select <A Brand New Journey> of KIM Hee-jin, which successfully captured the emotion of a girl who can't come a field trip due to poverty with delicately well-rounded details, as the winner of Special Jury Award.
 NETPAC (Network for the Promotion of Asian Cinema) Award
(Jury: Seo Hyun-seok, Ranjanee Ratnavibhushana, Sakano Yuka)
It was certainly exciting to see such a wide spectrum of styles and viewpoints, but the level of artistic accomplishments displayed by each work is hardly inspiring.  Although the amount of work and devotion displayed in each film is admirable in general, most films suffer from the lack of originality.  Somewhat derivative and often too compromising, the styles that many emerging directors pursued neither displayed innovation nor questioned the very mechanisms of the cinematic language.
 We selected "Clash" as the most accomplished piece of work based on its daring treatment of its subjects as well as space.  Although the theme of the film could have very easily flattened the film and his approach is vulnerable to clichés indeed, the handling of the camera demonstrates many great potentials of the digital cinema.  Authentic and passionate, "Clash" nearly pushes the parameters of the digital imaging.
Korean Feature Films Competition: Audience Critics' Award
(Jury: Yang Bit-na, Oh Mi-na, Jeong In-jong, Hyun Sol-ip)
 A total of 8 Korean films in the Korean Feature Film Competition show diverse views and the excellent visual quality and they were good enough to promise a brighter future of Korean cinema. And we could divide the films into two distinguishing categories of films focusing on the innerscape of a person and films examining the social problem.
Among the films, <Metamorphosis> of LEE Sam-chil delivers the feeling of deprivation of the young generation with uniquely employing the first person view. And <Before the Full Moon> of SEO She-chin successfully drew sympathy of the audience by approaching a social issue in a microscopic way.
 It was difficult for us to select just one film because each film has its own significant meaning. After a long discussion, we came to select <The Boy from Ipanema> of KIM Ki-hoon, which examines a new interpretation of time in the melodrama genre with an outstanding visual, as the winner of Audience Critics' Award 2010.
The director KIM Ki-hoon well expressed a portrait of the youth wavering before the memories of the past and the present, and love and farewell. So, we are looking forward to seeing his next work. Congratulations.
+++++++++++  EDIT ++++++++++++++++++++
I just want to apologize if this post looks strange–on my home computer , which has a very wide monitor, it looks fine. On my office computer, there is an empty space above the photo that I can't get rid of…