30th June 2010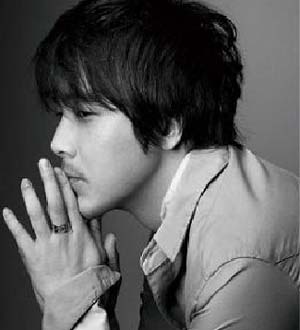 Today, the Korean film and entertainment world was rocked by yet another shocking suicide, this time by actor/singer Park Yong-ha.  The Associate Press article about his death, written by Kim Hyeong-jin reads as follows:  A popular South Korean actor and singer killed himself Wednesday in distress over career pressures while caring for his terminally ill father, police said, the latest in a string of high-profile suicides in the Asian country. Park Yong-ha, 33, is believed to have "impulsively" hanged himself with the electric cord of his camcorder at his Seoul home hours after he came home intoxicated, Seoul's Gangnam Police Station said in a statement."We have determined that it's obvious he killed himself," the statement said. No suicide note was found and Park didn't have medical problems such as depression or money troubles, it said. Police, however, said Park had been under stress because he had to juggle management of his entertainment company and his career while his father was fighting stomach cancer.  "I must be sick instead of you, father. I'm sorry. I'm sorry," the police statement quoted Park as tearfully telling his father before his mother later found the entertainer dead in his room.  Park also told acquaintances earlier this week that his work was "difficult and this kind of life is so hard."  The actor had been faithfully nursing his 62-year-old father and had been taking sleeping pills due to insomnia, an official at Seoul Metropolitan Agency said, citing Park's mother.  Park debuted in the late 1990s and starred in the 2002 television drama "Winter Sonata," which drummed up a following in Japan and Southeast Asia. He held several concerts in Japan and released eight CD albums there. One of his fans was said to be Japan's former first lady, Akie Abe.  Park's death was the top news in Japan along with the country's grueling loss to Paraguay on penalties Tuesday at the World Cup. Some Japanese TV networks had live coverage from Seoul with TV reporters standing in front of Park's home.  Park's online fan sites both in South Korea and Japan were paralyzed due to massive traffic. He was supposed to hold 12 concerts across Japan from July 2 to Aug. 22 and the tickets were sold out, according to Japanese record company Pony Canyon Inc.   Park's body was moved to a Seoul hospital for a three-day mourning period before cremation, Yonhap news agency reported, citing his family.
The above article, for some reason concentrating on his fan reactions in Japan, fails to mention Park's contributions to movies and especially tv in addition to his albums (9 in all).  His debut was actually in film.  In 1989, when he was just 12 years old, Park appeared in The Island of Women directed by Ha Ryun.  When he was a little older, he had his second role on MBCs Theme Game. This led to steady acting parts throughout the 90s but it wasn't until the daily drama See and See Again (March 1998-April 1999) that he became a household name.  Also in 1998, he starred in his second film, If It Snows on Christmas, alongside Kim Hyeon-ju.  Between 1999 and 2002 when he had his third film role, Park appeared in seven other tv dramas including the abvoe mentioned Winter Sonata. There was a third film in there called Summer Story, but it was never released in theaters. His fourth movie was a remake of the classic, I Hate You, But Again (there is a confusing number of translations for this title) called simply Again in English. Sometime while appearing in all these tv shows and movies, Park found time to graduate from Jungang University's department of Performing Arts. His singing career took off during the early part of the 2000s and he returned triumphantly to television with the well-received All In starring Lee Byeong-heon. More recently, Park was in a tv drama called Love Song and was in the thriller Scam in theaters. 
His life was much too short.  
Park Yong-ha:  August 12, 1977-June 30, 2010