3rd July 2010
This is going to be an expensive week for me and I couldn't care less.  I am so excited about what is being released and I am going to wind up buying everything seen in the post with the exception of the drama.  It's almost as if someone out there had access to my wish list and started to put the films on dvd.  I am a little disappointed that the 60s/70s films being released on the 9th have not been given English subs which would have given them a wider audience…but I will take what I can get.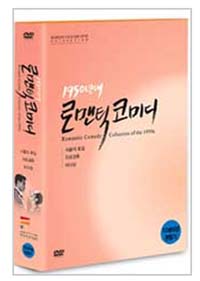 First up is the fully subtitled Romantic Comedy Collection of the 1950s.  Sutitles: Korean, English/ Rating: Ages 12+/ Audio: Dolby Digital Mono/ Region: 3/ Recommended Price: 39,600 KRW/ Available: July 6 – The set includes: (1) Holiday in Seoul (1956), directed by Lee  Yong-min, starring No Neung-geol, Yang Mi-hee–sthe story about a doctor and her husband, a reporter, who decide to vacation in Seoul. While there, her husband is called away to cover a murder case and the doctor comes to suspect that he is actually meeting another woman. (2) Love Marriage (1958), directed by Lee Byeong-il, starring Choi Eun-hee, Lee Mi-ja– Three sisters experience problems with the men they love. The eldest sister's husband abandons her on their honeymoon when she confesses she had a boyfriend prior to meeting him. The second sister has fallen in love with a poor teacher of whom the parents disapprove and the youngest daughter, who does not seem to care about marriage at all, chooses her father's cold assistant as her future husband despite the fact their is a man who truely loves her nearby.(3)  The Female Boss (1959)–Han Hyeong-mo, starring Jo Mi-yeong, Lee Soo-ryeon– A jab at the budding modern woman, the story is about a strong young woman who runs her own magazine. A man insults her over the phone because of her liberal ideas but later, that man comes to apply for a job at the magazine, unaware that he has offended the boss who wants revenge.  However, his masculinity and tough guy attitude starts to weaken her resolve and makes her fall in love.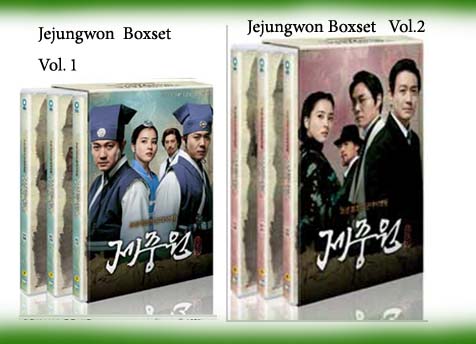 Jejungwon–  A SBS-tv drama that ran from January 4, 2010-May 4, 2010 and starred Park Yong-woo and Han Hye-jin.  It is being released as two volumes. Each volume contains six disks.  Vol.1 holds episodes 1-18, Vol. 2 has episodes 19-36.  Subtitles: English/ Rating: All Ages/ Format: 16:9 anamorphic widescreen/ Audio: Dolby Digital 2.0/ Region Code: 3/ Recommended Price: 88,000 KRW each set. Available:  July 8.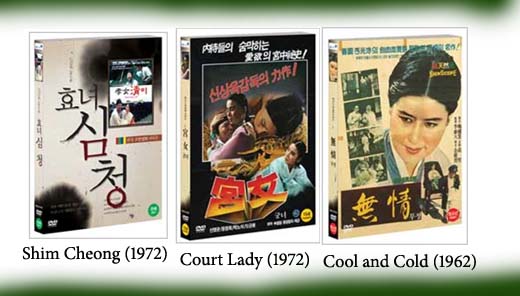 Shim Cheong (1972)  1-Disk–Director Shin Sang-ok, starring Yoon Jeong-hee, Kim Seong-won– I wrote a review of this film a couple of years ago that is on this site in the 70s review section. I beleive I called it the most watchable of the Shim Cheong stories and Iam happy to see it here. Suntitles: None/ Rating: All ages/ Format: 4:3 full screen/ Audio: Dolby Digital 2.0/ Region Code: All Regions/ Recommended Price: 22,000 KRW/ Available: July 9
Court Lady (1972)-1-Disk—Shin Sang-ok, starring Shin Yeong-gyun, Yoon Jeong-hee- the story of Bok-nyeo who becomes a pawn during a political struggle when the Queen Mother declares Bok-nyeo's child the heir over the rightful heir to the throne. Subtitles: None/Rating: Ages 15+/ Format: 4:3 full screen/ Audio: Dolby Digital 2.0/ Region Code: All Regions/ Recommended Price: 22,000 KRW/ Available: July 9
Cool and Cold (1962)–1-Disk– directed by Lee Kang-cheon, starring Choi Eun-hee, Lee Sang-gyun.  Moon Ok flees the north at the start of the Korean War with her wounded brother and young sister. But without relatives or friends in the south, she has to be prepared to do what it takes to support her family.  Subtitles: None/ Rating: Ages 18+/ Format: 4:3 full screen/ Audio: Dolby Digital 2.0/ Region Code: All Regions/ Recommended Price 22,000 KRW/Available: July 9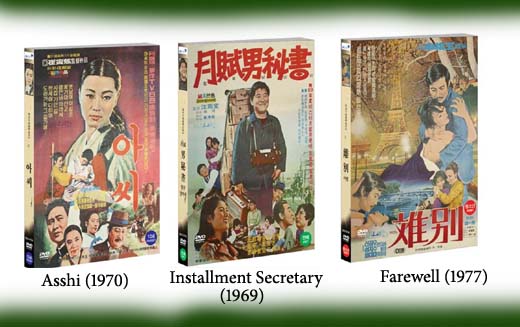 Asshi (1970)– d. Choi In-hyeon, starring Kim Hee-joon, Kim Chang-se Subtitles: None/ Rating: Ages 12+/ Format: 4:3 full screen/ Audio: Dolby Digital 2.0/ Region Code: All Regions/ Recommended Price: 22,000 KRW/ Available: July 9
Installment Secretary (1969)– d. Shim Woo-seob, starring Ku Bong-seo, Kim Ji-soo  The wife of a company CEO suspects her husband is having an affair so she hires a bumbling salesman to be her husband's secretary to spy on him for her. Subtitles: None/ Rating: All ages/ Format: 4:3 full screen/ Audio: Dolby Digital 2.0/ Region Code: All Regions/ Recommended Price: 22,000 KRW/ Available: July 9
Farewell (1977)– d. Shin Sang-ok, starring Kim Ji-mi, Shin Seong-il (I actually prefer Farewell 2 to this movie) Yeong-ok cannot accept the fact that she is divorced and that her ex-husband is about to remarry. She goes to Paris to stop the wedding and beg him to return to her. Subtitles: None/ Rated: Ages 18+/ Format: 4:3 full screen/ Audio: Dolby Digital 2.0/ Region Code: All Regions/ Recommended Price: 22,000 KRW/ Available: July 9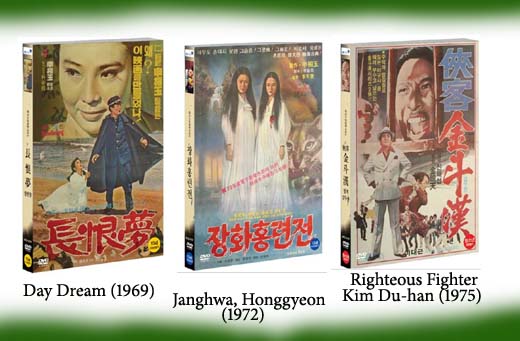 Day Dream (1969)– d. Shin Sang-ok, starring Shin Seong-il, Yoon Jeong-hee  Long ago, Soon-ae had promised Su-il that she would marry him but winds up married to someone else. Both are desperately unhappy and long to be reunited.  Subtitles: None/ Rating: Ages 15+/ Format: 4:3 full screen/ Audio: Dolby Digital 2.0/ Region Code: All Regions/ Recommended Price: 22,000/ Available: July 9
Jang-hwa and Hong-ryeon (1972)–d. Lee Yoo-seob, starring Kim Ji-soo, Lee Yeong-ok.  Two sisters are murdered by their stepmother and stepbrother but their spirits return seeking justice or, if need be, revenge. Subtitles: None/ Rating: Ages 12+/ Format: 4:3 full screen/ Audio: Dolby Digital 2.0/ Region Code: All Regions/ Recommended Price: 22,000 KRW/ Available: July 9
Righteous Fighter Kim Du-han (1975)– director Kim Hyo-cheon, starring Lee Dae-geun, Dok Go-seong   Kim Du-han fights to keep the streets safe and resist Japanese colonial rule in 1930's Seoul. Subtitles: None/ Rating: Ages 18+/Format: 4:3 full screen/ Audio: Dolby Digital 2.0/ Region Code: All Regions/ Recommended Price: 22,000 KRW/ Available: July 9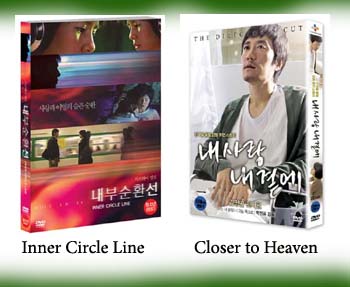 Inner Circle Line (2006)- 1 Disk  Subtitles: Korean, English/ Rating: Ages 18+/ Format: 16:9 Letterbox/ Audio: Dolby Digital Stereo/ Region Code: 3/ Special Features: Deleted Scenes, Photo Gallery, movie intro, trailer/ Recommended Price: 22,000 KRW/ Available: July 9——————————————————————————Closer to Heaven (2-disk)- Subtitles: Korean, English/ Rating: Ages 12+/ Format: 1.85 anamorphic widescreen/ Audio: Dolby Digital 5.1/ Special Features <on disk 2>: Pre-production, Making Documentary,Director's Choice, Wedding Ceremony, Making of Promo, Music Video, Trailer/ Recommended Price: 27,500 KRW/ Available: July 9