8th July 2010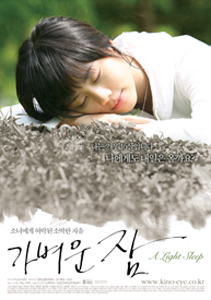 Yul-rin cannot sleep and it is littl wonder. Two years earlier, her parents were involved in a hit-and-run accident and the now-16 year old was left to be the sole caretaker of her pre-school aged sister. Judging by a friends comment, who does not know Yul-rin's situation, her family was well-off however, hospital bills prior to her parents apparently lingering deaths have eaten the family's money. She and her sister do not go hungry–Yul-rin even has enough money to buy a camera, but they clearly are not rolling in cash either as indicated by the fact that she cannot afford to bury her father or claim her mother's body from the hospital. This might seem overwhelming for any teen, but Yul-rin seems, on the outside, to be handling things just fine. Whenever asked "Are you ok?" or "How are you doing?" by anyone, be it doctor, uncle or school counsellor, Yul-rin always answers with a pleasant smile and says, "I'm fine."  Whenever someone offers any help, even when a boy who has a crush on her offers to carry her bookbag, Yul-rin is relecutant to relinquish her control and accept the offer. There are only a few times the viewer glimpses her internal struggles, for example, after visiting the school counsellor, she leans up against a window and whispers to herself, "I lied" but otherwise there are few hints the other characters in the movie had to help them realize how much Yul-rin is struggling with her grief and burdens. At one point, her younger sister asks to be carried because her legs are tired, and Yul-rin repies, with no hint of annoyance or resentment in her tone or expression, "Why don't you carry me too?"  But her sister, Da-rin, is too young. She doesn't understand fully what has happened or the sacrifices Yul-rin is making to keep Da-rin with her.
Yul-rin is unwilling to give up her sister to someone else's care. That means she must be the one to pick her up from the daycare, to prepare meals for her and to take care of her on weekends and at night. Because of her duties, she is spending less and less time with her friends, who chalk it up to snobbery. Yul-rin's life becomes a little more complex when she meets a boy who likes her and in whom she is also interested. However, she keeps her hardships and her life a secret from all her peers and makes numerous rules to ensure that secret remains safe. These rules, directed mostly at her boyfriend, include 'I will call you. You must never call me,' and 'Don't try to contact me or meet me.'   Later, as the burdens she has shouldered begin to wear her down, she tells her boyfriend, Joo-go, 'Don't be so nice to me. Don't smile. And never try to see me again.' These are warning signs, but because her charcter is so controlled emotionally and difficult for her friends to understand, Joo-go does not worry. After all, her behavior and words have often been a little odd when compared to her classmates.
Perhaps Joo-go would be worrying if he knew about her sleeping problem. At the beginning of the movie, we see Yul-rin visiting a doctor to get sleeping pills to help her with her insomnia. The doctor tells her that this is the last time he will write a prescription for her–that she must learn to sleep again without the pills. But that seems unlikely. Despite telling the doctor that she only takes them occasionally, we know that she is taking more than the prescribed dosage because just taking one or two does not work anymore.  This is frustrating for Yul-rin who says at one point in the movie, "I am happiest when I sleep" setting up a feeling of dread about a possible future path for her.
The above description may make this movie seem like a tear-jerker, but in reality it is a very matter-of-fact, straightforward story. The emotions of the film are as contained and controlled as Yul-rin's own. You can feel them below the surface and there is a tension I felt while watching the film of wanting something to break..or of having some release. Director Im Seong-chan has created a film which can be noted for its lack of palatable, definable emotions but beneath the images and between the lines, the emotions are boiling, begging to be given voice. Two decades of directing short films has given Im the experience he needed in directing this movie, his first feature length film and that experience has really paid off.  I hope to see more of his work, and of acters Choi Ah-jin (Yul-rin) and Yoo Chan (Joo-go) in the near future.