30th July 2010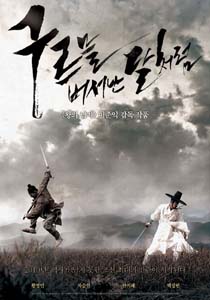 <Written for the August edition of Asiana Entertainment. That magazine has now been published and I am now able to post the article here. Asiana Entertainment is available for free on all Asiana Airline flights> In 1592, Korea, then known as Joseon, stood at the brink of the Imjin War against neighboring Japan. It was a war that Korea eventually won due to superior naval strength that successfully cut of supply ships from Japan. On land, however, the Japanese army was much more successful thanks to superior weaponry and strong leadership. At the start of the war, the Emperor of Joseon was besieged by ministers with differing opinions on how to engage Japan and the ruler's indecisiveness gave the Japanese forces an early advantage.
Lee Mong-hak (Cha Seung-won) was anything but indecisive. He realized that Korea had to fight and he had a plan. However, that plan included making himself king and he is willing to kill anyone who opposes him. One of those people who earns Mong-hak's wrath is the father of Gyeon-ja.
Although ostracized from his family, Gyeon-ja (Baek Seong-hyeon) does not hesitate to rush to his father's defense when Mong-hak comes to slaughter his family. For all his impassioned efforts, he is quickly subdued and left for dead. He is rescued by an eccentric, blind acupuncturist whom he learns is also an accomplished swordsman despite his lack of vision. Gyeon-ja begs his savior to train him in the art of fighting to gain vengeance for the death of his father. His unseeing benefactor, Hwang Jeong-hak (Hwang Jeong-min), eventually agrees.
Even though this film is set at the start of a war, it is neither a war movie nor a political thriller.  This is an action movie that shares quite a bit with the Hong Kong action movies of the 1970s whose plots often revolved around revenge. However, unlike the movies from decades earlier, this story has the multiple layers that we have come to expect from director Lee Joon-ik.  Director Lee is perhaps best known for his 2005 hit, The King and the Clown, which went on to win many awards domestically and internationally. In Blades of Blood, Lee creates situation where there are no easy answers.  Take, for example, the character of Lee Mong-hak. Although what he is doing is certainly treasonous, his motives were not necessarily evil. And while he is extremely ruthless on the road to make his dream a reality, he is also tender and charismatic, winning the heart of the lovely Baek Ji (Han Ji-hye) with his passions and dreams.
Deserving praise for his role of the blind swordsman is Hwang Jeong-min. His acting is flawless in this film and his interactions with his young ward are both funny and touching. Whenever he is onscreen, he steals the scene with either his dynamic fighting or his witty responses.
Blades of Blood is one of those rare films where history comes alive in an interesting and exciting way while not forgetting the stories of individuals caught up in the events. Watching this movie allows you to learn something about the ancient history of Korea but, more importantly, it will keep you entertained throughout its running time.