16th October 2010
Two movies that are definitely worth owning are being released this week, 71: Into the Fire and Poetry along with a minor MBC TV Drama that may be of interest to fans of Korean pop music as it stars Jeong Yoon-ho. He more more widely known as U-Know of the singing group DongbangShingi  (The band is more active in Japan these days where the name of the group is often written in English as Tohoshinki).  I will be purchasing both of these films this week.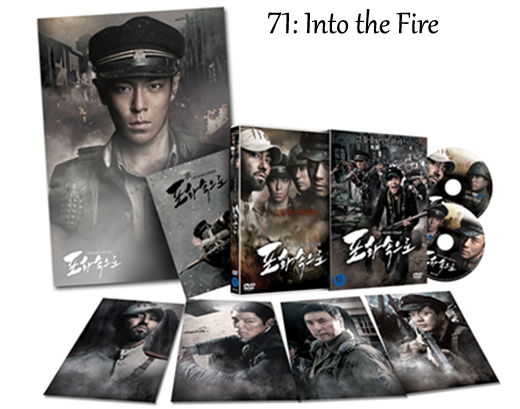 71: Into the Fire–I wound up reviewing this film a couple of times. Once on this blog back in June  and then for the October issue of Asiana Entertainment.  Even though I have seen it twice in a four-month period, I am happy to own this movie as well. This two-disc set comes with four charachter cards, a film leaflet and T.O.P's autograph on a face shot. Number of discs: 2/ Subtitles: Korean & English/ Rating: ages 12+/ Format: 2.35:1 anamorphic widescreen/ Audio: 5.1 Dolby Surround + DTS 5.1/ Special Features: pre-production, production design, the Korean War, making documentary, behind the scenes, poster shoot, trailers, etc/ Recommended Price: 23,500 KRW/ Available: October 20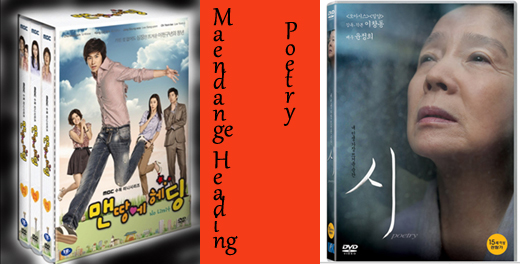 Maenddange Heading:  This tv-drama ran from June to November 2009. In it a former pro-soccer player on the national team has given up the game and lost sight of his dream. It stars Jeong Yoon-ho, Ko Ah-ra, Lee Yoon-ji and Lee Sang-yoon. Number of discs: 6 (episodes 1-17)/ Subtitles: English/ Rating: Ages 15+/ Format: 16.9 full screen/Audio: Dolby 2.0/ Region Code: 1 & 3/ Special Features: Deleted Scenes, Yoon-ho Interview, making, NGs, etc/ Recommended Price: 77,000 KRW/ Available: October 20.
Poetry: This is one I have been waiting to see for a long time. It played at Cannes but we heard very little of that at the time because the high-profile film The Housemaid was also screening there. It is a quiet story of an older woman who decides to take a poetry class and asked to write a poem that expresses her life. Number of discs: 2/ Subtitles: Korean & English/ Format: 1.85:1 anamorphic widescreen/ Audio: Dolby Digital 5.1/ Region Code: all regions/ Special Features: making, the actress, trailers, audio commentary on disc 2 with director Lee Chang-dong  film critic Kim Yeong-jin/ Recommended Price: 23,700 KRW/ Available: October 21