21st November 2010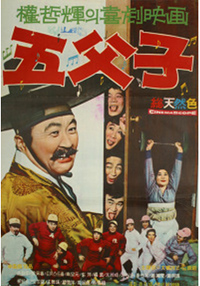 These past few weeks have been quite busy for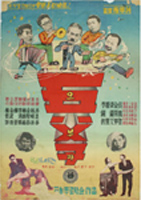 me.  School is winding down–just one month left and that last month always goes by too quickly!  I have a lot to do before it finishes. I have been watching movies, but I haven't had time to write much about them. I don't actually have time now as I write this. I can think of several other things that take priority. But I don't expect it will take too long to write this review of Father and Sons.  There are no deep hidden meanings to explore and I don't have to choose my words carefully to avoid spoilers. The film is not on DVD and is probably not on anyone's list of classic films that should be DVD. It is a comedy which relies heavily on slapstick and is a remake of director Kwon Yeong-soon's 1958 film of the same name (???). The poster of the orignal movie is pictured above right while the remake, and the topic of today's post, is on the left. 
The two films share more than a title in common. They share the talents of actor Kim Hee-gab. In the original work, Kim is one of the sons (seated on the far right of the poster with a guitar). In the remake, he plays the father, Mr. Park. The story outlines of these two movies are exactly the same. In brief, it is the story of a family with four sons who are well past the age of marriage but seem unable or unwilling to stop acting likc adolescents and settle down. It is not as if they could not support themselves. The eldest son, Yeong (Hyeon Yang) is a barber. Woong (Seo Yeong-choon) is a taxi driver. Ho (Twist Kim) owns a record shop and Geol (Nam Bo-won) is the leader of a band in a nightclub. They make pretty good money which they turn over to their father in order to be allowed to stay. The father in turn, reluctantly gives the money to his wife (Hwang Jeong-soon) to save for their son's future.
Park tells his sons the story of his courtship with their mother –which involved him threatening to commit suicide in front of his future father-in-law until the latter allowed him to marry his daughter– in the hopes that this will prod his lazy sons into finding wives. Most of the 84 minutes of running time that comprise this film is made up of the sons meeting various women and figuring out the correct way to win them over. For example, Ho keeps serenading his love interest outside her window but is thwarted from making headway by her protective father..until he learns that singing Italian opera may be the key to success. Woong faces down a gangster with a knife while protecting the virtue of a female customer in his cab and earns her respect. Eventually all the sons are paired off and the film can have a happy ending.
Besides just being a comedy, Father and Sons is also a musical. Characters are often singing jaunty tunes that were popular at that time. But herein lies one of the movie's biggest flaws. Anyone who has watched films from that period knows that the movies were dubbed after filming. If there was an adequate budget, the dubbing might be fair. But most films made at this time were under heavy budget constraints. This lack is very obvious in this movie. The characters 'sing' in voices that are clearly not theirs accompanied by instruments that are not present. When there are instruments on set, it is painful to watch as the actors mimic playing them with know knowledge of how to use them. Twist Kim was a bit of a disappointment in this film as well. I like him in other, more serious movies where his comic relief  and brief cuts of him dancing are welcome. But here, the welcome is overstayed.
Father and Sons (1969) was directed by Kwon Cheol-hwi, a man who graduated with a major in Law but who spent most of his adult life directing and writing movies. You may know him from his horror film, A Public Cemetary of Wolha, which is available on DVD with English subtitles. I had just rewatched that movie last week as well. I just don't have time right now to write about it… I will just have to see it again at a later date.