23rd January 2011
With the new year, I have decided to change what information I report in these weekly box office posts. Since 2007, I had been including the box office results of Jeonju along with the national totals.  In the past, there was often a significant difference between the two however, more recently, this difference has all but disappeared. By eliminating the Jeonju list, I can expand what information I can show in the limited space I have. Therefore, along with the rank, movie title, percentage of sales in the current week, and total tickets sold to date, I can now add the number of screens, and the opening date of the film for a clearer and more accurate comparison.  The change from week to week is listed last.  I will still mention Jeonju's box office results from time to time if there is something noticably different from the national trend.  The photo in the background of each chart I post  will continue to be from a still from that week's number one movie. Below are this weeks results.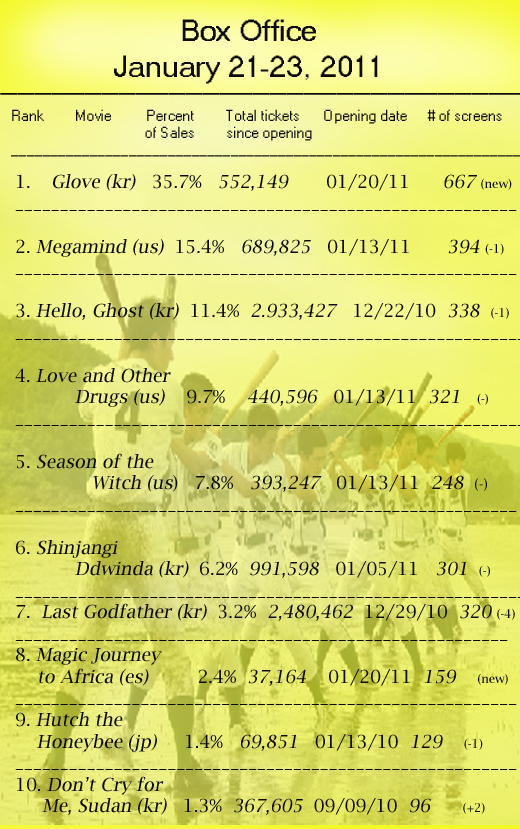 As I have only been back in Korea for two days after a month of travelling, I have not seen any of these films.  I will have to work on that during this week.  Below is a list of other movies that will be in theaters this week.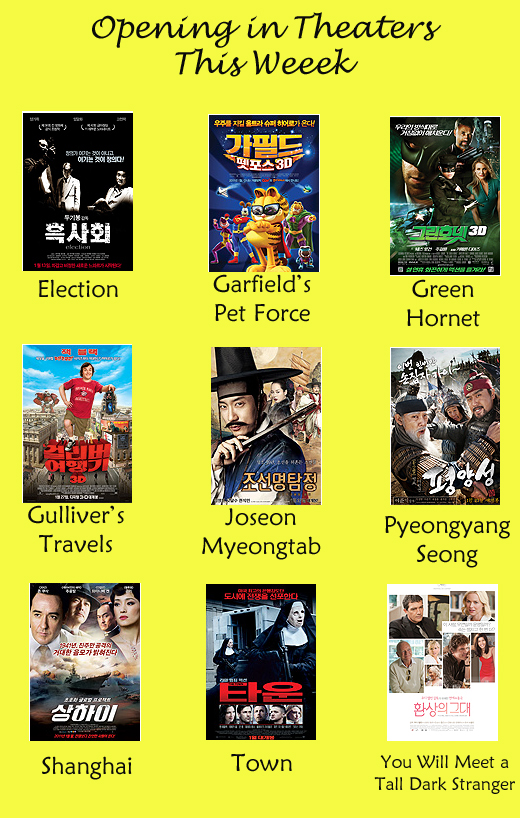 1. Election (hk)–d. Johnnie To, starring Tony Leung, Simon Yam.
2. Garfield's Pet Force (us)– d. Mark Dippe, voiced by Gregg Berger, Cathy Cavadini www.garfield-3D.co.kr
3. Green Hornet (us)– d. Michel Gondry, starring Seth Rogen, Jay Chou www.greenhornet.co.kr
4. Gulliver's Travels (us)– d. Rob Letterman, starring Jack Black, Jason Segel www.gulliver2011.co.kr
5. Joseon Myeongtab (kr)– d. Kim Seok-yoon, starring Kim Myeong-min, Oh Dal-soo  www.tamjung2011.co.kr
6. Pyeongyang Seong (kr)– d. Lee Joon-ik, starring Jeong Jin-yeong, Lee Moon-shin http://comic-battle.co.kr
7. Shanghai (us)– d. Michael Hafstrom, starring John Cusack, Gong Li  http://shanghai2011.co.kr
8. Town (us)– d. Ben Affleck, starring Ben Affleck, Rebecca Hall www.thetown.kr
9. You Will Meet a Tall Dark Stranger (us)– d. Woody Allen, starring Naomi Watts, Anthony Hopkins