8th November 2009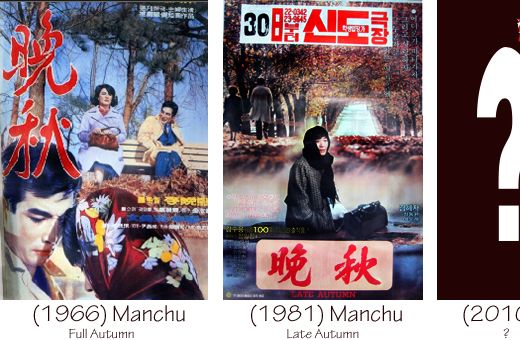 Most fans of Korean cinema proabably are already aware the Kim Ki-yeong's classic masterpiece, The Housemaid, is currently being remade starring actress Jeon Do-yeon (Secret Sunshine).  But while all eyes are on that film, which has been given a tentative release date of May 2010 even though it has not started schooting yet, another remake nearly slipped by unnoticed.
Manchu was originally made in 1966 by one of the most inspired directors of his times, Lee Man-hee (Evil Stairs, Girl Like the Sun).  It was the story of a woman in prison for murder but whom as earned a special leave for good behavior.  She is allowed to visit the tomb of her mother.  On the train to the hillside where her mother is buried, she meets a man and the two fall in love. They make a plan to meet before she is returned to prison, but he doesn't show up.  Instead she sees him outside the jail when she is headed back inside.  The movie starred top-actors Shin Seong-il (Barefoot Youth) and Moon Jeong-sook (Aimlss Bullet).  However, it is now impossible to see this film as it has been lost.  (Although with old, previously thought lost films like Hong Gil-Dong turning up, it may simply be misplaced for now). 
In 1981, director Kim Soo-yong took the story of Manchu and remade it starring actress Kim Hye-ja (Mother) and Jeong Dong-hwan (Seven Days). The story is basically the same, but since it was released on VHS at one point, there are many more details available as to the story.  The prisoner is enroute to her mother's tomb where she meets petty criminal Min-gi and the two fall in love. Min-gi tries to convince her to run away with him, but she refuses. Instead they promise to meet again in two years when her sentence has been served in full.  On the day she is released, she goes to the appointed spot to meet Min-gi…and she waits…and waits…and waits…  She does not realize that he has been arrested and is now sitting in a cell…
This latest version being released sometime in 2010 will be directed by Kim Tae-yong (Memento Mori, Family Ties) and there are already some new twists to the story.  The lead in the story will be played by Chinese actress Wei Tang (Lust, Caution) and she will be sharing the screen with Hyeon Bin (Daddy-Long-Legs).