8th February 2011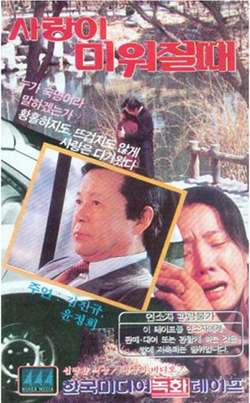 This past weekend, EBS aired director Ko Yeong-nam's Love and Hate from 1969. Before watching it, I took a glance at the website for the Korean Film Archives to see what they had to say about it. I also looked at the English version of the page and this is what it gave for a plot synopsis:  —  The two brothers are poor, but happy. But their relationship starts to fall apart as they learn that they love the same woman, Young-a. The younger brother pours anger on his brother, but the older brother decides to give up her love. The younger brother looks back his past, trying to ask his brother's forgiveness. But on his way to see his brother, the older brother dies of a car crash. Young-a encourages her old lover.  — Grammar aside, there are several problems with that synopsis. Namely, only the first two sentences actually happen as described.  It's a good thing that the Korean version of the KOFA website is much more accurate. It is also a good thing that I watched the whole movie and can describe it here in full. I am not going to worry about spoilers in the following review.. this movie is unlikely to see a subtitled DVD release in my lifetime…
The movie opens with wealthy Yeong-ah (played by Yoon Jeong-hee) walking home from college one dark night when she is harassed by a motorcycle gain. They threatenly approach her but she is rescued from danger by a mysterious stranger who arrives in a nick of time. The stranger and his chauffer make short work of the ne'er-do-wells leaving Yeong-ah grateful and suitably impressed. When they next meet, Yeong-(Never-Wears-the-Same-Coat-Twice)-ah agrees to accompany him on a date and proceeds to fall head-over-heels in love with him. She learns his name is Yoon Tae-yeong (actor Baek Yeong-min)…but that is the only truthful thing she learns from him. Everything else he tells her about his past, his family and his wealth is a lie. His car, his clothes and even his shoes are all borrowed from various friends. Yeong-ah was presented proof of this from one of her friends who was suspicious of Tae-yeong from the start and had him checked out. She leads Yeong-ah to Tae-yeong's hovel in a small shanty town just behind the glistening new buildings of Seoul. On their next date, Yeong-ah mercilessly and very publically berates Tae-yeong and proceeds to dump him, telling him to make something of himself.
What the haughty Yeong-ah does not know is that Tae-yeong shares his hovel with his older brother played by Kim Jin-gyu. The older brother is not given a name. At work, he is called Mr. Yoon so I will simply refer to him as Yoon.  By amazing coincidence, Yoon happens to work in a company owned by Yeong-ah's father. When she sees him for the first time, she is immediately attracted to him and his character. She soon finds herself meeting him whenever she has the chance, even to go so far as to follow him out of the city and surprising him with a sweater as a gift while he is doing a safety in one of her father's plants. Rather than call her a stalker and take out a restraining order, Yoon, who up to now has been resisting her advances, finally comes to accept her love.
But Yeong-ah is not the only one who knows how to stalk in this story. Tae-yeong soon finds out that his girlfriend-for-a-day is now seeing his brother, flies into a rage and leaves his hovel without telling anyone where he is going. Yoon, feeling guilty, tries to stop seeing Yeong-ah. However, the young woman is persistant and convinces Yoon to let her into his house so they can talk–and that is naturally the day that Tae-yeong had decided to come home. Angry again, the brothers part.
Yoon quits his job and starts working construction, but his inexperience is evident. He has difficulty working in high places and takes a tumble from the staging of a building landing him in the hospital. Tae-yeong's friend informs him of what happened to his older brother and Tae-yeong, without thinking, rushes to be at his brother's side…only to rush headlong into the path of an oncoming car. He dies in the hospital with Yoon and Yeong-ah wordlessly looking on. Then Yeong-ah simply leaves and one gets the feeling that the pair's relationship is over for good.
This is a fairly typical '60s melodrama with all the hysterics and waterworks that are expected to be in dramas of that time. It is features another thing often found in films from the late 60s and even more often in the early 70s–proud shots of industrialization. Korea was rapidly recovering from war earning Seoul the nickname of 'The Miracle on the Han.'  Some of the romantic scenes in this film are set against backdrops that we would not really find so enchanting in this day and age such as when Yoon and Yeong-ah are talking on a hill overlooking billowing smoke stacks of a factory.
Again, this film is not likely to be one that most people will be able to see as it is unlikely to be released on DVD or in any subtitled format. However, I appreciate the effort EBS and other channels put broadcasting films that would be difficult for me to see otherwise. Next week, they plan to air the Shim Woo-seob comedy Wrong Target from 1968. If I get a chance to see it, I will write about it here,