9th November 2009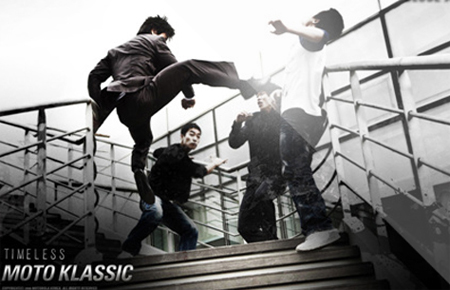 Does anyone remember back in 2005 when BMW hired three directors from Korea to make short films that would showcase their cars?  The movies were not about the cars–they had stories–but BMWs appeared in many scenes.  They had hired an impressive trio comprised of Kim Ki-duk (Spring Summer Fall Winter and Spring, Samaritan Girl), Kim Seong-soo (Musa, Please Teach Me English) and Cha Eun-taek (a television director).  I remember watching them and really enjoying these short films–they were done in such way that the commercial aspect did not interfere with the movie.   Unfortunately, they were only available online for a relatively short time and are now extremely difficult to find.  
Well, now it is Ryu Seung-wan's turn.  Ryu, the director of such action films as Crying Fist, Arahan and City of Violence, has made a twenty minute short film with Motorola entitled Timeless.  It stars Jeong Doo-hong (actor in City of Violence and reknowned stunt choreographer working on such films as Bittersweet Life and The Good The Bad And The Weird) and Japanese actor Kane Kosugi (War, DOA).
The movie is the story of Jeong, playing himself trying to put together a film with director Hwang (Hwang Byeong-guk, director of Wedding Campaign). They hire a former stunt school classmate of Jeong's (Kosugi) who has become a big star and conflict ensues over how to make their film. 
The movie does not have subtitles, but about half of it is in English–Kosugi and his staff speak fluently–and much of the film is the kind of amazing, old-school stunt action that we have come to expect from Jeong's work.
Want to watch it?  Go to www.motoklassic.com   You will encounter a giant phone.  Click "launch' at the bottom and a new window opens.  After a short preview of the film plays, a menu appears at the bottom of the screen.  Choose "Theater" and click the first choice in the new menu.  You will see options to play the full 20 minute film, a 1 minute preview or a 15 second commercial. 
The principle characters and director Ryu also provided interviews.  Kosugi's is in English.  Click "Theater" again and choose the third option.  You will be given three choices–the first is the Ryu interview, the second is with Jeong and the third, in English, is Kosugi.   Enjoy!