14th February 2011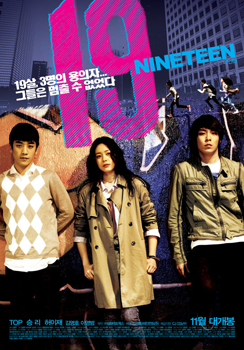 Most people living in Korea are aware of the band, Big Bang. Debuting in 2007 with an album nobody really remembers, the soared to the top of the charts with their second album, Remember. Despite not yet releasing another full album since then (one will be released this year) the members have remained at the height of popularity. Even I know all of their names and I haven't been able to say that about a singing group since Shinhwa and Finkl broke up. They have accomplished this high degree of recognition by putting out solo albums, appearing on television variety shows, making commercials and advertisments and, in some cases, acting in dramas and movies. Iris was one of the most-watched dramas in Korea when it aired in 2009 starring celebrity powerhouses Lee Byeong-heon and Kim Tae-hee. Big Bang member TOP (real name Choi Seung-hyeon) was featured alongside them. The following year, in 2010, TOP would have the lead role in the film 71: Into the Fire outshining vetran actors Kwon Sang-woo and Cha Seung-won. However, between those two very visible productions was a smaller, quieter film starring the Big Bang singer that came and went without much fanfare. Nineteen opened in a limitd number of theaters in November, 2009. Not only did it star TOP in the leading role, but co-starred his fellow Big Bang member Seung-ri (real name Lee Seung-hyeon).  Seung-ri frequently appears as a celebrity guest on game or talk shows, had a supporting role in the film On the Way Home and, like TOP, has released some solo singing projects. He has also found time to appear in two stage musicals– The Shower (based on a classic Korean love story) and Shouting.
I, along with most of the nation, did not see this movie in the theater. Frankly, I did not think it would have much cinematic value and was simply another way to showcase stars who were in danger of being overexposed despite their likability. However, this just goes prove the old saying 'You can't judge a book by its cover' correct. Nineteen was actually quite enjoyable, remeniscent of the Korean road movie/coming of age stories often seen in the late '80s or early '90s but not often seen today. Although the theme of self-discovery is common–almost a cliche in this genre–the movie is updated for today's generation and does not seem as cliche or preachy as it could have. In fact, I will go out on a limb and say that I enjoyed the film for what it was.
The movie features three people in their late teens. One, Jeong-hoon (TOP), has started college but is unhappy there and really does not seem to have direction in his life. He frequently skips classes to work at his part-time job where at least he feels useful. His family seemingly does not take much interest in him and his sister who attends a prestigious university goes so far as to look down on him. Min-seo (Seung-ri) has the reverse problem. His wealthy family has extremely high expectations of him and his mother dotes on him to the point of smothering. He is not attending a university yet because low marks on the entrance exam kept him out of the schools his parents wanted him to enter, so he is restudying for the tests. Eun-hyeong (Heo Yi-jae) has no chance to attend college. She dropped out of school at 16 in order to work to pay for her mother's hospital bills. As the sole source of income for herself and her mother, Eun-hyeong has developed a tough exterior that has crossed the line into abbrassiveness. When we first meet her, she has just been fired from her position as a hairdresser's assistant because she talked back to her boss after leaving work without permission. These three would seem to have nothing in common except that are linked by a mutual acquaintance, Yeong-ae (Shin Min-hee).
Yeong-ae works at the same PC Cafe as Jeong-hoon and the two are friendly but not really friends. At least that is what Jeong-hoon always thought until Yeong-ae asks him out on a date after work. Confused, he accepts her proposal which eventually leads to trouble. Eun-hyeong knows Yeong-ae from school and the two possibly were friendly at one time. However, that was the past. Eun-hyeong has been trying to avoid Yeong-ae's frequent telephone calls and, when they do meet, get into an arguement about money. Yeong-ae needs money so she can get a part in an upcoming drama. She is required to take acting classes before she can have the role. She knows that Eun-hyeong is alwasys working and assumes that she has money to give her. Min-seo isn't on speaking terms with Yeong-ae, but he is a customer at the PC Cafe. In fact, Yeong-ae is the only reason he goes there. He takes pictures of her when she is not looking…in the cafe, on the street, getting into a car. Although he claims it is harmless and it is probably because he lacks the courage to actually talk to her, Min-seo comes off as more than a little creepy. All three characters become suspects when Yeong-ae turns up murdered the day after her arguement with Eun-hyeong and her date with Jeong-hoon.
The three escape police custody and wind up travelling together in their efforts to avoid arrest. We learn a lot about the characters as they reflect on their lives and are forced to be independent and responsible for just themselves for the first time in their lives. The time provides them with insights of what they lack in character and how to be better people. This theme is the focus of the movie. The movie is NOT a mystery. Although we the viewer have a good idea of who killed Yeong-ae within the first 10 minutes of the movie, the characters are not trying to figure that out. They are just trying to perserve their own freedom.
The rating of the film is for ages 12 and up, but I had to wonder about that a little. I suppose that rating was given so the younger fans of Big Bang could see the film, but some of the plot threads seemed a little heavy for a 12 year-old like the fact that it is revealed Yeong-ae is sleeping with men to get money for her class. I guess twelve year olds are a little different than when I was a kid…
In any case, I enjoyed the movie as a film about self-discovery and in its portrayal of today's youth. It is available on DVD and I would recommend seeing it.