19th March 2011
Unfortunately, I wasn't able to do any blogging this past week. It was a very busy time at work with guests visiting the university from a school in California and Cambodia. This coming week, we have another set of guests coming from the USA and New Zealand, but the latter is confined to one meeting on Tuesday, so I will probably have time to write a review.  As far as DVDs, we have several being released, including modern classics that should definitely be part of your collection if they are not already, Oasis and Peppermint Candy.  Below are the details of all the dvds coming this week.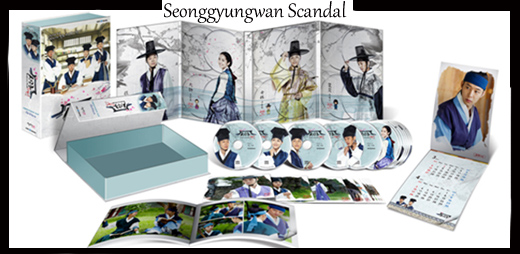 SEONGGYUNGWAN SCANDAL (tv-drama)– directed by  Hwang In-hyeok, starring Park Min-yeong, Song Joon-gi, Yoo Ah-in.  Number of Discs: 12 + 84 page picture book, calendar and 10 signed cars/ Subtitles: English/ Rating: ages 15+/ Format: 16:9/ Audio: Dolby Digital 2.0/ Region Codes: 3,4,5,6/ Extras: Each disc contains 10-20 minutes of extras/ Recommended Price:  121,000 KRW/ Available: March 23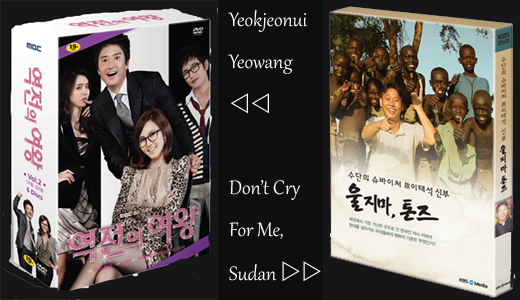 YEOKJEONUI YEOWANG vol. 2,  (tv drama)– directed by Kim Nam-won, starring Kim Nam-joo, Jeong Joon-ho, Park Shi-hoo.  A few weeks ago, a box set containing the first 16 episodes of this tv drama was released, here are the remainder of the episodes. Number of discs: 6/ Subtitles: No Subtitles/ Rating: ages 15+/ Format: 16:9/ Audio: Dolby Digital Stereo/ Extras: Love Scenes, Filming the last episode,  a look at the cast, Shi-hoo with fans, NGs/ Region Code: 3/ Recommended Price: 77,000 KRW/ Available: March 22.
DON'T CRY FOR ME, SUDAN (documentary, tv version)– Number of discs: 1/ Subtitles: No Subtitles/ Rating: all ages/ Format: 4:3/ Audio: Dolby Digital Stereo/ Region Code: 3/ Recommended Price: 33,000 KRW/ Available: March 24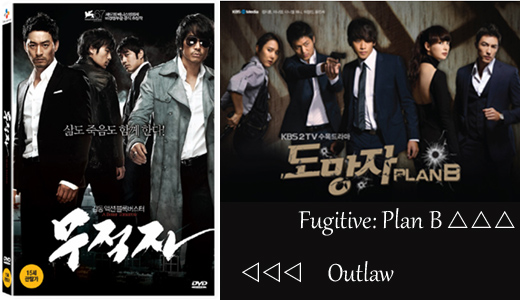 OUTLAW– directed by Song Hae-seong, starring Joo Jin-mo, Song Seung-heon, Kim Kang-woo.  Number of discs: 1/ Subtitles: Korean and English/ Rating: ages 15+/ Format: 2.35:1/ Audio: Dolby Digital 5.1/ Running Time: 121 minutes/ Extras: Making, Interview with the main actors, trailer/ Recommended Price: 25,300 KRW/ Available: March 24
FUGITVE: PLAN B (tv-drama)– directed by Kwak Jeong-hwan, starring Lee Na-yeong, Jeong Ji-hoon (Rain), Daniel Henney.  Number of discs: 10 (episodes 1-20)/ Subtitles: English/ Running Time: 1300 minutes +193 minutes of extras/ Region Codes: 3,4,5,6/ Recommended Price: 110,000 KRW/ Available: March 25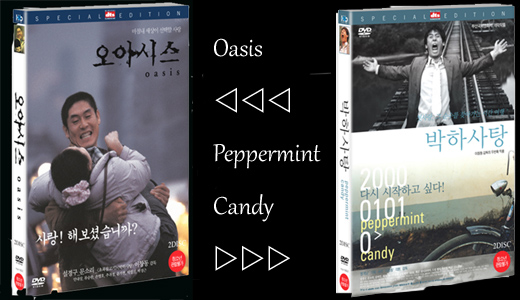 OASIS– directed by Lee Chang-dong, starring Seol Kyeong-gu, Moon So-ri.  Number of discs: 2/ Subtitles: Korean, English/ Rating: ages 18+/ Format: 1.85:1/ Audio: Dolby Digital 5.1/ Running Time: 130 min/ New extras include reactions from film festivals/ Region Code: All Region/ Recommended Price: 22,000 KRW/ Available: March 25
PEPPERMINT CANDY– directed by Lee Chang-dong, starring Seol Kyeong-gu, Moon So-ri, Kim Yeo-jin.  Number of discs: 2/ Subtitles: Korean, English, Japanese/ Format: 1.85:1/ Audio: Dolby Digital 5.1/ Running time: 127 minutes/ making, trailer, tv spots, film festival reactions/ Region Code: All Region/ Recommended Price: 22,000 KRW/ Available: March 25