19th June 2011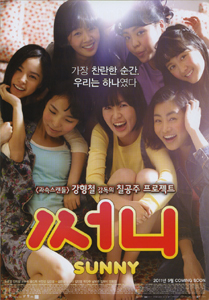 Easily the best film I have seen so far this year, Sunny is the right blend of comedy and drama & nostalgia and realism.  Admittedly, the ending threatens to derail the aforementioned realism, but it was so satisfying that I am not going to complain about it. Watching the film last week, I was happily surprised to see that the average age of the audience that attended the screening I was at seemed to be in the mid-forties. This makes it the second film this year that has appealed to, and likely made for, more mature audiences (the first being Late Blossom –formerly listed as simply I Love You). I don't mean 'for mature viewers' as in a porn flick, by mature I mean viewers who have been out of high school for more than 10 years and where looking back at that time is like looking back in history. Although historical events are glanced, such as the clashes between riot police and pro-democracy demonstrators, they have no real meaning or importance in this film as they are the memories of a woman who was a high school student at the time–and she was dealing with issues of more personal importance to her.
The main character of the movie is Na-mi played as an adult by actress Yoo Ho-jeong and as a child by Shim Eun-kyeong.  Shim, who you may remember from 2009's Possessed, gives an impresive performance–and even gives a nod to Possessed when she pulls trick of pretending to be possessed by a spirit and saying afterwards that she was hungry–similar to her most chilling lines in the 2009 film. Na-mi has just moved to Seoul from Jeonbuk and entered a new school. However, she is finding it hard to fit in between the dialect she spouts and the fashions and would-be sophistication of her classmates. But between the friends she makes and her natural charm, she soon find herself at the heart of her group of friends.
Like when I was in high school, the classes are divided into cliques. Her group of friends call themselves 'Sunny' after a popsong that they plan to perform at a school festival. Their rivals are cleverly named Girl's Generation and Finkl predating the actual singing groups of those names by two decades.  However, no matter how close people are in their school days, time has a way of separating friends.  Now and adult, Na-mi has been reunited with the former leader of their group, Choon-hwa, who charges her friend with finding the rest of their classmates.  Na-mi sets about doing just that and in doing so is able to reconcile some past issues as well as re-examine how she is performing her duties as a wife and mother. 
As I write this, Sunny is still in theaters and may see five million tickets sold this weekend. It is an excellent film and I highly recommend seeing it at the first opportunity!