27th July 2011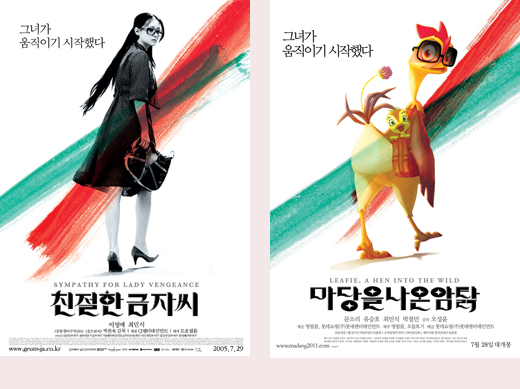 Can you spot the differences between the image on the left and the one on the right? A friend of mine couldn't earlier this afternoon. He had come into my office, glanced at the promo material for Leafie: A Hen Into the Wild on my desk and asked, "Didn't you already see Sympathy for Lady Vengeance?"  The colors and images on the poster of the latter film are so instantly recognizable that he had not even noticed that Lee Yeong-ae had been replaced by a chicken.  (Don't be embarassed Jae-hong…no one reading this knows you ㅋㅋㅋ) .  The Leafie poster above is an alternate, not the main poster, and will probably not be seen very often.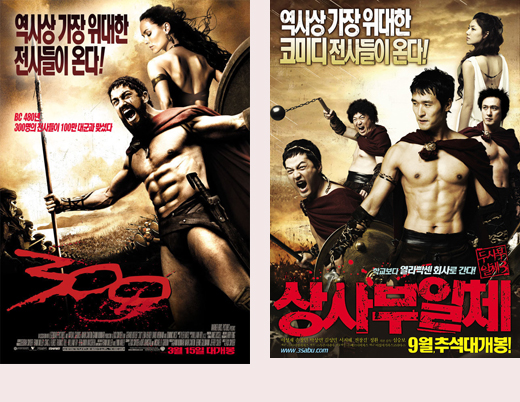 Homages–or spoofs if done for comedic effect – are rare.  Oh–there are lots of Korean movies that contain scenes that are meant to spoof earlier movies. That was the whole concept behind 2002's Fun Movie by director Jang Gyu-seong.  Dachimawa Lee 2007 payed homage to an entire decade of action films– but not one movie in particular. Scenes from Shiri, Nowhere to Hide, Oldboy and Whispering Corridors are reshot in comedies (as well as tv, music videos and commercials) but rarely do we see them depicted on posters of other films. One alternate poster of The Weird Missing Case of Mr. J (2009) references Oldboy, but shows no specific scene from that film.  The Mafia, the Salesman above spoofed 300 when it was released, but searching through alternate posters of films throughout the past decade did not reveal many others.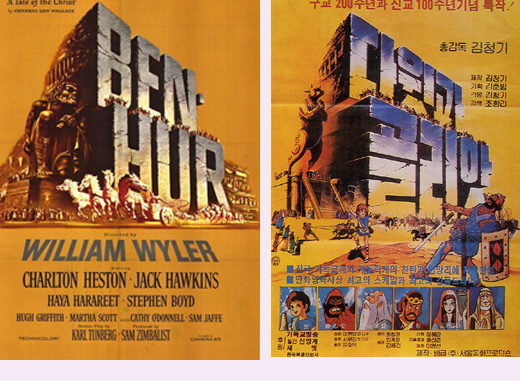 Earlier decades had a few homages.  The above film is the animated David and Goliath (1978) whose poster was clearly inspired by Ben Hur. While not a particularly good movie, the poster art does a wonderful job in lovingly representing  and respecting the original work.