14th August 2011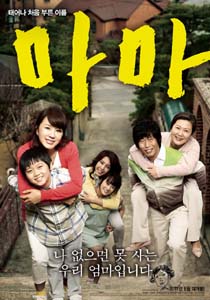 Two weeks ago, when I posted my article for Officer of the Year published in Asiana Entertainment, I said that in September, my article for the film Mama could be read in that magazine and I would repost the article here. However, while that review will still be published, I decided to write a separate one for here. That is because the editor of the airline magazine asked me to focus on "Korean motherhood from the point of view of a foreigner."  There are so many things that irk me about that sentence… First of all, I critique and review films. It is not my intention or desire to do the same with a culture. Secondly, I am not qualified to to make such observations and loath making that kind of generalization. And finally, I have lived here nearly 20 years now– I have been here nearly as long as my students at the university have been alive. I hate that people think of me or my ideas as 'foreign'.  Well, I wrote their article, minimizing the focus to more of a universal definition of motherhood, but I will write a fresh opinion for here.
Mama is a film featuring Uhm Jeong-hwa, Kim Hae-sook and Jeon Soo-kyeong in roles of mothers. These charaters never interact and their stories could have been told separately in an omnibus. Instead however, director Choi In-hwan (Whispering Corridors 4: The Voice) chose to weave back and forth between the characters' stories showing similar problems in different lights. One of the main differences between the charaters is finacial.  Jeon Soo-kyeong's character Hee-kyeong is wealthy and famous and has just about everything money can buy. However, she does not have the respect of her own adult daughter who lives with her along with the latter's husband and daughter. Kim Hae-sook plays Ok-joo, a sweet if not necessarily bright woman who is absolutely devoted to her son Seung-cheol who pretends to be an English teacher when he is actually a gangester.  There relationship is treated in a warm and loving manner by the film and it provides the most laughs due to its comedy and smiles due to its warmth.
Uhm Jeong-hwa plays Dong-sook, a single mother living on the edge of poverty but working hard at many jobs to support her sickly son. Her character is active and seems to be full of life as she has a smile for everyone. However, she faces the worst challenge of her life when she is diagnosed with a disease that will almost certainly prove fatal. While she is not worried about herself, she wonders who will take care of her son. The other two mothers face their challenges too. Ok-joo must have surgery that she feels will make her less of a woman and she decides that she would like to meet her highschool sweetheart before that happens. Hee-kyeong is coming to the end of her career and begins to feel frustration at her daughter who has never shown any sign of personal ambition.
At first, I was annoyed with the movie which seemed to try to be overly sentimental too early into the story. Without developing the characters, the script was trying to force tears by perhaps depending on the audience's nostalgia for their own childhood. In my case at least, that did not work. However, once I have gotten to know the characters a little more, I did feel for them— although not as much as the film obviously meant me too. I was not weeping at the end of every little conflict.  I saved that for the conclusion of the film where I challenge anyone to have a dry eye. The penultimate scene is genuinely moving and I absolutely loved the way the director left the end which could go one way or the other–depending on the viewer. I don't want to expand on that though until more people have had a chance to see the film.
Uhm Jeong-hwa does a good job but her early scenes suffer because of the script which clearly intends for her life to be a tragic soap opera. Ok-joo and her son (played by the excellent Yoo Hae-jin) were my favorite pair to watch together but I think the best acting actually goes to Jeon Soo-kyeong. I was unfamilar with the actress but later learned that she has a lot of experience on the musical stage. Her voice is amazing when we finally here what she can do in the auditorium.
All in all, I would recommend this film. It is a nice movie that tries a little too hard to a tearjerker. For the most part it is not, but you still might want to have a box of tissues ready for that final scene.