2nd October 2011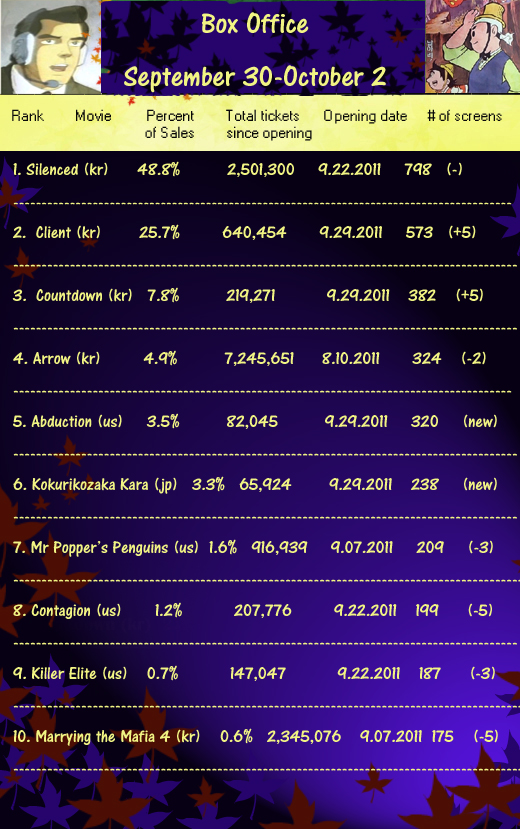 Since opening, Silenced has made quite a name for itself and it won't quickly be forgotten.  It consequences of the film have been appearing nightly on the news as the real-life case the movie is based on the the actions of authority figures are now under investigation. The film has also served as a catalyst that has strengthened the voice of the disabled community. Images of small, peaceful demonstrations have been appearing each night on the news as advocates promote stronger laws to protect the disabled from sexual predators. I think the last time I saw a movie have this much of an impact on society was when Whispering Corridors launched outcries against corporal punishment in the school system. I have no doubt that Silenced will remain on top of the box office charts next week as well.
Opening this week: 
Toohon (kr) (no English name yet), drama, directed by Kim Sang-jin, starring Kim Joo-hyeok and Kim Seon-ah.   
Gigola (fr), drama, directed by Laure Charpentier, starring Lou Doillon, Marie Kremer.    
Revenge: a Love Story (hk), thriller, directed by Wong Ching-po, starring Juno Mak and Sola Aoi
Nader and Simin: a Separation (ir), drama, directed by Asghar Farhadi, starring  Leila Hatami and Peyman Moaadi.
K-20: Legend of the Mask (jp), action, directed by Shimako Sato, starring Takeshi Kaneshiro and Takako Matsu.   
All That I Love (pl), drama, directed by Jacek Borcuch, starring Mateusz Kosciukiewicz and Olga Frycz.    
Apollo 18 (us), sf/horror, directed by Gonzalo Lopez-Gallego
Debt (us), thriller/drama, directed by John Madden, starring Helen Mirren and Sam Worthington <being released in Korea as Unfinished>
Stone (us), thriller, directed by John Curran, Robert De Niro and Edward Norton.  
Urban Warfare (us), action, directed by Keoni Waxman, starring Stephen Seagal, Meghan Ory <being released in Korea as City War>