24th October 2011
Many people know of the ghosts, monsters and creatures that have skittered through Korean horror films over the past decade. The ghosts of Phone or A Tale of Two Sisters have left indelible images on the minds of viewers around the world.  Others maybe won't prove as memorable, like the haunted tree in Acacia, the giant pig from Chaw or the the werewolves of Ssunday Seoul but they are still fairly recent and won't be dealt with here.
In these posts counting down to Halloween, I will be dealing with the obscure–my favorite topic. Monsters, ghosts, goblins and the like from before the year 2000; creatures from movies never released on DVD that are in danger of being forgotten in Korea and not known at all outside of the country.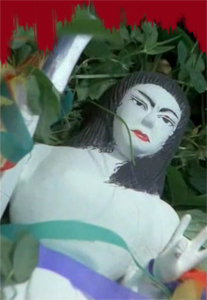 First on the list one of my favorites, the Possessed Doll from the movie Suddenly at Midnight (1981) directed by Ko Yeong-nam– an excellent film that deserves a DVD release.  The doll itself is odd, but at first not particularly scary. In fact, I would not have minded keeping it on my mantle if I were to find one– it certainly would be a conversation piece. It stands about a foot tall, is made of wood and depicts a shaman priestess in the midst of a ceremony with her cleaver held aloft. The lucky owner of the doll is Mi-ok, a simple girl raised by her mother deep in the mountains of Korea. Mi-ok might have remained there all her life and followed in her mother's footsteps as a shaman, talking to spirits, divining futures and performing exorcisms had it not been for a chance meeting with the dignified professor of butterflies, Dr. Kang Yoo-jin and a fire that claims her mother's life. Benevolent Dr. Kang takes the suddenly orphaned young woman home to his wife to work as a servant in the house. His wife, Seon-hee, feels a little jealous about Mi-ok's beauty and is naturally very curious about the doll as well, but Mi-ok is very protective of it and won't let anyone touch it.
When alone with the doll, Mi-ok talks to it and when the doll is alone it wanders around outside..or at least that is what Seon-hee believes as she catches it glaring in at her from outside the window. Later on, it just seems to keep turning up in the most unexpected places–especially after Mi-ok has a little… accident..really.. Seon-hee is completely innocent.  When we next see the doll, it is life-sized– which not even I would want in my living room.  Seon-hee hates it so much now that she winds up in a life or death struggle with the oversized doll… but it would be telling if I said who won. 
Suddenly at Midnight is a great movie that leaves a lot open to interpretation. Is the doll really possessed by the spirit of Mi-ok's mother as Mi-ok and Seon-hee believe? Does it really move around?  Or is it the imagination of a jealous, insecure woman who is descending into madness?  Whether it is real or not, Possessed Doll earns a place on the Obscure Monster Halloween Countdown.