28th October 2011
Take a look at the following trailers from The Ruins (2008) http://www.imdb.com/video/imdb/vi1437729049/, From Hell It Came (1957)http://www.youtube.com/watch?v=H-QV9CL-p_Y and The Maneater of Hydra (1967) http://www.youtube.com/watch?NR=1&v=NCc66huSR10– Three Western films that feature man (and woman) eating plants. If you were to watch these films, you would notice that they have something in common, namely that you have to be pretty slow, pretty stupid or a combination of both to get yourself devoured by a plant. Even the lumbering tree monster which is not rooted to the spot once it matured moves at a glacial pace. Let's face it, plants are not scary and the fact that they can barely move is the primary reason. Alien plants are a little different and make a better impression on the horror enthuiast. The original version of The Thing, Little Shop of Horrors, The Body Snatchers and The Day of the Triffids all feature alien plants that are far more memorable than any of the posies listed earlier in the paragraph.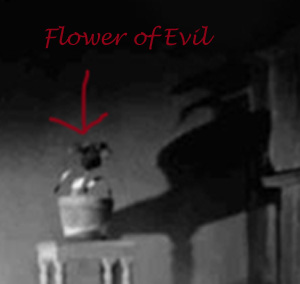 At first glance the title flora in The Flower of Evil, directed by Lee Yong-min back in 1961, might be suffering from the same problem. It is confined to a flower pot. Even though descriptions state that it can move at night, I don't think it would get very far with its roots firmly trapped in soil on a pot on an end table. This is especially problamtic as this sinister flower requires a healthy dose of blood to survive. Its stature may be deceptively small, but the amount of blood required to keep this plant alive is surprising. How can it possibly get what it needs?  The answer is simple and follows in the vein of the original Little Shop of Horrors (1960)– the plant simply tells its owner what it wants.  But there is no thin little whisper of "Feed Me" nor the more musical demands as made in the remake of Little Shop of Horrors. No, this plant has an entirely different method. At night, it transforms into a ghost and makes its needs known.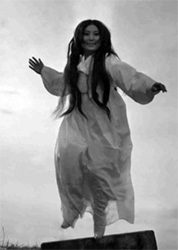 "Now wait just a minute," you might be thinking, "How can a plant transform into a ghost?" Well, if it were just a plant, I would share your disbelief. After all, a couple of days ago, the One-Eyed Ghost explained that the dying with han in one's soul was what caused a person to come back as a phantom.  I think most people would agree that a plant does not have a soul and, even if you could convince me that it did, I would never believe that its spirit could carry a grudge that would drive it to revenge. But the ability to transform into a ghost– as well as its lust for human blood — was bestowed on the cursed orchid when the spirit of Baek Ryeong (pictured right) fused with the plant. Baek was a woman deeply in love with Prof. Lee Gwang-soo but he did not return her feelings. She died in an unspecified manner (I suspect suicide) and her spirit joined with a flower creating a new species of plant that Prof. Lee, as a botonist, found irresistable. He now had something unique in the plant world. The fact that it required blood was problematic, but nothing that Lee found too intimidating. He started draining blood from various victims to feed his favorite flower, but he drains too much from one woman and she dies, making him a murderer.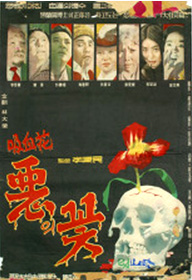 You might think that would be as bad as things could get, but it becomes worse. His frequent nightly expeditions to procur more blood have a startling effect on Dr. Lee.  He is slowly transformed into a vampire himself!  He then proceeds to attack his devoted and loving wife. Will his wife survive or will Baek Ryeong have her revenge and spend eternity as a monster with the vampire she loves? I can't tell you that, but I can tell you that this movie had everything– a blood guzzling vine, a virgin ghost and now a homicidal vampire!  Ah– but 'had' is the operative word. This movie is lost. There are no extant copies known. Given the number of stills that exist, I suspect the final copy deteriorated to the point that it was unsalvagable and the remains were photographed as a way to preserve what remained. That is why the image of the actual star of the film, the Flower of Evil, is not clear.  I did not have a lot of options to choose from. But there are not only stills; the scenario and a poster are still around and serve as evidence of this movie's existence.
Tomorrow— Snakes!
.