26th November 2009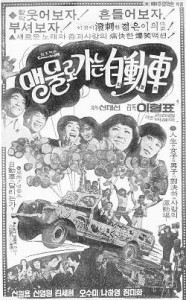 Originally posted December 7, 2007–The 1970s saw an increase in the number of films released for a younger audience. High school students in particular were the target of filmmakers  in an effort to lure people into theaters. The entire movie industry was suffering for a variety of reasons but most importantly because of the wider availabilty of television.   During this period, Yalgae, a Highschool Joker  and its sequels and the Im Ye-jin's trilolgy of  I Really, Really Like You, I Really Really Hate You and Really Really Don't Forget  were made and became very popular.  Another movie.  A Car That Runs on Water, directed by Lee Hyeong-pyo, follows along this vein of films.  I found it to be worlds better that the Highschool Jokers movies–overacted yes, but with a genuine sense of fun.
The story is about two sets of roommates living across the street from one another, the first set, three young women, move into a plush rental and quickly establish themselves as 'the brainy one', the artistic/tomboy, and the musician.  Their neighbors from across the road are three young men..a brainy wanabee inventor, an athlete and a musician. Even before we see their interactions, we can guess with certainty who will end up with whom. 
As is standard in this kind of film, their first meeting of these soon-to-be couples is antagonistic.  They get into a war over which house can make the most noise to disturb the other after the girls have mocked the boys' pasttimes.  However, it is not long before they have a mutual admiration society started and they are all falling in love.
There is an out of place subplot that is pure melodrama that was added in to perhaps give the film some form of drama or suspense. It involves 'the athlete' who has been working as a bodyguard for a wealthy divorcee. She has been trying her hardest to seduce him while he stoicly refuses to respond to her advances though never making a move to decidely escape them for fear of being fired. 'Artistic/tomboy' gets a job in the same house as a tutor to the wealthy woman's daughter only to witness and misinterpret a situation occuring in the master bedroom. All in all, it is a minor subplot that is unimportant to the rest of the film
Lee Hyeong-pyo does an excellent job capturing the exuberance of his young characters and he would take on another youthful drama/comedy with his film Mi-In in 1975.