17th November 2011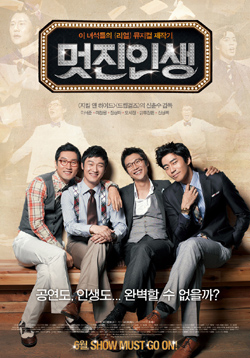 I just finished watching The Story of My Life which had opened in theaters this past June.  Missed it in theaters? Don't worry, you were not alone. The movie opened on just 42 screens around the nation, twenty of which were in Seoul. In Seoul, it sold 189 tickets and its total ticket sales for the entire nation, including Seoul was.. 189 according to KOFIC box office records.  I guess that makes me a part of a very small group of people who have taken the time to take 100 minutes out of my life to watch this film. According to its listing on Daum, this movie is a drama/musical and this influenced my decision to watch it. Korean musical films are few and far between.. in the last decade, I can name only three offhand. But the word 'musical' is a little misleading in this case. While there is a partial song here and there, music is a very small part of this movie. Instead, it is a film about the 'real' making of a stage musical. I did not mind the idea of watching a semi-documentary about the making of a live musical– it sounds pretty good in fact. Musical theater in Korea is fairly active and I know very little about it. (I looked into going to one here in Jeonju just last month, but the cheap seats were 90,000 KRW each so I decided against it…) But this movie is not really a documentary either. In an early sentence, I opted to put the word real in quotes; the poster pictured here used parentheses justifiably bringing into the question the idea that "real" means "actual."  I will explain…
The Story of My Life is the name of an actual stage musical and it really does star Lee Seok-joon and Lee Chang-yong who appear in the movie as well playing themselves. The musical is also directed by Shin Choon-soo who both directed the movie and appears in the film as well. I suspect this is where the true situation ends and fiction takes over. Actors Shin Sang-rok and Jeong Seong-hwa are cast in the movie as the alternates of the main characters. Although the two are more famous for television dramas, both are quite capable of singing and in the past few years have been doing a lot of live musicals. Jeong started in comedy and moved on to dramas and these days primarily does musical stage. Shin, probably the most recognizable face for viewers who exclusively watch tv and movies, also frequently does stage and proved that he has a singing voice when he released a single back in 2003. The pair starred in a production called Musical Hero back in 2009. I don't really see either as understudies in real life– they would more than likely be cast as the stars.
The four actors and the director come together to start rehearals for the musical and it is quickly apparent to all that things are not working out. They are awkward around each other and, even though they are supposed to be playing best friends, there is no friendship between them. In fact, several of them don't respect their colleagues and either complain about them or ignore them completely when off set. The two main characters have personal issues interfering with their work as well– a crumbling romance and the death of a teacher for starters– and it appears that this musical project will never get off the ground.
In some ways, the movie can be compared to a male version of the recent film Actresses in which a group of Korean actresses who can barely tolerate each other eventually find common ground and not only manage a photoshoot, but forge the bonds of friendship as well. However, while Actresses received substantial praise, The Story of My Life was ignored. I am sure that one of the reasons for this is that Actresses contained all well-known film talents playing themselves. The male cast of the The Story of My Life are relatively unknown. Another reason crossed my mind, but it seems so cynical that I almost want to dismiss it– but the making of this movie showing the making of a musical that is currently on stages made it seem like a marketing ploy. Was this movie made to simply raise interest in the musical.
Of course the cast does eventually come to understand one another and become friends. And the end of the movie is very touching that it did bring a 'feel-good' tear to my eye. However, I failed to react to most of the other times the films tries to get emotional as those scenes felt forced. They might have worked if I knew more about the characters/actors involved in them. The best scenes are the all-too infrequent moments when they are singing.
I will not say 'do not watch this film' as I did like it for some of the performances, however I would have a hard time recommending it as well. Interest in this kind of movie is limited for a reason. Your reaction to it will depend how much interest you have in a fiction-passing-as-factual account of the making of an musical.