13th February 2012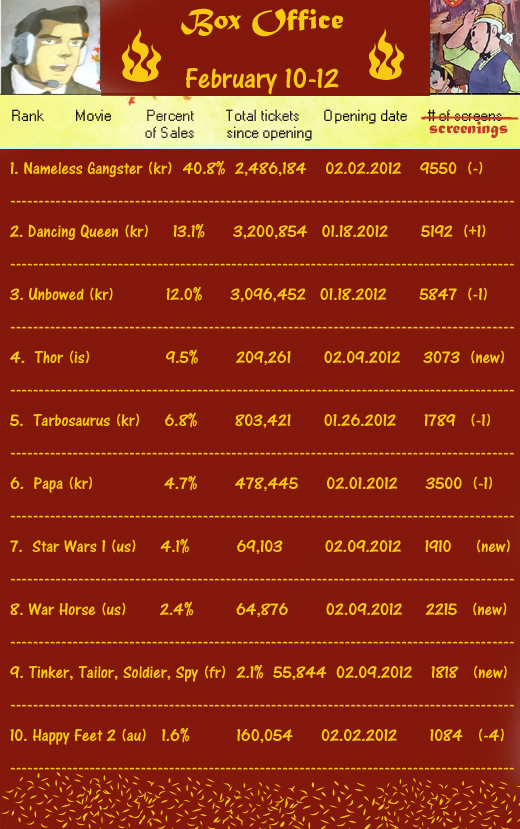 The upper regions of this past weekend's box office doesn't look too much different from the previous week with two exceptions. Dancing Queen and Unbowed once again swapped positions  with the latter falling to Number 3. The other difference is the appearance of an animation from Iceland that took over the fourth place spot. That was no doubt helped by the fact that Thor was dubbed into Korean for the young audience it was intended for.  Nameless Gangster stayed came in on top once again and now has gathered nearly 2.5 million viewers in just two weeks. 
There is another change though.. this one in the information I am reporting in the image above. For the past several years, I had been showing the number of screens any given movie was being shown on. However, the source of this data, KOFIC, is now providing the number of screenings a movie gets over any given period of time.  This makes a big difference. For example, if you were to look at the number of screens Dancing Queen was released on (427) and compare it to the number Unbowed had (378) you might easily draw the conclusion that Dancing Queen came in ahead of Unbowed because it was on more screens. But, from the information we have now, we can see that Unbowed was actually screened more times over the same three day period and thus must have had fewer people at each show.
How does a movie get more screens but less showings?  That is easy. Very often a film shares a screen. Movies for young viewers often show in the morning or afternoon hours but their screenings are reduced at night and replaced by movies that adults would prefer. Or films that are on their way out may get only one or two showings a day, and the remainder of the time the screen is used for more popular movies.
Using the new information, I worked out something I have been calling MEQ (Met Expectations Quotient)– calling it to myself anyway because I have not talked about it with anyone. First I divide the number of showings a film received by how much it made in a given period (weekend–NOT the total number since opening data I show above). This yields a very small number which I multiply by a thousand so I can work with it more easily. I take that result and subtract it from one hundred giving me MEQ.  The closer to 100, the better.  For example, Nameless Gangster had 9550 screenings and was seen by 830,027 people this weekend. Dividing the latter into the former and I get .011505 which I multiply by a thousand to move the decimal point to 11.505.  Subtracting this from 100 gives me a MEQ of 88.49 which is quite good.  In fact, going back and calculating all the MEQs since the beginning of the year, I find a mean of 77.9 and a standard deviation of 11.97 which I will call 78 and 12 for convenience.  Basically, any MEQ falling between 90 and 66 is acceptable, maybe not economically but statistically.  What does it mean– I mean besides the fact that I seem to have too much time on my hands… Higher than 90 means it could have been screened a few more times and still made money. Lower than 66 means some buyers over-estimated how popular a film would be and gave it too many showings.
Here are what the MEQs look like for this week…  Nameless Gangster- 88.49, Dancing Queen- 81.65, Unbowed- 77.26, Thor- 84.54, Tarbosaurus- 84.70, Papa- 67.57, Star Wars- 67.81, War Horse- 58.72, Tinker Tailor Soldier Spy- 58.78, Happy Feet 2- 69.43
Since starting these calculations, the lowest MEQs I have seen was 42.1 on last week's I Don't Know How She Does It followed Neverending Story which in its second week of released only earned a 43.0.  The movie with the highest MEQ so far is Nameless Gangster. During its opening weekend last week it scored 90.23
I don't know if I will continue posting these numbers as they really only show how well the buyers plan. I just find it fun to play with the numbers.