25th February 2012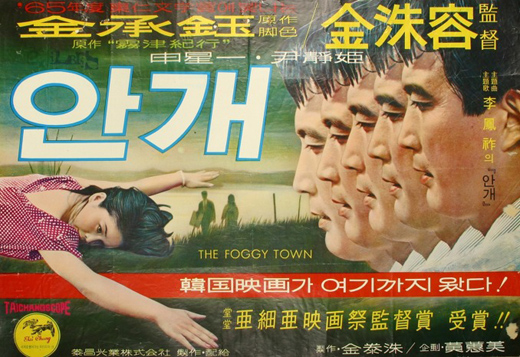 Before I begin this review, I want to say that I am using the title, Mist, with the greatest reluctance.  While making the index plates I have been posting, I have found that a fair number of Korean films of the 60s and 70s had English names at the time of their release. Often these names appear on the advertisements and posters but when KOFA built its website, it did not have access to most of these (many posters were donated sometime around 2005 by a collector) so the Film Archives simply provided literal translations of the titles.  In this case, 안개 became Mist.  However, there was no need to do this.  I do not know if they had the poster on hand when they added the this movie to the website, but they certainly had the film.  As we can see on the image above, the movie was to be called Foggy Town in English and this title is also written on the title card during the opening credits of the film.  But as this DVD of this film is sold as Mist in English, that is what I must call it. But Wwy the change?  I can understand if the title is awkward or grammatically incorrect..and I have even seen some that were spelled wrong in English… but there is nothing wrong with Foggy Town and it is certainly descriptive of the film's location, Mujin.  
Mujin appears to be a fictional city. Judging from how long it takes to get there from Seoul, the fact that it is on the coast, and the fact that it has salt marshes and no crashing waves, it must be meant to be located on the south or southwest shore. One person on the bus mentions that it has a fairly large population but we learn that most people in the town looks down on his or her neighbor as, at best, mediocre examples of humanity. It seems to be many of the citizens' dream to escape the boredom and loneliness of Mujin and go to Seoul or risk losing their minds.
Yoon Gi-joon was one of the lucky few that managed to escape and better his life. Not through his own work though, because he met a rich widow and married her, putting himself in a position to become heir apparent of his father-in-law's successful pharmaceutical company. In order to ensure this occurs, his wife has arranged a board meeting and is pulling her father's strings but Gi-joon's actual ability stand in the way so, to be certain of success, she sent him to visit Mujin, his hometown until she sends for him.
Gi-joon's relationship with his wife is interesting. It certainly does not seem to be based on love. In his case, he was attracted to her money, the lifestyle it brought, and probably the fact that marriage to her came with a guaranteed job.  Why would she marry Gi-joon? He was sickly in his younger days and became a draft-dodger– an important issue in Korea even in these days, but even more so in past decades. Men who evaded their mandatory military duties had a very difficult time securing jobs and interacting successfully with other men in society. Certainly his looks helped in landing Gi-joon his wife, he is after all being played by Shin Seong-il, but I think it was more than that. His wife wanted someone that she could control. She wants to run the company and, although she is already very involved in management, there was a glass ceiling that would have prevented her from easily achieving her goals. She knows that Gi-joon is at heart weak. She states bluntly to her father that Gi-joon is nothing without them and reminds her husband he would not even be in Seoul if it were not for her. Perhaps that is why it was so easy for him to get involved with the pretty new school teacher in Mujin, In-sook.
In-sook was the top of the music department at the university she attended in Seoul, and when she was offered a job immediately after graduating, she jumped at the chance to take it… at least that is what we were told.  Supposedly, In-sook studied Korean classical music but the only songs she ever sings are Korean popsongs.  She could be lying, or Mr. Park exaggerating her credentials as he is silently in love with her. It is known by some that her family background was not good at all and the only reason she stays in Mujin is because her hometown is worse. She wants more than anything to return to Seoul and she is willing to do anything to get there even when warned that "No city will give you back your college days."
Gi-joon does not particuarly want to go back to his past, he tried too hard to escape it to want that. He sees a lot of himself in In-sook (sometimes quite literally– when talking to her we sometimes see Gi-joon of the past in her place) and promises to take her to Seoul. She for her part makes a promise. "When I am in Seoul, I will have an affair with you."  It turns out he didn't have to wait that long for the affair to start.  Oddly, soon after it begins, In-sook changes her position and decides that she doesn't want to go to Seoul anymore, prompting Gi-joon to reply that they have to promise to stop lying to each other.  Because she is so much like his former self, Gi-joon realizes that the promise extends to himself and that he has been lying to himself the entire time. We see things in a new light with that realization, and he is then back on the train to Seoul alone.
This movie is interesting for many reasons.  The setting of Mujin is one of them. I think it is important that Mujin is not a real city. Most Korean films of this period use existing cities when setting their films. The fog the nighly covers the city is also important.  The narration states that it isolates Mujin from the rest of the world and Gi-joon's journey there seems more like a journey into his subconscious than an actual place.. with a little more strangeness thrown in, it could seem like an old Twilight Zone episode.  It is stated the Mujin has no special food, grows no special crop and even though it is a coastal city, there is no port or trade.  In fact, it seems like there is little reason for people to be there, yet we are told it is well populated.  Why?  Could it be that everyone there is a lost Seoul searching for some evasive piece of him or her self? 
My only complaint with this film is that some of the flashbacks are not clearly delineated as such. With most, it becomes easy enough for the viewer to realize that we are now in the past, there was one that left me confused as it showed Gi-joon standing by a bus watching an insane prostitute being harrassed by street urchins.  Gi-joon's clothes in that scene are quite good and I thought it was happening in the present but in fact what we saw must have occured as he left Mujin the first time as the scene switches to him still on the bus. It is a confusing moment.
However, don't let that one point deter you from watching the film when you get the chance. It is part of the Kim Soo-yong Box Set and, while pricey, is well-worth seeking out. 
Below, you can hear the title song of this movie, Mist, sung by Jeong Hoon-hee is 1967. Even if you can't understand it, it has a beautiful, haunting melody and is very relaxing.