22nd April 2012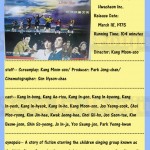 In the 1970s,  director Kang Moon-soo returned after a nearly thirty year absence to direct Little Star, a film based on a popular singing group of the 70's and early 80s.  At least one of the singers appearing in the movie, Kim Aerisa, went on to continue with a moderately successful music career after Little Star (or at one point Little Star Family) broke up.  Below is the information on the film. Just click the thumbnail and enlarge to see the full-sized image.  Oh, and if you want a laugh, you should see the image the IMDb approved for this film.. (http://www.imdb.com/title/tt0322812/)  I used to enter film information there and this was one of the reasons I stopped.  The editors never check anything.  That video box cover has nothing to do with the Korean movie Little Star!  I wanted to upload facts on the movies that cannot be altered except by me.
A far more prolific director, and one who was much more important when discussing Korean cinema, was Kim Cheong-gi, creator of Robot Taekwon V, Ttoli and numerous other animated movies. 
To see information from other directors from this decade, simply click the tab marked "The 1970s" at the top of the page.  Oh.. and any similarities between Kim's Wonder Princess and DC Comics's Wonder Woman is purely imagined…. She is a unique character and does not violate any trademarks.. really.
Up next: Kim Dae-hee