4th May 2012
One of my students at Woosuk University, Kim Han-eol, told me that he would like to develop his translation skills. He asked that I give him material to translate and wondered if I would go over it with him, helping him with grammar and vocabulary choices. Of course, I was happy to do that and directed him to entertainment news section of Daum.  I told him he could pick any article there and he selected an interview with actress Bae Doo-na written by Jo Jeong-Won, "Issue Reporter" of Daum Entertainment, published online April 30, 2012.  I think he did a great job on the translation and asked his permission to post the edited work here. He agreed.
Bae Doo-na is currently in theaters in the film As One.  It is the story of the first time South and North Korea united their athletes to particiapte in an international event. The Korean title of this film is simply 'Korea' which is what the unified team was called but the English name was changed to As One since most non-Koreans take Korea to refer to South Korea. In the movie, Bae plays the North Korean table tennis athlete Lee Boon-hee.  What follows is the translation of the article:
"I'M COMING OUT OF BEING LEE BOON-HEE," says Bae Doo-Na.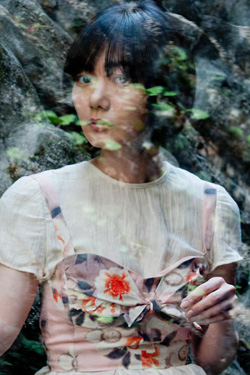 "When the filming started, I became Lee Boon-hee and I could feel my heart race. Now I am gradually getting out of her shadow."  The movie she is referring to is called As One (directed by Moon Hyeon-seong) and is based on the true story of the first union of North and South Korea when their table tennis teams worked together for 46 days under the name 'Korea.'
During the matches, the North Korean player Lee Boon-hee had the image of being cold-blooded and fearless in the midst of a game. The coach of the team, Hyeon Jeong-hwa described her as a conceited person.  On the day of this interview in a cafe in Seoul, my first impression of Bae Doo-na was that she was unapproachable. Was this the influence of playing the role of Lee Boon-hee? As we spoke, that gradually faded and a warm personality and delightful energy emerged from her.
Lee Boon-hee rarely expresses her feelings in the story even when provoked by opponents. She merely responds with her own poker face and continues with her work. In this, there are some similarities between Bae Doo-na and Lee Boon-hee. However, Bae's offscreen life is that of a purely brilliant woman and Lee Boon-hee may very well be that way as well. "I wonder what others, besides my family and friends, will think of the movie. My parents and friends cried like I did when they saw it. How was the movie?" she asked me.
In response to her question, I said, "I thought that your natural character was perfectly suited for playing that character as you two seem alike." She was shocked by my answer and showed her gratitude.
"It is a pleasure to hear that the character and I are alike rather than I did a good job acting. I had been wondering what Lee Boon-hee would think if she had a chance to watch this film."
The hardest thing about the role was the emotions that overwhelmed Bae. As soon as the cameras started rolling, she completely transformed into Lee Boon-hee.
It was hard for me to hold back my tears in the last scene. I was expected to overcome the situation but I could not stop shedding tears. My body was out of my control and I was nauseous. I was mad at myself and it was horrible to endure. It is a scene that is supposed to be funny when the coach argues and gets a red card, however I could not stop crying and I resented myself for it."
As One does not manipulate the audience into feeling sorrowful. It promotes an emotional response naturally and honestly. As Bae is also naturally honest with her emotions, it was hard for her to hide them.
"When I was in my 20's,  I thought after each film that I would be myself again after filming wrapped up. It was like that when I finished making Air Doll (2012).  But after winding up As One, it was difficult for me to start my next film, Cloud Atlas. I cannot fully shake the image of Lee Boon-hee. I want to slow down."
I proposed that in order to refresh herself that we order some sweet chocolates from the cafe and which I know she enjoys. But the image of Lee Boon-hee remains with her.
The movie As One has the power to immerse the audience into the film. The strength of the film lies in the fact that it is based on a true story.
"As I watched the film, I should have been watching my performance without any other thoughts, but I was fascinated by the movie. It was hard for me to look at it objectively after playing Lee Boon-hee. Audiences are going to like this film because the strong impression it will leave. They will find the last scenes really inspirational."
Bae Doo-na is not beautiful in this film. For much of the film, her face is soaked in sweat and she did not like to wear make-up in this role.
"Actually, I don't care for cosmetics. Even now I'm not wearing much. I hate to wear full make-up. And I will certainly not wear make-up if the story I am filming requires me to depict a real character. As an actress, unless I am on a public stage or need to look refreshed, I do not enjoy it." (laughs)
Reflecting her real life onscreen… that is a common theme for both Bae Doo-na and Lee Boon-hee.
There was a rumor stating that the reason Bae was selected for this film was because she learned table tennis in elementary school, but when asked, the answer turned out to be "No."
"As you know, I am right-handed and Lee Boon-hee was left-handed. For the basic moves, it was possible to use my right hand, but I had to learn to use my left hand and it was the first time I had to do anything like this. I had never used my left hand and for the harder moves, my strength was insufficient. My swings were unnatural and problems arose because my left hand was not strong enough and when I hit with my right hand, I was too strong.  I had to practice a lot before filming."
When I asked Bae Doo-na what was the most difficult thing about making this film, she pondered the question and put deep meaning into her answer. "I have no regrets after making this film but I will think of As One whenever I face hardship. Table tennis requires a lot of energy even though it seems liek there are not many moves."
As One will open on May 3rd. Bae Doo-na is preparing for her busy interview schedule in the coming days.
"After it premiered, the response has been very positive and we are optomistic that this film will do well."
Barking Dogs Never Bite inspired her as an actress twelve years ago. In other words, it was her turning point. "After a decade, it is time for a new turning point. As One could provide the motivation for one."
Finally, I asked her if she thought about getting married and if she has a boyfriend, and she laughed in response.
"In the past, I had to hide my emotions. But I don't have to do that anymore. I am not interested in getting married, but I wouldn't mind going out once in a while."
It has been 14 years since Bae Doo-na debuted as an actress. In that time, she as accumulated an impressive filmography. We have no doubt that, as always, she is going to shine in As One