5th December 2009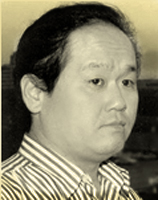 Originally posted on November 14, 2007—Son Chang-ho was born in 1954 and majored in English Literature at Danguk Unversity. However, it was not literature that interested him–it was acting. Especially comic acting. He debuted onscreen in 1974 with the film It Is You, a 'high-teen' drama. Most of the films that Son would appear in would be  dramas aimed at young people and he would often play the role of comic relief in some of the more serious stories. However, his acting was most natural when he was paired with other comic actors such as Lee Seung-heon of the 'Joker' series (the most famous of which is The High School Joker).  Son went on to have numerous movie roles throughout the mid-70s to the mid-80s.   As time passed, Son couldn't help but notice that the style of movie he was known for was rapidly falling out of popularity and his age was becoming a little too old for the kinds of characters he played.
This is what led to him taking a hiatus from acting after 1986.  He decided that he wanted to study movie-making techniques and went to Tokyo to attend a director's course at the University of Japan.  Upon the completion of his studies, Son returned to Korea and made the film Tokyo Arirang in 1990. And not only did he direct it but he also wrote the script and had a part as a supporting actor. The film was a melodrama about a woman named Seon-hee who goes to Japan to search for her fiance, Dae-pyeong. Dae-pyeong had gone there in order to complete some unfinished business before their wedding, but disappeared. Unable to locate him, Seon-hee is forced to buy a false id card so she can remain in Japan after her visa expired. Eventually she locates Dae-pyeong, but he is with another woman. Seon-hee decides that she needs to make money, so she becomes the mistress of an elderly but wealthy Japanese businessman.  By all accounts, this movie was a complete failure.
Son Chang-ho did not get another chance to try again. He was plagued health problems and died at only 44 years old in 1998.  His dying wish was to have his ashes spread in the East Sea near the city of Sokcho.