6th December 2009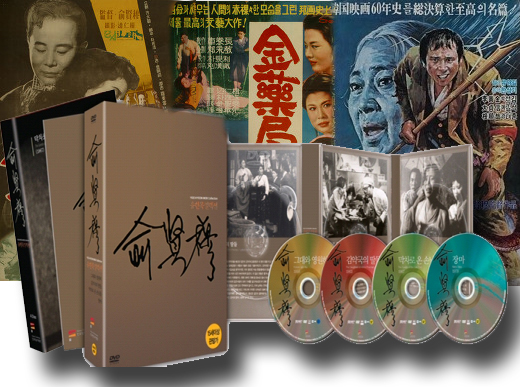 Here is some good news!  Yoo Hyeon-mok is famous for several films including The Aimless Bullet, School Excursion and Robot Taekwon V.  These, and several other of his films have already received the DVD treatment.  Now some of his lesser known films will be available on DVD with English subtitles.   This set of four dvds will include Forever With You (1958), The Guest who Came on the Last Train, The Daughters of Kim's Pharmacy (1963) and Rainy Season (1979)
Unfamilar with the stories?  Forever With You looks at the lives of three young men who are petty criminals.  One day they try a bigger heist than just picking pockets and attempt to rob a US Army warehouse.  They are interrupted and one of them is captured.  Escaping briefly to meet his girlfriend who now works in a bar to make ends meet, he is recaptured and sentenced to ten years in prison.  When his sentence is up, he and his old friends meet again and sparks fly.
The Guest Who Came on the Last Car is the melodramatic tale of Bo-yeong who cuts contact with her family after her best friend marries her father.  Her friend inherits everything after her father dies while Bo-yeong lives with a man dying of lung cancer and struggles to help him.
The Daughters of Kim's Pharmacy occassionally pops up at local film festivals.  Kim's four daughters have very different personalities –often with many faults– but they share the same fate… unhappy marriages.
The Rainy Season is the story of one family divided by the Korean War.  Forced to live under one roof, Dong-man's maternal grandmother despises his paternal grandmother because her family were all killed while fighting for South Korea while Dong-man's paternal uncle supports the North Korean cause. 
This excellent collection of films will be available to purchase from December 10, 2009.  I have already pre-ordered!