12th December 2009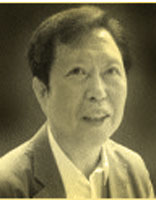 Originally posted May 14, 2008–On February 23, 1944, the man who would become known as director/writer Kang Cheol-su was born in the city of Jinju. His real name is Bae Yoon-shik, but he changed it after graduating from Saribel University and started his lifelong career–writing comics.  He debuted in 1960 with the comic book series Myeong-Tam-Jeong and for the next decade he continuously wrote comic books for children. However, in the mid-70s, he changed his target audience and started creating comics for adult readers. He had many popular series, but the most popular ones were Cheongnyeon Manse, Love's Scribble, Money-Money-Money, Memories of Barbari, Shin Baduk Story and Night Sakura.
Of the above half dozen stories, one stood out as a cut above the rest, Memories of Barbari. It was the sad tale of a young man in constant search of money, sex and love. Sometime in the mid to late 80s, it was adapted as a stage play and was successful enough for production companies to become interested in it. In 1989, Kang was given the chance by Taekwang Productions to direct a movie based on his comic book. The film version starred Lee Hyo-jeong (whose only recent movie role recently was a small part in Silmido) as Dal-ho.  Dal-ho is deeply in love with Eun-kyeong (Ha Hee-ra) but she sees him as a man with no future and wants nothing to do with him. Dal-ho sets off, not only to prove her wrong, but also see if he can perhaps do better in finding a girlfriend.  He soon discovers that not all beautiful woman are kind.  Every woman he meets deems him to be too childish and cannot endure having him around. Eventually, Eun-kyeong, in the film version at least, comes around to discover that she does indeed love him.   While the comic book was a huge success, the film was not and it flopped in the theaters.
Although, Memories of Barbari was the only film directed by Kang, many of his other 'graphic novels' were their way onto the silver screen. The Dull Servant Pal Bul-chul was made into a movie in 1980 with a sequel, The Hero Pal Bul-chul, opening the following year. Both were directed by Ko Eung-ho. Love's Scribble became a film in 1988 (d. Shim Jae-seok) and Money, Money, Money hit the silver screen under the direction of Yoo Jin-seon in 1991.  The most recent film adapted from one of Kang's comics was The Story of an Unemployed Man (d. Jeong Joon-seob) in 1997.