16th December 2012
True Love For Wife <1975>– directed by Kim Eung-cheon. Starring Bae Sam-ryong <as Heo Mu-tae>, Park Nam-ok <as Mu-tae's wife>, Lee Yeong-soo <as Yong-gi> and Yeo Soo-jin <as Yong-gi's teacher.  Running Time: 108 minutes. Release Date: March 31,  1975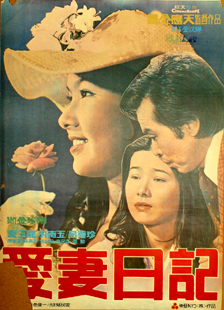 Mu-tae works as a photographer for a cosmetics company and is responsible for taking pictures of the models and products. Because of his keen artistic eye, he often acts as creative director as well, writing dialogue for the commercials. This earns him the praise of his bosses and a hefty bonus. It is an understatement to say that Mu-tae needs the money. His wife is seriously ill and needs a pacemaker on top of her heart medication and his usual salary of 39,500 KRW a month does not buy very much. He also has his son, Yong-gi, to think about and provide for.  Naturally, his son's needs go beyond the monetary. As his wife is unable to exert herself, Mu-tae has taken over the cooking and the housework. He also attempts to attend his son's school events and this gets him in trouble at work.  However, attending a mother/child picnic at an amusement park with the school introduces him to Yong-gi's teacher who takes an interest in the family after this meeting and becomes like a second mother to Yong-gi.  She is the one who initiates a special dinner for father and son– and herself– and an evening at a pinball arcade. She even pretends to be Mu-tae's wife for an important company event.. and seems quite comfortable in the role. 
Although her actions may seem suspect on the surface, there is no ulterior motives to her her interactions with Mu-tae despite how close the two seem to have become. She knows that the photographer loves his wife deeply and there is no room for another woman in his heart. In fact, he had told his wife beforehand about the fact that the teacher would be masquerading as his wife and there are no hard feelings. His wife appreciates all the help and attention that the teacher is giving her family. She is gradually growing weaker and is in dire need of surgery. However, money is tight. Forget the pickpocket that relieves Mu-tae of some of his earnings, his salary is barely enough to cover the monthly expenses.. 5,000 for charcoal bricks to heat the house, another 5000 for Yong-gi's education expenses, and then there is food and medicine on top of that. Mu-tae finds himself forced to take several other jobs on the side. He gets up in the pre-dawn hours to sell fried eggs and coffee to people exercising in the cold morning air at the park. After work, he moonlights as a waiter and bartender. And whenever he as free time, he attempts to make a little extra cash by taking pictures. But the cost of the pacemaker is said to be 1500 US dollars and his aforementioned salary would be about 35 dollars a month with today's exchange rate, in 1975 it was a fraction of that! He has to work hard for a long time to get enough money to buy it, even once his salary is raised to 55,ooo KRW a month but, as it turns out, his wife's condition has deteriorated too rapidly. There is nothing to be done as she finally breathes her last…
When I saw this film was available on Hana TV, I was surprised how low a viewer's score it received.. just one star out of five. Even the worst films usually are given two stars..  But I am glad I watched it. Not only was I pleasantly surprised with the story which could have veered off into ridiculous levels of maudlin,but it also showed some very negative aspects of business in the mid-70s– something film directors usually steered away from doing or risk severe penalties. The '70s were hailed as a huge success for businesses as Korea pulled itself back up after a devestating war. The 'miracle on the Han' occured with a great sacrifice of human rights. At the very start of this film, we are treated to the inside of a real cosmetics factory where we see hundreds of women dressed in uniforms laboring at crowded tables, packing boxes with the make-up and lotions as the role off the conveyor belt. It looked a little like a scene from the film A Single Spark, which was made to criticize business practices and memoralize Jeon Tae-il who fought for workers' rights.  Usually in the 70's, this kind of scene is shown with an air of pride as the government was pushing for the success of industry and wanted to portray it in the best light both at home and abroad. In this film, I feel the director was offering a critique veiled in a melodrama of a dying woman–and that may be how he avoided the censors. The bosses in the company are greedy idiots. The owner of the company, who at first praised Mu-tae for his creativity, later seems to unthinkingly mock him. He knows what kind of salary Mu-Tae makes yet he takes him to an expensive hostess bar where he proceeds to embarrass him by asking the girls he paid for how much they make a month. They respond that they make 100,000– twice that with tips! Mu-tae is shocked when he realizes they make three to 6 times more than he does.  Later, the bosses are painted in an even worse light when they fire Mu-tae for moonlighting.  By working extra, he has tarnished the image of the company. The employeess, the state, are the face of the company and by working as a waiter, he gives the impression to people that the company is not taking care of its workers. Image is everything.
Now, I said above that the film does not fall into overly maudlin however I will be honest and say that the script does try to do just that.  Any scene with Mu-tae's wife ends up with her crying or collapsing, close to death. And strangely, the movie gives her not one, but two death scenes–one real and one imaginary, after the fact where she dies at her son's school picnic that she never attended. It was a strange moment as is the end where both Mu-Tae and Yong-gi speak each morning to a gigantic billboard with the face of their lost loved one on it.  I don't mean speak to as "I miss you" or "I love you, Mommy".. they have actual conversations with it as the painting tells them to 'Straighten their ties.' Presumably this is in their heads and no one else can hear it, but they answer out loud which is more than a little odd–especially on a busy street. 
I was also confused at the end as to whether the teacher had taken on the role of step-mother to Yong-gi. The movie was certainly leading up to that. Their uncomfortably romantic walk by the river after leaving Mu-tae's wife at home and the way Mu-tae stairs at the teacher's lips during the company party certainly implied that there was something beginning between the two. It seems unlikely, especially since she knows how much he adores his wife– she is the first to see the huge mural he painted of her for the billboard and, while romantic from one perspective, it also is a little creepy.  However, at the end, the teacher is walking Yong-gi to school with Mu-tae just ahead of them. Did they all leave the house together?  The way the teacher refers to Yong-gi's deceased mother makes me think that they are all living together. However, it is to the movie's credit that they leave this point vague and I was grateful that there was no scene in which the dying woman gives her blessing for the husband to find a new love after she passes. Those scenes never work…
True Love For Wife is not on DVD and I suspect will never be. However, it is not a bad film. On one level it is a solid, if standard for the period, melodrama. On the other hand, it offers a view of business in the '70s that I have rarely seen in a film made at that time. It may not be for everyone, but I found it to be very watchable and have no major complaints.