16th June 2013
Hotel at 00:00– directed by Nam Gi-nam. Starring Baek Il-seob, Choi Hee-jin, Kim Dong-hyeon, Kwon Soon-yeong, Lee Eun-sook and Byeon Hee-bong. Running time: 101 minutes. Original Release Date: May 20, 1983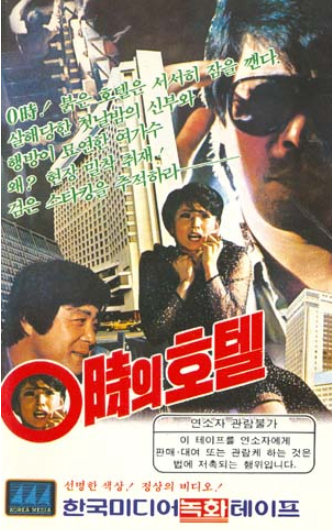 My internet TV provider had added recently added Hotel at 00:00 to its horror/thriller menu. Before deciding whether or not to watch it, I checked with the KMDB to read what they have to say. Here is a description of the according to the Film Archives:
"Wu Nam-ho is the second son of the head of Wuil Corporation. Nam-ho and his bride Hye-won stay at a hotel before leaving for the Canadian branch and their honeymoon. However, the bride is murdered. At this time, Sung-min, after his release from jail, kidnaps the popular singer Mun Hi-seon and brings her to the hotel. The investigators look into Hye-won's personal life. Of the three men she dated, they suspect Dong-gu and arrest him. He confesses that he went into the room to kill Hye-won but she was already dead. It is revealed that Nam-ho is actually the murderer. A complicated relationship between Nam-ho, Hye-won, and Nam-ho's brother became the impetus for murder."
The Korean version of the above is an abbreviated description of a plot synopsis I read published 1985 and basically says the same thing. However, that is not what happens in this film. Yes, Nam-ho marries Hye-won and they are celebrating with their friends at a pre-honeymoon party at the hotel they will be staying at before embarking on their trip. However, it is not Hye-won who is murdered. She is not in the room when someone enters the hotel suite, interrupting Nam-ho's shower, and slashing the handsome, young man's throat while he gawks in surprise at his attacker. The vicious attack happens so quickly that hardly any struggle is involved. Hyewon later brings her brother in-law and his wife up from the hotel nightclub to have them say goodbye to Nam-ho, intead they find him sprawled in the bathroom, quite dead.
The police are promptly called and they begin an investigation into the unfortunate victim's death. However, it is here that the movie gets derailed. This is namely because it gets too distracted by unrelated side plots. The most major of these is the kidnapping of the night club singer Moon Hee-seon (or Mun Hi-seon as written above). Threatened with an old-syle, straight-edged razor, Hee-seon has little choice by accompany her attacker back to his room where he reveals himself to be her ex-boyfriend. Out of prison, he has hunted her down and confronted Moon with her perceived betrayal of the love they shared when they were both youngsters on Jeju Island. He even goes so far as to insinuate that it was this betrayal the led him to a life of crime. There are a couple of reasons to have this incident taking place in the very hotel where a murder was just committed. One is to provide a red-herring suspect. The razor Seong-min is wielding as he kidnaps and continues to theaten Hee-seon looks exaclly the same as the murder weapon. The blade is the only thing we see as Nam-ho is killed.
The other reason the kidnapping case goes on far too long and we spend too much time away from the main plot is more unfortunate. The threat of rape becomes constant for Moon about halfway through the film. In her first escape attempt, Hee-seon's dress is torn off in the most improbable and lurid fashion. For the majority of her scenes afterwards, Hee-seon is in her underwear until a kindly policeman covers her near the end. This type of uncomfortable sexual situation is what I feel often marks Korean films from this periods and makes the '80s– and early 90's– my least favorite period of Korean cinema. Moon's situation is not the only example of sexual perversion in the film but the other, although more important to the film, is thankfully carefully edited and mostly implied. Apparently, Nam-ho had a fetish for whipping which turns out to be the reason for his death. It is a credit to Nam Gi-nam that, despite the sometimes uncomfortable shots of the shivering Hee-seon, she is rescued before she can be raped and that Nam-ho's turn-on is handled with some restraint. I have not been a huge fan of director Nam's work, but I think that is probably because most of the things I have watched from him were primarily aimed at children. For example, he was the original director of Shim Hyeong-rae's Young-gu films and his most recent movies have featured the cast of Gag Concert (a weekly comedy series) and are also meant for much younger audience members than I.
Hotel at 00:00 (which is a title I opt to read as Hotel at Zero Hour since it sounds dramatic) is rather bland as it meanders around its plot. I mentioned the kidnapping incident, but we visit several other hotel rooms and spend a little too much time in each and this distracts from the plot which should have been the center of the film. The closing scene where the police inspectors wax profound at the slice of humanity they witness in the course of that evening seems an loose attempt to justify spending so much time away from the murder mystery, but it is too little, too late. Calling it a thriller is certainly a stretch. However, few people will be able to judge because this movie is not available on DVD.
I would give it a rating of four stars out of ten. The KMDB and Daum offer no ratings, but 4 Naver users gave it an average rating of 6 out of ten stars.. overly generous I think.