9th January 2010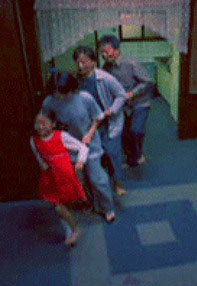 Originally posted September 27, 2007–It is a sad fact that there are simply not enough ways to view short films.  Scores of films are made each year but unless you are able to attend every film festival out there, then you probably will not see many of these.  And someone who just watches their films in a multiplex will probably never see these films at all.  That is a tragedy because some of the best films to come around each year are not feature length films made by famous directors with bundles of money, but small films made on shoestring budget that probably run less than an hour long.  Today something jogged my memory and I recalled the film Home Sweet Home directed by Uhm Hye-jeong that I saw back in 2004.  Although I have not seen the film since then, the story and feelings I made such an impression that I am still able to remember the entire film and can say with confidence that it is one of my favorites.
The scene opens with a family in tears. The father, mother and elder daughter have been watching tv and saw that their was a fire at the preschool that the youngest member of the family attends.  It is now quite dark outside as the news shows bodies being pulled from the wreckage of the school and the family's wailing fills their small apartment. Then the doorbell rings.
Standing at the door is the little girl, hair disheveld, blackend with soot and cuts on her leg.  She says nothing and is clearly in shock or….A ghost!!  Ok–that was the first thing I thought and it was certainly the director's intention.  The family members seem skittish around her and her silence is terrifying. Even when she is dropped into a hot bath, she makes no sound or movement.  It is not until the elder daughter intentionally hurts her that the little girl suddenly starts screaming and you realize that she was just in shock after all.
You would think that would please the family but instead it seems to have the opposite effect.  Although they clearly love her–reading her favorite story, dancing around the house together–the family all believes that it would have been better for them and for her if she had died.  The explanation is even more terrifying than the supernatural, the conclusion is quite macabre and the thoughts of what must surely follow is horrifying, but together they combine to make one of the most memorable short films I have ever seen.
I sincerely hope that someone, somewhere adds this film to a collection of shorts. I would love to see it again.