9th January 2010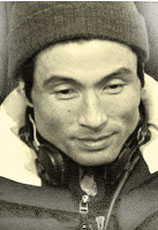 Originally posted August 27, 2007–Kim Eung-soo was born on January 1, 1966 in Chungju, North Chungcheong Province. He entered Seoul National University and majored in Psychology.  While a student he was so active in student government that he gave little thought to his future. He once claimed that upon graduating, he suddenly had to find something to do.  He chose movies.
So in 1990 he re-entered school, this time at Seoul Art College.  By 1991, he was already working with a production company and he wrote the scenario for Mother, I'm Your Son (1991) directed by Lee Sang-in.  Later in 1991, Kim went to Russia to study at the Moscow National Film School and he wound up staying for 5 years.  During that time, he made several short films such as A Different Face (1994). His first feature length film came in 1996 when he wrote, produced and directed Time Lasts. It was the story of a group of Koreans in their mid-thirties who, when they were students, were members of a radically leftist organization.  During that time, one of the members betrayed the others to the authorities and as a result, one of their friends died. Now they are meeting in Moscow unaware of the traitor's actions. The film won a prize for best actress from the Korean Film Critics Awards that year.
In 1999, he prepared a film tentatively called I Am a Parisian Taxi Driver but it never got off the ground.  Finally in 2002, he directed his second film, this time for Myeonpil Films called Desire.  Although completed on time, it took this movie two years to get released in Korea.  Sometime after completing that project, he took a post at Gyeongseong University as a professor in the Department of Film and Performing Arts. 
Teaching has not stopped him from making more films. In 1995, he once again wrote, directed and produced a film–Way To Go Rose and in May of 2007 his film Heavenly Path was released, once again produced by Kim Eung-soo Productions.