9th January 2010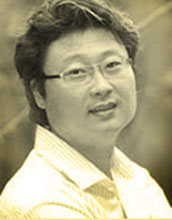 Originally posted August 22, 2007–Born in Seoul in 1969, Min Byeong-cheon enrolled at Hongik Univerisity where he majored in Visual Design.  Although he graduated in 1995, Min had established himself as a director while he was still in school.  In 1992 he directed an award-winning documentary for SBS TV called 2 Meters To Go, featuring the struggles of the handicapped. It was said that the quality of that production was so good that Min was guaranteed a job anywhere he wanted to work upon graduation.
In 1995, Min Byeong-cheon directed a short film called Mongolian Food and the following year directed his first music video called 21st Century Mona Lisa for singer 015B. In 1998, Min was placed in charge of a new SBS drama called Baekya 3.98 starring a cast of actors that reads like a Who's Who: Choi Min-soo, Lee Byeong-heon, Shin Eun-ha, Lee Jeong-jae, Song Hye-gyo, Shin Hyeon-joon…
In 1999, Min debuted with his first film, Phantom; A Submarine.  He claims he was influenced by the film Crimson Tide but he skillfully crafted a story that would appeal to his target viewers and it was well-accepted by both audiences and critics. The film was credited for upgrading special effects techniques in Korean movies and not only won a prize for best special effects but also netted Min an award for Best New Director.  Min followed up this film with the special effect extravaganza, Natural City (2003) in which nearly all the backgrounds are computer graphics.  Although well done and critically successful, the film was too slow for the average movie-goer and it failed to draw audiences to the theater.
The film did however help develop Min's ability and reputation as a director of special effects. In the following years, he created many CGI animated sequences and characters for tv dramas, such as Goong, video games and music videos.  Recently, he established Olive Studios for the creation of animation and his work was  screened at the 2007 SICAF (Seoul International Cartoon and Animation Festival): http://www.sicaf.or.kr/2007/2006_eng/2006_main/main.php).  His latest works can also be seen on the television channel Tooniverse.