9th January 2010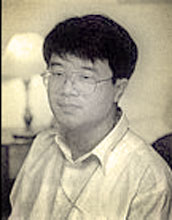 Originally posted July 18, 2007–Kang Gu-taek was born in 1959 and attended Incheon College where he majored in Korean Literature. However, he failed to complete his studies and dropped out of school. Instead, he relocated to Paris and enrolled in the Ecole Superieure Libre d'Estudes Cinematographiquie (ESEC) also known as Ecole de Cinema (www.esec.edu).  There he studied film-making for four years before returning to Korea in 1988.                                                                                                                                
As soon as he arrived, he took a job working among the staff of director Park Cheol-soo on Today's Woman which opened in early 1989.  He continued working with Park on the director's next film Oseam (1990) where, although not credited as such, his duties were expanded to that of assistant director. 
Kang wanted to establish himself as a director and finally had his chance with Shindo Production's film Jazz Bar Hiroshima in 1992. 
On paper, Jazz Bar Hiroshima looks like it had all the makings of a great film–and perhaps an even better play. It was the story of a Korean who had been living in Japan at the time of the bombing of Hiroshima at the end of World War II.  He spends his remaining days playing saxophone in a bar in Seoul that is host to a wide variety of social misfits including anarchists, North Koreans stranded south of the border at the end of the Korean War, gangsters and artists. A Japanese tv reporter makes her way to Korea in order to convince the man to tell his story.
The movie was a flop. Less than 2300 people were recorded as having seen it when it opened in Seoul and these days it is remembered as a melodramatic adult film (a title it does not deserve) instead of the social commentary it was meant to be. In fact, people probably would not remember the movie at all except for the fact that it was the debut appearance of actress Yeom Jeong-ah.
Kang Gu-taek was extremely disappointed with the failure of his film and ceased working in the film industry.