20th October 2013
Two People in the Wall (1978) — Korean Title: 벽속의 두사람– Romanization: Byeoksokui Doosaram. Directed by Lee Seong-goo. Starring: Ha Myeong-joong (Myeong-ho) and Jeong Yeong-sook (Myeong-ho's lover). Running Time: 75 minutes. Original Release Date: March 1, 1978. Available on DVD: No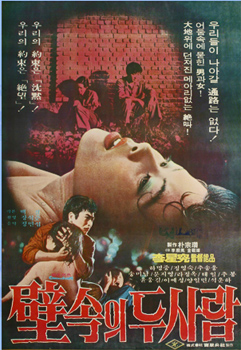 Myeong-ho is a welder in a factory who spends his days like a zombie. He moves between his shabby home where he lives with his elderly mother and his job where he is worked nearly to death. The only relief he gets from work is a five-minute break each day and propaganda time where they chant slogans for the nation. You see, Myeong-ho lives in North Korea. He is not without his friends but he is extremely discontented with life, finding no meaning in what he is doing. He notices things that others are either blind to or have been desensitized to such as when a young woman is taken at gunpoint from his village to be gang raped by soldiers on the outskirts of town. When her body shows up shortly thereafter, he is the only one whose face registers anything. He starts noticing death all around him. Visiting his best friend to discuss his thoughts and doubts proves fruitless as his friend's younger brother has joined a youth militia is now making regular reports to the soldiers that are an ever-present force in the small village they live in.
Myeong-ho is able to feel all-too-brief moments of escape with his lover, a co-worker in the factory. When he is being punished for sleeping at the job, she leaps to his defense– by beating his senseless, but it saves him from a far worse beating. However, she soon catches the attention of the lecherous soldiers and becomes the latest victim of their appetites. The aftermath leaves her pregnant, so she and Myeong-ho make a difficult journey into the mountains to pay a visit to a hermit who is known to perform abortions. Unfortunately, without the proper equipment or medication of any kind, it is a risky operation and the young woman does not survive. Meanwhile, his friend had been making plans for all three of to escape, but he has been reported by his younger brother and arrested. When a despondent Myeong-ho makes it back to town, he finds his friend hanging upside down from a tree.
Temporarily unhinged, Myeong-ho wanders aimlessly until his approached by a female soldier who inquires after him…rather kindly as opposed to every other soldier in the film. She is rewarded for her kindness by being raped and killed. At first it seems as if that Myeong-ho has no idea what he is doing, but after raping the woman he seems to recover his senses and her murder is intentional. He strangles her while remembering the screams of his girlfriend interspersed with happier times in their relationship. It is out of revenge that the soldier dies.
With nowhere left to go, Myeong-ho returns to his village and goes through the motions of his life. However, his tolerance of his circumstances is at an end. When he challenges the factory boss and the soldiers recruiting there, he starts an uprising among the workers. It is violent, bloody and very brief as reinforcements soon charge into the grounds and quickly disperse the workers that are not killed immediately. The death toll is high and Myeong-ho appears to be among the fallen, but he had only passed out after savagely beating a guard to death and exhausting his energy by continuing the beating long after the soldier is dead. With absolutely nothing left to lose, Myeong-ho heads south, but his sanity is not all there. He is a broken man, shouting angrily at singing birds and his sense of self-preservation is gone. He doesn't even see the soldiers that eventually shoot at him. Tumbling down a mountain after being shot, he falls into a river (presumably the Duman as we later pan to the line of barbed wire marking the Demilitarized Zone). Crossing, he has barely emerged from the water and gotten his bearing when he is shot five or six times in the back and chest. Even then he does not fall for several minutes, presumably the hope of freedom spurring him ever onward.
A couple of posts down from this, I indexed the films of Lee Seong-goo and this was one of them. I was surprised to see it offered on BTV and decided to give it a chance. While I am glad that I watched it, I do not feel that I could recommend it to anyone else. The depiction of North Korea was how the Koran government of 1978 wanted us to see it and I strongly suspect that an accurate picture was not painted. The village was more like a prison camp than an actual village. However, the people living in North Korea were shown in a far more sensitive light than any anti-communist film I have seen up to that point. Other movies up to this point had shown North Koreans doubting their government and desiring to escape to the South, but soldiers–unless the focus of the film was on their wavering commitment to communism– were rarely shown to have human sides like the female soldier in this film. Her death upset me as there was no purpose to it, especially as it was committed by the man we are asked to identify with and root for.
Lee Seong-goo tried some things to make a rather lackluster story more interesting like the shakey camera to depict Myeong-ho's slipping sanity near the end of the movie. That worked well and I appreciated the effort he put into it. What did not work so well was equating the attempted abortion to rape. We had already seen Myeong-ho's girlfriend held down and gang raped and the hermit strapping her down to perform the crude surgery mimicked that. So did the expressions and screams emitted by the girl and the in and out motion the camera focussed on while the old doctor attempted her work.
There was something else that didn't work as well because I don't think it gave the impression the director was going for. At the end of the movie, Myeong-ho's body is washed downriver where it will eventually wash out to see and be picked up by South Korean soldiers on the beach at the start of the film. However, while it is floating along through the rapids, the shots of his bobbing body are interspersed with cuts of South Koreans playing in swimming pools and at amusement parks. I think director Lee meant to show contrast between the freedoms and joys of the South and the pitiable death of Myeong-ho in the North, but it doesn't work. It comes across as distasteful– the scenes of happy children and their obviously well-to-do mother splashing around in swimming pools at a park seem grossly imbalanced with life in the North as depicted in the film and makes the unknowing people in that stock footage seem uncaring to the plight of Myeong-ho and his brothers.. something I am sure the director was not aiming for.
Or maybe he was. Perhaps Lee was trying to make a statement about what he felt North and South Korean relations should be like…a risky proposition if it were true. At the time, open criticism of government policies, especially regarding the North, were not allowed. I briefly wondered too if the factory conditions shown throughout the film were very much different from what South Korean workers were experiencing in the 1970s. But then I thought that I was trying too hard to find a hidden agenda in this film because I was hoping to give director Lee some credit for trying to show something meaningful. Unfortunately, I think this film is purely a propaganda piece make the evils of the government to the Norht as evil as possible. It has little to offer except as a dated relic of its time and it is for this reason I would be hard pressed to recommend it to anyone were it ever to become available on DVD.