22nd October 2013
It has been more than a year since I purchased some new DVDs for my collection. The biggest reason for this is because I can see many movies, both new and old, via my internet TV provider. While I have not missed buying the newest releases, there have been numerous older films appearing on DVD that I wanted to get my hands on and that BTV did not carry. When the Kim Kee-duk Collection came out this month, I could not resist any longer. I ordered it…along with a dozen or so other DVDs I had my eye on but resisted buying over the past few months. Here is a picture of what arrived in my office Monday afternoon: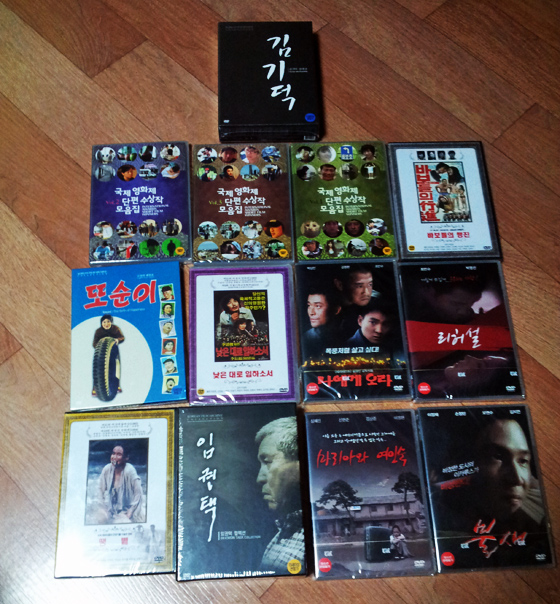 At the top we have the Kim Kee-duk Collection which consists of The Five Marines (1961), which I think I reviewed on this site this past spring as it was on EBS TV, Barefoot Youth (1964)– which I already owned as a separate DVD but I can donate that copy to the school or give to a friend– North and South (1965), a movie that I saw long ago on television and loved, and Horse-Year Bride (1968) which I have never seen.
The second row primarily consists of the three volumes of a set called The International Awards Short Film Winners (various years). I love short films and I will be excited to view them. Next to them is March of Fools (1975), a film that has been a long time coming to DVD– However, don't get your hopes up. This DVD has no subtitles.
What DOES have subs are three of the four DVDs in the next row. Tosuni: The Birth of Happiness (1963) received the royal treatment from the Korean FIlm Archives. They included a book explaining about the film and the state of Korean cinema in relation to the government at the time the film was made. Next to it, is the unsubtitled Come Down to a Lower Place (1982) followed by Come to Me (1996) and Rehearsal (1995). I was happy to see both of these films again. At one point I had them on VHS but gave them all up when I switched to DVDs. I have no memory of the stories despite writing about them on the original Koreanfilm.org message boards. I had got my start writing about Korean movies by posting on the forums about pre-Shiri films and these were among the films I introduced.
The final row consists first of Blazing Sun (1986)– no subs- and then the Im Kwon-taek Collection (Wangsimni-1976, Genealogy-1978, Jagko-1980, and Mandala-1981). I had held off buying Im's collection but now seemed as good a time as any. Finally there is Maria and the Inn (1997) and Fire Bird (1996). Both have subtitles. I have clear memories of writing about Maria and the Inn and I remember really liking it. I wonder if time has changed my opinions.
So.. have you purchased any DVDs lately?
——————————————————————————
Click here to view the complete list of DVDs I own