30th August 2014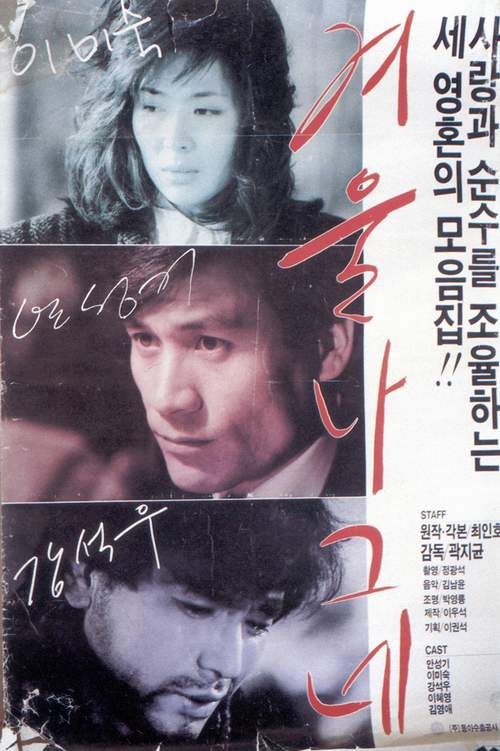 Winter Wanderer (aka Wanderer in Winter)– Directed by Kwak Ji-kyun. Starring Ahn Seong-ki, Lee Mi-sook, Kang Seok-woo, Lee Hye-yeong and Kim Yeong-ae. Release Date: April 12, 1986. 120 minutes
On the surface, medical student Min-woo (Kang Seok-woo) seems to have everything. He is from a good family, has many good friends, a bright future ahead of him and, on top of that, he just met the girl of his dreams in Dal-hae (Lee Mi-sook). But things are not always what they seem. For his entire life, Min-woo's mother had hated him. His father is lying in the hospital at death's door. And his brother, on his way to a new life in the USA, hands Min-woo a note that that starts the latter on a downward spiral. It seems that the woman who Min-woo believed to be his mother was actually his step-mother. Instead, he is the result of a tryst between his father and prostitute.
Min-woo sets out to learn more about his birth mother and in the process meets his 'aunt' Kim Yeong-sook (Kim Yeong-ae) now known as Laura. Laura runs a bar/brothel that caters to foreigners. There he learns that his mother committed suicide after his birth because she could not be with his father as he was already married. Unsettled, he goes to talk to his father about the situation but before he can get much information, he is interrupted by an elderly businessman who bursts into his father's hospital room. Saving his father from an attack, Min-woo beats the stranger with the old man's own cane.
This sends Min-woo on the run but he is soon found and arrested. After a short prison term, Min-woo is released to find that his father has passed away. Worse, when he goes home, he finds his house has been sold and his mother has moved away without leaving a forwarding address. Min-woo falls into a deep depression. Referring to himself as nothing more than trash, the young man turns to his closest friend, Hyeon-tae (Ahn Seong-ki).
Hyeon-tae had been introduced earlier in the film as being a couple of years older than Min-woo and is on the verge of graduating from their university with a degree in Business. However, he is a bit of a Bohemian. He spends his evenings drinking and womanizing in a small pub and performing the traditional mask dance as part of his university's club. He refers to Min-woo as "Pipe Boy" because he would play tradional pipes for the same club and his very close to the younger man. In fact, Hyeon-tae was instrumental in a successful first date between Min-woo and Dal-hae. Hyeon-tae offers to take care of Min-woo, but thinking he is undeserving of such kindness, Min-woo goes to where he believes his destiny lies– the place of his origin– the brothel.
Wrapped as it is in its melodrama tropes, I was actually surprised how dark this film is. There is no redemption for Min-woo once his sinks to a certain level nor can other characters, such as the prostitute Jenny/Eun-young who falls in love with him. Both try to escape from their situations and improve their lives, but success is brief and only partial at best. One could argue that Hyeon-tae turns his life around, but that would not be a vaild arguement as Hyeon-tae was not doing anything that could be deemed illegal. In fact, the film goes out of its way to provide clues of Hyeon-tae's 'goodness' by strongly linking him with the traditional arts and having him inform the audience that he is actually from the countryside and came to Seoul for the education.
Hyeon-tae's links with traditional Korea and a simpler life are part of a strong undercurrent in the film that the Western world corrupts. This is a common theme in many Korean films from the '80s. However, that is an incidental. The main theme in this film is the changes that occur throughout life. It is about how dreams, personalities, lifestyles, lovers and even family relationships change over time. The movie is very successful in depicting this especially in later scenes between Hyeon-tae and Min-woo.
Ahn Seongki is good as Hyeon-tae. Kang Seok-woo was a surprise in this film. I have to admit to never noticing him before. He debuted in movies in 1978 in a Kim Soo-yong film Yeosu. He acted fairly regularly in movies up until 1995. Earlier, in 1982, he was cast in a KBS drama called Ordinary People. He liked the small screen and after 1995, he worked exclusively on television. He is currently in the SBS drama A Good Day. Lee Mi-sook was good with what she had to work with, but her character was overshadowed by the other women in the film. Kim Yeong-ae was excellent as Laura and Lee Hye-yeong gave depth to Eun-yeong, making her more than a just a victim of circumstance.
Winter Wanderer is available on DVD with English subtitles.
Ah– and just a short personal note. This is the first time I have posted on this blog since November last year. The reason was partially because I was certified by the Korean gov't to write national exams last October and I have been doing that work frequently. That often takes a bit of preparation. I also wrote two TOEIC books, one that will be published next month and the other will be available in December. In any case, I plan to write regularly again. I have already updated the 'filming and awaiting release' section and listed all the films that were released during my eight month hiatus under the tab marked 2010s at the top of the page.