1st September 2014
I don't usually do much with music unless it is part of an old television commercial. However, I promised a friend and former co-worker who recently left Korea after many years of living here that I would send K-Pop music videos. But there is much more to K-Pop than Psy (ugh) or Crayon Pop (double ugh…). When possible, I will connect to movies so I can make a post about the videos I am sending here. And I thought that I would start with someone I have deep respect for, the Grande Dame of Korean popular music, Insooni.
Insooni's real name is Kim In-soon. She was born in April of 1957, but being nearly sixty years old has not slowed her down or diminished her popularity. Given her popularity, I probably heard her songs many times after I arrived in Korea in '95, but I did not become really aware of her until the song Higher in 2004 with Jo PD, got her a spot on a music program I was watching. Here it is below:
I initially thought that she was from a Western country but was soon informed that she was in fact Korean. Her mother was Korean and her father was an American. Her mother raised In-soon alone. As a young girl, Insooni faced a great deal of discrimination which caused her to quit school after graduating from middle school. She turned to music for comfort and hope. She joined the girl group The Hee Sisters which debuted in 1978 under her stage name Insooni. Here is an example of The Hee Sister's early style–before they turned to disco. Insooni is the one in the middle:
If you look for Insooni in recent films, you will only find her in a cameo in The Beast and the Beauty (2005) as a jazz bar singer. However, what most people don't know is that she had the leading role in a 1982 movie. The film was entitled The Black Woman (1982) and was directed by Kang Dae-seon.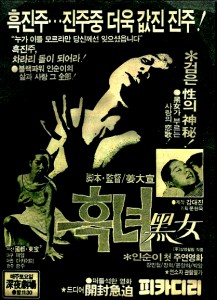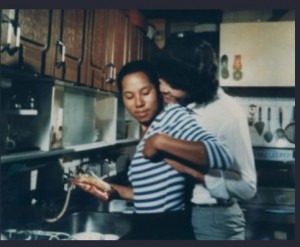 In this film, Insooni plays Nan, a woman of mixed birth. She falls in love with Hyeon-seok and the two promise to marry. However, he breaks up with her via letter with little explanation. Hating herself, Nan becomes a prostitute (it was the '80s.. it happened in Korean films all the time. See Winter Wanderer below) and a very popular one at that. She earns a lot of money by focus her attention on ad executives and getting jobs from them. However, she still misses Hyeon-seok and sets out to find him. When she does, she learns that he has gone blind which was the reason he had left her. She forgives him and the two return to their old home together. But (it's the 80s.. don't expect a happy ending) when their friends go to meet them and congratuate them on their reunion, the find the 'happy' couple has committed suicide together.
Anyway, that was Insooni's one and only important movie role. Below is one of her latest music videos, from September 2013, Beautiful Girl