6th September 2014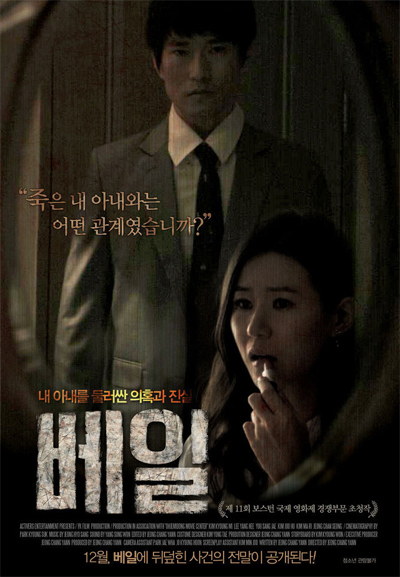 VEIL– Directed by Jeong Chang-hyeon. Starring Yoo Sang-jae, Kim Kyeong-mi, Lee Yang-hee, Kim Joo-hoo, Jeong Chan-seong and Kim Ma-ri. Running Time 73 minutes. General Release Date: December 5, 2013. (Screened in April 2013 at the Boston International Film Festival)
I stumbled across Veil while searching for something to watch and thought I would give this indie mystery a chance. I knew nothing about this film going into it so I had no expectations. After seeing it, I feel I should write about it fairly quickly–otherwise I may not remember much about it. Not exactly a ringing endorsement? Well, it is not the worst film I have ever watched by any means, and if you can see it on TV then give it a try. But I have some complaints about it which I will get to after giving a brief overview of the story. There will be spoilers below, so be warned.
The story begins by introducing us to the married couple Yeong-shik (Yoo Sang-jae) and Se-jin (Kim Kyeong-mi). However, while there life seems superficially perfect, we soon can see cracks in their wedded bliss. Yeong-shik wants children, but Se-jin placidly ignores his suggestions. She does not seem to have anything against children per se as she works in a day care center, but she appears to have no interest in having one of her own. More troubling for Yeong-shik is that his wife has been going out after work or simply not coming home until very late. Soon she is no longer sharing a bed with him and going out before he even wakes up in the morning. Yeong-shik seeks the help of a psychiatrist. He fears that his obsessive nature has taken over and causing him to be overly suspicious of his wife. He decides he needs proof before he accuse her unfairly and hires a private detective to follow her. The detective finds that Se-jin has been meeting a couple of people, a young artist named Min-soo (Jeong Chan-seong) and a woman with a hard expression called So-yeon (Kim Seung-yeon). Se-jin's interactions with Min-soo have all the earmarks of the two being lovers, but there is no hard evidence.
Two weeks later, Se-jin is dead.
From this point, narrative moves away from Yeong-shik's perspective that up to now was how we were primarily seeing the events on the screen. Instead it jumps between the police investigators looking into who stabbed Se-jin and dumped her body in a river, characters' suspossitions about what may have happened, and the actual events. Therein lies one of my complaints about the film. After watching it I have doubts about the motive behind the killing because I am unsure if a key event actually happened or if it was all in one character's mind. Maybe it is meant to be like that, hence the name of the film.
The other complaint I have is the heavy use of the sepia filter. I found it very distracting and I kept trying to figure out why it was being used. At first I thought it was for memories, but that turned out not to be the case. Then I thought it was used for scenes showing incorrect assumptions–which may be closer to the intended use, however I would have to watch the movie again to figure that out and I am not sure I want to do that right now.
I had started this review last night but slept before finishing it. I had to pick it up the next day to complete this post. However, that has proven to be a mistake. I am having trouble remembering many details. That may be the strongest complaint I have about Veil.. it is easily forgettable.